Interns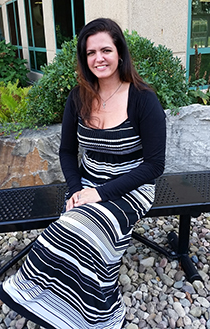 Name: Fabiana Carvalho
Hometown: I was born in Brazil, São Paulo and moved to North Carolina, Raleigh in 2003. North Carolina has been home since then.
College: University of North Carolina at Greensboro (BS in Human Nutrition and Dietetics 2015)
Family: I have been blessed with my family's support and love. They have always been present during my successes and struggles ready to provide me with a powerful word and encouragement. I do take credit for providing for myself since I was twenty-one, nevertheless I would not be able to have done it on my own if I did not have them to turn to when I needed an advice and love. I thank my grandmother for picking up the phone when I needed her to pray for me every time I had an exam, my grandfather, that already passed away, for the example of a father that I did not have, my aunt for pushing me to move to the United States and always enforcing that I was not alone, my brother for being the friend I needed at certain moments of my life and last but not least my mother for giving me the foundation to be as strong as I am today, helping me believe in myself and that I am capable of doing anything I put my mind into.
Interests: My number one passion is dance along with music and singing. I am always dancing around the house and you will probably see me singing in my car. I hope to learn how to play the violin one day. Recently, I have found that I enjoy weight training and it helped me very much while in school and it kept me on track.
I was already passionate about other cultures and travelling, but it became stronger after studying abroad last year and getting to know many cultures, languages and countries. This is the beauty of experiencing and learning with others, we never know too much. I met so many kind people around the world and made great friends. I do not have a dog of my own, but I enjoy borrowing friend's dogs and plan of rescuing a boxer once I get settled in life.
Words of Wisdom: I am always trying to find positive affirmations to push me to do better in life, professionally and as a person.
"He who says he can and he who says he can't are both usually right" Confucius
"It is not how hard you get hit, it is how many times you get hit and keep moving forward. How much you can take and keep moving forward, that is how winning is done!" Rocky Balboa
Be better today than you were yesterday.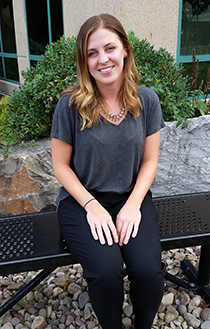 Name:  Samantha Eckardt
Hometown: Ambler, Pennsylvania
College: West Chester University; B.S. in Nutrition and Dietetics
Family: I am lucky to have the unconditional love and support of my family with everything that I do. My parents encourage me to believe that anything is possible when you put your mind to it. I am the younger sibling to my sister, Jamie, who is currently a pharmacy resident at the Cleveland Clinic in Ohio. I could not ask for a better sister, friend and role model. Her relentless hard work and discipline continues to inspire me to do better. I also have a large extended family who are constant cheerleaders in my life. I love spending time with my family, going on trips and vacations and having fun with the ones who always have my best interest at heart.
Interests:  In my free time I love spending time outdoors, hiking and going for walks. I enjoy going to the gym and I am always looking to try different workouts to keep things new and exciting. Spending time with family and friends is what makes me the happiest. I live right outside of Philadelphia so I love heading into the city to explore new restaurants and check out the food scene. I also enjoy participating in walks, runs and other events supporting good causes. I have grown up cheering on my Philly sports teams so I enjoy going to sporting events with friends and family. At home, my favorite thing is to bake. I love taking on a new recipe, tasting the delicious outcome and being able to share with others.
Words of Wisdom:  "Everyone is a genius. But if you judge a fish on its ability to climb a tree, it will live its whole life believing that it is stupid." -Albert Einstein
"Stop saying 'I can't.' You can." –Coach Mike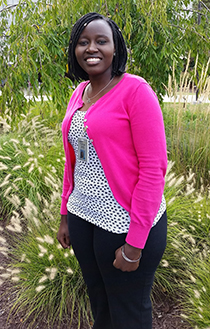 Name: Cynthia Imboywa
Hometown: Belmont, Massachusetts
College: Framingham State University, B.S in Food and Nutrition- Dietetics
Family: I am blessed to have a large supportive family. My parents, sister and four brothers have always stood behind me and supported my ideas, dreams, goals and career choices. I would not be the person I am today without being surrounded with such an amazing family. I am originally from Kenya, initially being away from my family was a challenge but I am lucky to have great friends, college mates and colleagues who all have been family to me and inspire me every day to be the best in all that I pursue.
Interests:  I love gardening, spent most of my life working on my parent's farm growing crops. I also enjoy traveling, listening to music, watching sports and trying out cuisines from different cultures.
Words of Wisdom: "Have a positive attitude towards life. It does not mean that you are unrealistic but that you can turn around whatever happens in your life."
"Good things come to those who believe, better things come to those who are patient and the best things come to those who don't give up."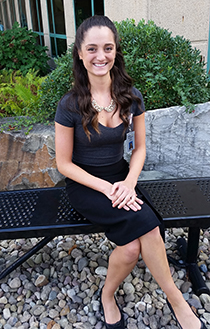 Name:  Elizabeth Kneiss
Hometown:  Boiling Springs, Pennsylvania
College:  West Chester University, B.S. in Nutrition and Dietetics
Family:  Throughout my whole life my family has been my biggest supporter and continues to be every step of the way. My two older sisters, Lauren and Rachel, have been my two best friends even before I knew what best friends were. Each of them has taught me so much about life and has been inspirations and motivators to push for my future. If it weren't for my mom and dad I wouldn't be where I am today. I can never thank them enough for their love and support. A ton of thanks to my boyfriend, Brian, who has pushed me and motivated me to always follow my dreams. Lastly, I can't forget my dog Bridgette, who's daily pictures makes any bad day a good day.
Interests:  I've been a dancer since I was three and although I no longer take classes you can always find me dancing, especially when cleaning. My stress reliever is running and I am building my way up to running a marathon within the next three years. Ironically I can't cook or bake (thanks mom), but I can make a really great cup of coffee. On my days off I love reading at the Blue Moose Café, hiking Coopers Rock, and cuddling with my new nephew.
Words of Wisdom: "As you navigate through the rest of your life, be open to collaboration. Other people and other people's ideas are often better than your own. Find a group of people who challenge and inspire you, spend a lot of time with them, and it will change your life" - Amy Poehler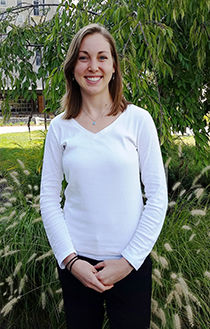 Name: Jill C. McKenney
Hometown: Hartford, Vermont
College: University of Vermont, B.S. Dietetics, Nutrition and Food Sciences - Class of 2016 & Colby-Sawyer College, B.S. Health Promotion and Wellness - Class of 2014
Family: I wouldn't be the person I am today if it weren't for the love and support from my mom, dad and older brother, as well as my extended family and wonderful friends. Thank you for helping me reach my goals and for always encouraging me to follow my dreams! Also, a huge shout out to my better half, Travis G. - Thank you for everything that you do for me, and for being nothing but supportive and understanding since the day I met you! You rock my world :) I love you all to pieces!!
Interests:  I absolutely love to run! It's one of my favorite things to do in my spare time. I also really love animals. If I could be surrounded by puppies and/or kittens all day, I'd be perfectly okay with that. Other interests of mine include hiking, swimming, snowmobiling, star gazing, drawing, painting, cooking, baking, and reading a good book.
Words of Wisdom: "There is nothing noble in being superior to your fellow man; true nobility is being superior to your former self" – Ernest Hemmingway
"Thousands of candles can be lit from a single candle, and the life of the candle will not be shortened. Happiness never decreases by being shared." –Buddha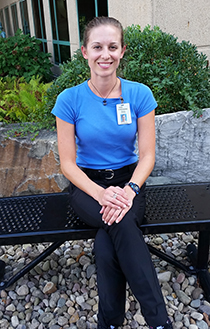 Name: Cassie Raugh
Hometown: Hollidaysburg, PA
College: Penn State University (B.S. in Nutrition Sciences, 2012)
University of Saint Joseph (M.S. in Nutrition, 2015)
Family: Without the love and support from God and my mom, sister, aunt, and boyfriend this internship would not be possible. I love you all tremendously and thank each of you for your role in making this internship happen!
Interests:  White water rafting, hiking, paddleboarding, ANYTHING OUTDOORS!!
Words of Wisdom: I can do all things through Christ who gives me strength – Philippians 4:13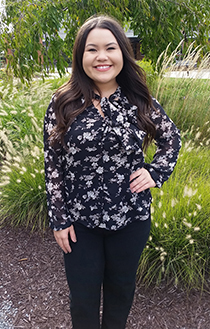 Name: Kelsey Wild
Hometown: Sacramento, California
College:  San Diego State University – B.S. in Foods and Nutrition, Minor in Psychology
Family:  I feel very fortunate to have such an amazing support system of family and friends. I am very close with my parents and younger sister, who have always encouraged me and supported me in following my dreams. In addition to my immediate family, I have been blessed with a very close-knit extended family and amazing best friends whom I consider family. My family and friends have inspired me to work hard and to continue to push myself outside of my comfort zone. My relationships have always been the most important thing to me and I cherish the time I get to spend with the people I love.
Interests:  I have always been curious about other cultures and have always had a desire to better understand where people come from. I caught the travel bug while studying in Barcelona and traveling throughout Europe. In the future, I would love to spend time living and traveling abroad. Other passions of mine include dancing and finding new, fun ways to stay active. I have taken classes in surfing, paddle boarding, aerial silks, trapeze and various dance classes. I am always looking to explore a new area and am happy to try anything once. When I'm not out exploring, I love to curl up with a cup of coffee or tea and a good book or an empty journal.
Words of Wisdom:  "Be curious, not judgmental." – Walt Whitman
"Live in such a way that if someone spoke badly of you, no one would believe it."
"Life begins at the end of your comfort zone." – Neale Donald Walsch