Interns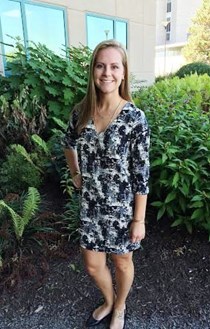 Name: Lauren Boucherle
Hometown: Canfield, Ohio
College: I am a recent graduate of The Ohio State University and I am a loud and proud buckeye sports fan. Go bucks! I graduated with a Bachelor of Science in Human Ecology after completing OSU's Didactic Program in Dietetics.
Family: None of my accomplishments would have been possible without my parents. They have supported me through all of my endeavors and constantly encourage me to be the best I can be. My older brother has also taught me countless life lessons and has been my best friend through life. In addition to my family, my friends and boyfriend inspire me to work hard and remind me every day that I am capable of reaching my goals.
Interests: I like to spend my free time drawing and crafting. I am also a music fanatic and I try to go to as many concerts as possible. I also love working out and being outdoors. I could not survive without green tea or coffee. I am also passionate about cooking because it was a huge part of my childhood. Spending time in the kitchen with my family is what originally sparked my interest in nutrition and the dietetics profession.
Words of Wisdom: My advice is to never compare yourself to your peers. Each person has his or her strengths and weaknesses, so it's important to have confidence in your abilities. The road to becoming an RD takes a lot of heard work; do not make it harder by worrying about other people!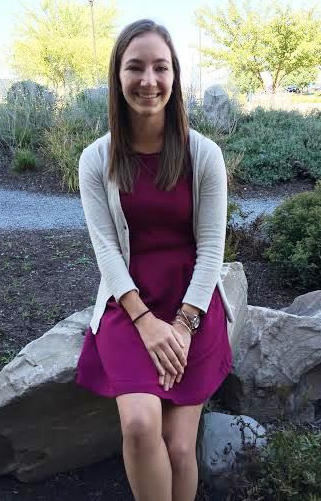 Name:  Emily Farina
Hometown: Pittsburgh, PA
College: Penn State University, B.S. in Nutritional Sciences - Dietetics
Family: My parents have blessed me with their support throughout my undergrad and dietetics journey.  Growing up, I experienced life through the eyes of a middle child.  Currently, my older brother is a pharmacy resident in Indianapolis, and my younger brother is a chemical engineering student at Penn State.  I have a large extended family who I love to spend time with especially on weeklong trips to the beach.  However, as much as I love and appreciate all members of my family, my two favorites (sorry mom and dad) are our two dogs, Louie and Ellie.
Interests:  When I have free time, I really like to cook and especially bake.   I'm a big football fan.  You can find me watching any and every Penn State or Steelers game.  I also enjoy an occasional Pinterest craft attempt (or fail) as well as a good Netflix binge.
Words of Wisdom: Ask yourself if what you're doing today is getting you closer to where you want to be tomorrow.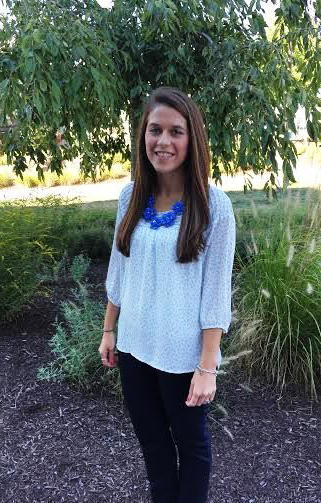 Name: Annalise Friend
Hometown: Norton, Ohio
College: The University of Akron; Akron, OH. B.S. in Dietetics.
Family: I am so thankful for the family that I have! My parents, older brother, grandparents, aunts, uncles, and cousins (I have a big family) have been so encouraging throughout all of my schooling, and especially throughout the undergrad and internship process. I can't thank them all enough! I am very grateful for my parents' love and support, and for pushing me to do things outside of my comfort zone. I am also incredibly lucky to have so much love and encouragement from my fiancé. Even (temporarily) living in different states, he always reminds me that I can count on him for anything. He has never tried to hold me back, but instead has always pushed me to chase my dreams.
Interests:  My true love is traveling. Some of the best times I've had so far have been in other countries. I can't do much of that now, but I can't wait to explore the world some day! So for now I just stick to pursuing my love of coffee. Unique little coffee shops are one of my favorite things to find. I also really enjoy trying new restaurants and foods. I would definitely say I'm a foodie. I also LOVE my dog (an adorable little shi-poo) and usually spend most of my time at home with her.
Words of Wisdom: If your dreams don't scare you, they aren't big enough.
"Fill your life with experiences, not things. Have stories to tell, not stuff to show."
"Be grateful. Eat more vegetables. Love others."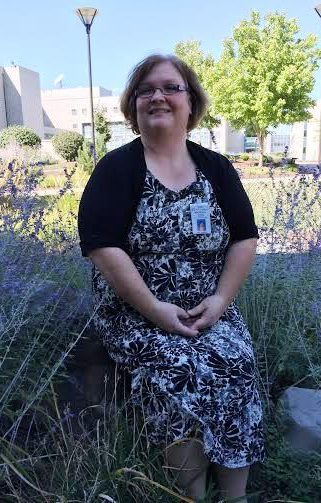 Name:  Michelle Garcia
Hometown:  Kansas City, MO
College:  University of Central MO, Warrensburg, MO, BS in Dietetics
Family:  I am very lucky to have a large supportive family. My Mom and Dad still live in Kansas City as do one sister and brother, 2 nephews and 1 niece. My other sister and 1 nephew and 1 niece live in the St Louis, MO area. Plus I have countless aunts, uncles and cousins spread out all over the country.  Interestingly, many of my family members are in health care or human services. I have a cousin who is an ER nurse, one of my sisters is a sonographer, my youngest sister works in a domestic abuse facility and was previously in children's services, and I have several aunts that are teachers. Clearly, serving people runs in my family.  Despite our size, we are a very close knit family and I brought all of their love and support with me. I am known in my family as the "fun" aunt and my nieces have already asked when I am coming home. I also have 2 wonderful dogs, Jack, a schnauzer-shih tzu mix, and Brownie, a lab-golden retriever mix. They are definitely part of the family. Jack actually thinks he is human and will not lay on the floor to sleep. He is either on the couch or in bed and prefers a pillow or two under him when he sleeps!
Interests:  I love learning about other cultures and have taken, at various times in my life, Japanese, Arabic, French and Spanish. My original major was East Asian Studies with an emphasis in Japanese (but that was a long time ago). I love movies, especially comedies or period pieces and, with my responsibility of being the fun aunt comes a love of kids' movies. I saw Minions 3 times over the summer with various family members. I love listening to music and have about 50 different stations on my Pandora. Finally, to rest and relax, I like to cross stitch, especially when I am stressed or worried about something. The focus it takes to follow a pattern takes me completely out of the stress and helps me gain new perspective.
Words of Wisdom: Do not go where the path may lead, go instead where there is no path and leave a trail. – Ralph Waldo Emerson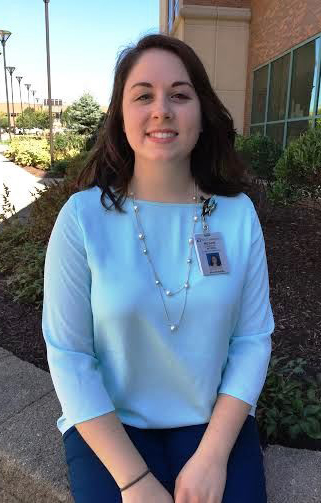 Name: Megan Greenlee
Hometown: Penfield, NY
College: Rochester Institute of Technology (BS- Nutrition Management 2015)
Paul Smith's College (AAS- Baking and Pastry Arts 2012)
Family:I am very close with and thankful for my incredibly supportive parents and sister as well as my 3 cats as they provide me with unconditional love.
Interests:  Exploring the outdoors with my boyfriend through hiking, climbing, kayaking and canoeing as well as traveling when I can find the funds. I am also a huge Disney fan and spend a decent percentage of my time watching Disney films, singing Disney songs and planning my next trip to Disney World. Trying out the local food specialties and eateries is always a favorite activity as well as eating and cooking in general as I love food.
Words of Wisdom:"An old man walks along a beach and sees a young boy throwing something into the water. As he approaches, he sees hundreds of starfish lining the beach, washed in from the tide. The young boy is rushing around, throwing the starfish back into the water one by one. The old man asks why he bothers, it's pointless. There are too many starfish to help them all. As he flings a starfish deep into the water, the young boy replies, "It mattered to that one." "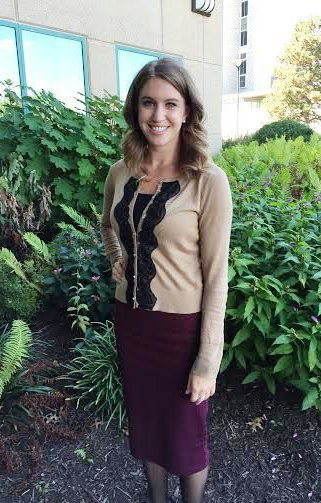 Name: Haley Schmidt
Hometown: Columbus, Ohio –GO BUCKEYES!
College: University of Pittsburgh –Go Pitt!, Go Pitt!, Go Pitt!
Family: I have an amazing and supportive family.  My mom is my rock and I can count on her for anything. My younger sister just began her college career so it is fun to watch her grow into her own person. My work ethic was predominantly learned from my father –he is the best man I know. I have an amazing Aunt who has dedicated her career to pediatric transplants and who has guided my growth as a student and stimulated my interest in pediatric nutrition. Lastly, my stepmom, also a healthcare provider, has continuously been supportive and encouraging.
Interests:  Buckeye/ Panther/ Steelers football, crafting/puzzles, trying new things -especially restaurants and activities. Fall is my favorite. I love the colorful leaves, football, pumpkin, Halloween and basically all things fall! Of course I love food, right now I am into trying a lot of spices and pairing them in unique ways –strawberry and ginger smoothies are my favorite! I really like to learn so I am constantly reading –whether it's a new book or taking to twitter for the latest fad in nutrition.
Words of Wisdom:
1)  Be kind
2)  "The problem is not the problem, the problem is your attitude about the problem" –Jack Sparrow
3)  "Hakuna Matata" –Timon and Pumba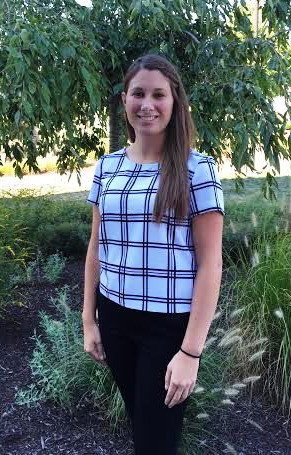 Name: Ali Sterling
Hometown:  New Philadelphia, OH
College:  The Ohio State University, Columbus, OH, B.S. Human Ecology
Family:  I feel so blessed to have a family that supports me in everything that I do and lets me know I can accomplish anything I put my mind to. I am the youngest of three girls in my family. Although my two sisters are both over ten years older than me, I am so thankful for all of the life lessons that I have learned from them. They are always looking out for me and showing me the ropes. My mother, Karen, is one of the best people you will ever meet. She is my number one fan and always bends over backwards to help out anyone in the family. My father, Rob, has always been there cheering me on no matter what, and was probably the person who was most excited for me when he found out I was going to move to Morgantown. Not only do I have the most supportive parents, I would not be anywhere without my boyfriend. He has helped me through all of the stresses of high school and college, and always knows the right thing to say to help me through any tough situation.
Interests:  Anything Ohio State, especially football! I am also a huge Cleveland sports fan.  I love baking, music of all genres, hiking, fall weather, and exploring new places. I have a serious addiction to Pinterest even if my projects never seem to come out as nice as the pictures.
Words of Wisdom:  Although you may be going through hard times, someone out there always has it worse than you so be thankful for all of the many blessings you have in your life. Never feel as though you are not good enough. Strive for excellence and never be complacent.