Living in Harpers Ferry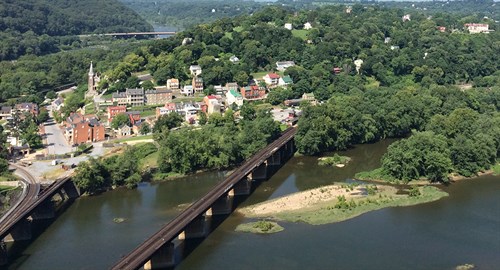 Historic Harpers Ferry, WV is located in the eastern panhandle of West Virginia. Nestled in the confluence of the Potomac and Shenandoah rivers Harpers Ferry combines small town charm with convenient access to the nation's capital. Washington DC is 62 miles to the south east and the area's regional airports (BWI, IAD, DCA) are accessible in a little over an hour. The Harpers Ferry National Historical Park preserves many civil war historic sites located on the land surrounding Harpers Ferry which helps preserve the rural nature of the area.
Harpers Ferry's access to the two scenic rivers provides ample opportunity for white water rafting, fishing, tubing and canoeing. The Appalachian Trail Conservancy (ATC) headquarters is located in Harpers Ferry, and the trail passes directly through the historic town. There are many hikes available for every skill level. Zip-lining and ropes courses are also available at local outfitters.