Program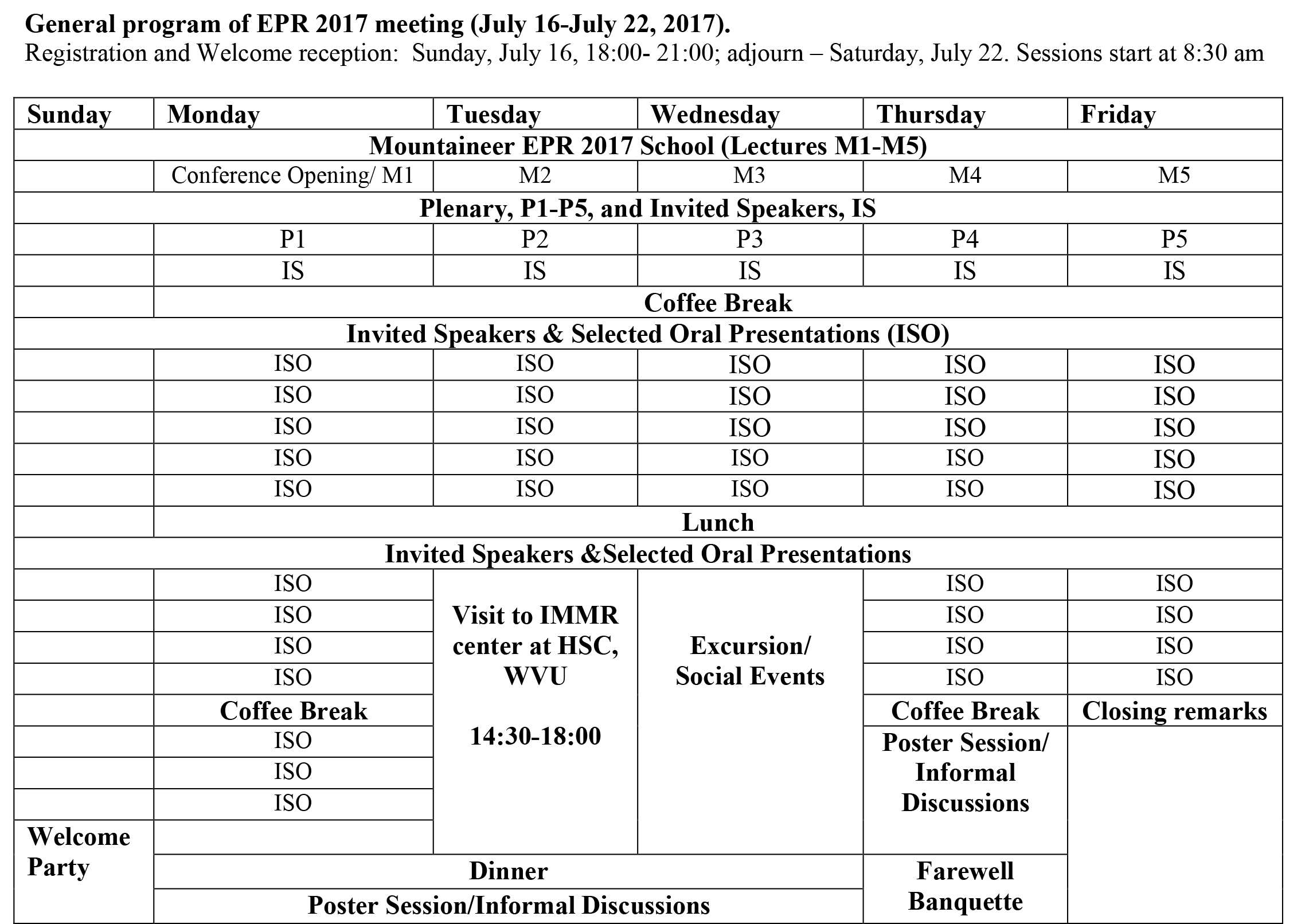 Mountaineer EPR School
For the first time of the EPR meetings each morning session will be started with the EPR School (8:30 am-9:15 am). The primary goal of the "EPR Mountaineer School" is to spread knowledge on functional EPR- based in vivo imaging and biomedical applications among potential users and will include historical overview, instrumentation, overview of different spectroscopic and imaging modalities; introduction into paramagnetic probes and traps; applications to biomedicine, and future perspectives. Among the confirmed School Lecturers are:
Lawrence Berliner, Denver University, USA
Harold M Swartz, Dartmouth, USA
David Lurie, University of Aberdeen, UK
Wayne Hubbell, UCLA, USA
The sessions will include:
Instrumentation (including but not limited Rapid Scan EPR/EPRI, DNP/MRI, OMRI/PEDRI, EPRI/MRI coimaging, pulsed EPR and "digital EPR", EPR microscopy, software/hardware developments);
In vivo EPR applications (EPR oximetry, redox, pH, molecular imaging), including EPR/EPRI/OMRI imaging in preclinical applications (animal model of diseases).
Tumor microenvironment

;

Clinical EPR and EPR related studies,
EPR spin-trapping (ROS/RNS, oxidative stress, redox status) and related techniques in health and disease;
EPR spin labeling and structural EPR (proteins, metalloenzymes, biomembranes, DNA, etc.);
Probes and traps developments.
Speakers who confirmed their participation (list to be extended):
Elena Bagryanskaya, inst. Organic Chem., Novosibirsk, Russia
Aharon Blank, Technion, Haifa, Israel
Murali Krishna Cherukuri, NCI, Bethesda, USA
Vincent Castranova, WVU, USA
Sergey Dikalov, Vanderbilt University, Nashville, USA
Sergey Dzuba, Ins. Chem. Kinetics, Novosibirsk, Russia
Martyna Elas, Jagiellonian University, Krakow, Poland
Sandra and Gareth Eaton, Denver University, USA
Yves-Michel Frapart, Université Paris Descartes, France
Jack H. Freed, Cornell University, Ithaca, NY, USA
Robert Gillies, Moffitt Cancer Center, Tampa, USA
Howard Halpern, University of Chicago, USA
Hiroshi Hirata, Hokkaido University, Sapporo, Japan
Kazuhiro Ichikawa, Fukuoka, Japan
Joseph Kao, University of Maryland, USA
Candice Klug, Medical College of Wisconsin, USA
Ronald Mason, NIEHS, USA
Hitoshi Ohta, Kobe University, Japan
Olivier Ouari, Marseille, France
Andrzej Rajca, University of Nebraska, USA
Alex Smirnov, NC State University, USA
Sunil Saxena, University of Pittsburgh, USA
Rheal A. Towner, Oklahoma State University, USA
Hideo Utsumi, Shizuoka, Japan
Anatoly F. Vanin, N.N.Semenov Institute of Chemical Physics, Russia
Kurt Warncke, Emory Uni, Atlanta, USA
Lev Weiner, Weizmann Institute, Israel