IPE Teamwork - 2015
The second IPE session was a card building exercise with the purpose to practice and discuss teamwork skill using a fun activity.
Teams were made up of six to seven students from each of the health sciences disciplines.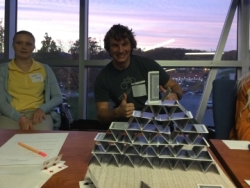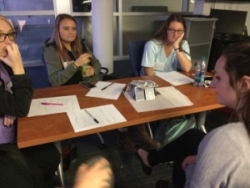 Learning to be interprofessional means learning to be a good team player. Teamwork behaviors apply in any setting where health professionals interact on behalf of shared goals for care with patients or communities. Teamwork behaviors involve cooperating in the patient-centered delivery of care; coordinating one's care with other health professionals so that gaps, redundancies, and errors are avoided; and collaborating with others through shared problem-solving and shared decision making, especially in circumstances of uncertainty. These processes reflect increasing levels of interdependence among those embedded in teams, in microsystems like hospital units, or in and between organizations and communities.