Cancer Institute partner clinics raise colorectal cancer awareness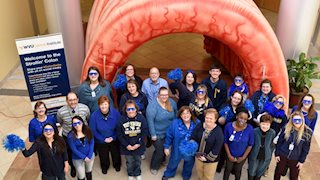 Our West Virginia Program to Increase Colorectal Cancer Screening (WV PICCS) partner clinics participated in national Dress in Blue Day on Friday, March 3. Dress in Blue Day began as a way to present a united front in the battle against the disease during Colorectal Cancer Awareness Month. Partner clinic staff donned their favorite shade a blue in order to raise awareness of colorectal cancer screening with their patients.
Colorectal cancer is the second leading cause of cancer-related deaths in West Virginia. While colorectal cancer is a significant problem, it does not have to be. If men and women aged 50 years and older tested regularly for colorectal cancer, we could avoid at least 60% of deaths from this disease. Colorectal cancer does not always have symptoms so it is important to test for it even if you feel healthy.
WV PICCS is a CDC-funded program directed through the WVU Cancer Institute Cancer Prevention and Control. The purpose is to increase colorectal cancer screening rates in persons aged 50-75 in partner primary care clinics across West Virginia. WV PICCS works with each partner clinic to assess their current screening practices. With this information, program staff collaborate with the clinics' administrators, providers, and staff to implement evidence-based interventions to increase and sustain colorectal cancer screening rates. WV PICCS works with each partner clinic for a 2-year period with the goal to increase colorectal cancer screening rates to the national goal of 80% or at least 10% above their baseline. The program currently partners with 24 primary care clinics in 18 counties.
Thanks to all of our partner clinics for showing their support!