Connect with Colleagues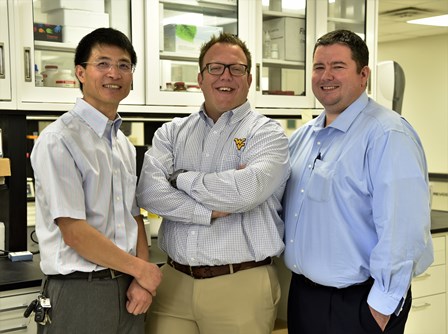 Left to Right: Bingyun Li, Brock Lindsey and Matthew Dietz.
This month, we feature the outstanding collaborations in the Department of Orthopedics.
Team science and collaboration is universally recognized as the most exciting and impactful approach to investigation and is emphasized at the WVU Health Sciences Center. One department has taken this concept to an exceptional level – the Department of Orthopedics.  The Chair of Orthopedics, Sanford Emery, MD, sees team work first hand where his faculty specialize in soft and hard tissue mechanics, tissue engineering, nanotechnology, biofilms, and infection prevention.  Dr. Emery's faculty currently have collaborators that cross the departments of Radiology, Trauma, Statistics, Neurosurgery, Physical Therapy, Chemistry, Community Medicine, Aging, Exercise Physiology and Rural Medicine at WVU.  They not only provide a wonderful model of inter-institutional collaboration, they also train students at multiple levels including undergraduates, medical student and PhD. Students.  This summer the research laboratories of Drs. Bingyun Li, Matthew Dietz, and Brock Lindsey were bustling with students participating as part of collaborative teams.  Between the three scientific groups they trained 10 summer research students including INTRO Summer Research E.J. Van Liere Fellows, INBRE supported undergraduates, medical students and an M.D. /Ph.D. student.  Jabeen Noore, a Research Associate in Orthopedics enjoys mentoring the summer students with their diverse research projects where they receive valuable training to be successful in their research endeavors. Students we spoke with indicated that "…research can be fun, even if you spend your only free summer in the lab - its' worth it". 
Dr. Bingyun Li believes collaboration is the key for innovation and success in research.  An open mind, fostering trust and sharing recognition and credit are key elements for collaboration.  Following his principles, he has established multiple collaborations with colleagues at WVU including Drs. Lindsey, Hubbard, Dietz, Emery, and Lasala in the clinical research realm and Drs. Barnett and Cuff in the School of Medicine, Dr. Xingbo Liu in School of Engineering and Dr. Novruz Akhmedov in Chemistry as basic science team members.  He states these collaborations have led to innovative ideas, numerous co-mentoring students, more than 20 co-authored papers, one US patent and 20 joint proposals.  He has also recently established collaborations with researchers at Harvard University and Northeastern University. 
Dr. Matthew Dietz's research team, who is using electrolysis to eradicate the biofilms grown on common orthopedic metals, also works across campuses.  He recently had one of his collaborators from the C. Eugene Bennett Department of Chemistry, Dr. Harry Finklea, visiting his lab and demonstrating multiple methods of analysis to him and his students while also allowing the students some hands on experience during this meet up in the lab.  Both collaborators are very excited about working together and are enthusiastic about the teamwork atmosphere created here.  "Having access to top level knowledge outside of my field of expertise has been invaluable.  This has helped in writing grants and obtaining funding.  Over the past several months I have been working with Dr. Finklea on a project that focuses on his expertise of electrochemistry.  He provides insight and knowledge that I couldn't hope to gather in years of research.  This has allowed me make progress where I could still be stopped at the first speed bump" states Dr. Dietz.  "Finding the connection can sometimes be difficult, but once made is instrumental to any progress or continued success we may have."
While team work is not limited to the scientists that call the Department of Orthopedics home, they certainly are an exceptional group leading by example.  We encourage you to seek out exciting collaborators at WVU and beyond.  We also ask you to tell us about the accomplishments of your unique teams. To send us highlights or if you need help identifying a mentor or collaborator with specific expertise please contact Holly Legleiter at hlegleiter@hsc.wvu.edu.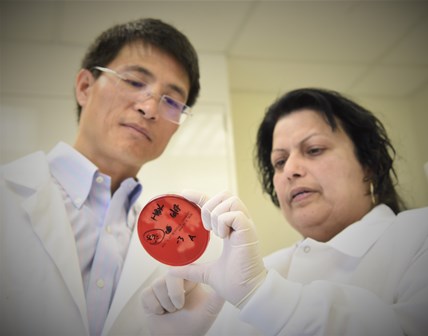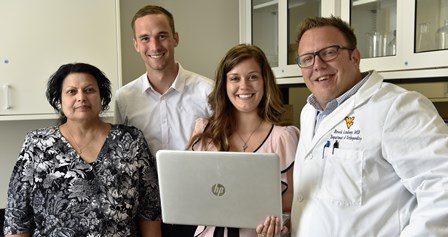 Contact us regarding Research @ the HSC