Spotlight on the Leonardi Lab

Left to Right: Deborah R. Corbin, Stephanie Shumar, Evan Kerr and Dr. Roberta Leonardi.
The Health Sciences Center is bursting at the seams with labs full of outstanding students led by innovative professors.  This month we highlight one example – that of Dr. Roberta Leonardi.
Dr. Leonardi came to WVU from St. Jude Children's Research Hospital in 2013 and joined the Department of Biochemistry as an Assistant Professor.  Her research interests focus around the mechanisms that regulate coenzyme A (CoA) levels, an essential cofactor that plays a key role in metabolism. 
One primary goal in the Leonardi lab is the generation of a mouse model of a rare pediatric neurological disease (Pantothenate Kinase-Associated Neurodegeneration) or PKAN, caused by mutations in one of the genes required to synthesize CoA.  Several lines of evidence suggest that the neurological symptoms of the PKAN patients are caused by a reduction in the neuronal concentration of CoA in the central nervous system.  She was recently awarded an R21 from the NINDS (National Institute of Neurological Disorders and Stroke) to generate a transgenic mouse with increased degradation of CoA in the neurons to model PKAN.  She is collaborating with Dr. Hanting Zhang in Behavioral Medicine and Psychiatry here at WVU and also Dr. Rae Matsumoto, at Touro University in California.
A second area of focus is the use of biochemical, genetic and metabolomics approaches to characterize the role of the CoA-degrading enzymes Nudt7 and Nudt19 in the dynamic regulation of CoA levels in the liver and kidneys.   Nudt7 and Nudt19 reside in the peroxisomes and the lab will focus on characterizing the ability of these enzymes to modulate peroxisomal lipid metabolism, the crosstalk between peroxisomes and other subcellular compartments, including mitochondria, and glucose homeostasis.  Dr. Leonardi was recently awarded an R35 grant from the NIGMS (National Institute of General Medical Sciences) to extend this research focus.  Her collaborators include Dr. Werner Geldenhuys in Pharmaceutical Sciences (WVU), Dr. Joseph McFadden in the Division of Animal and Nutritional Sciences (WVU), Dr. Brad Hillgartner in Biochemistry (WVU) and Dr. Judy King, Department of Pathology (WVU) and Dr. Sandra Gabelli in Biophysics and Biophysical Chemistry at Johns Hopkins University. 
When asked why her collaborators are so important to her research mission, she responded "Innovative projects require different expertise, points of view and approaches, things that only a team of collaborators can provide."
Well done Dr. Leonardi, and we wish you continued success in the future!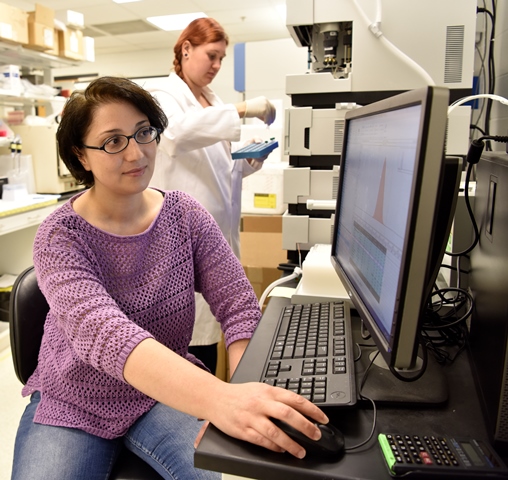 Contact us regarding Research @ the HSC