The "Heart and Soul" of our students
We are all aware of the drive and determination our graduate students display in the classroom and in the lab.  You may not realize, however, the extent to which students  commit themselves to volunteer efforts throughout our community. 
Volunteerism is the heart and soul of our graduate student  experience.  Our students work tirelessly each day raising funds for a humanitarian project, tutoring students in their field,  offering science education  at local schools, cleaning up after events, and so much more.  Graduate student volunteers play vital roles in our community, and they especially take pride in certain causes that hit close to home.
Elizabeth Claydon, a Ph.D. student in the School of Public Health, began volunteering to fulfill a requirement of her Scholarship, but felt compelled to continue her service  to the NICU Reunion program for families with children in  Ruby Memorial's NICU, a Cinderella themed library program, and also as an English-as-a-second-language tutor for other students.  "Every aspect of it is rewarding and it has reemphasized the need to give back. It provides a reality check at times and reminds you that everybody's story and reality is different and that we should always take the time to listen and help," Elizabeth said, adding  that volunteering may also be contagious.  Her experience  has encouraged her introduce the importance of volunteerism to her two year old son. 
Many of our graduate students have immersed themselves within the community in order to see positive change.  Nikki Byrne-Hoffman, a Ph.D. student in the laboratory of Dr. David Klinke, said that her spirit of volunteerism was instilled in her at a very young age.  "I don't know a life without volunteerism, and I don't think I would want to.  Volunteerism really helps you see the good in the world and to BE the good in the world.  I think if we had more people who used just a fraction of their "free time" to help others without strings attached, we would see the darkness that seems to have crept into society begin to recede and would be able to watch love overcome hate tangibly, and with full force.  It really makes your brain switch to a more positive outlook when you see the lasting impact of just a few minutes of your time," Byrne-Hoffman said. She is deeply involved in  the City of Morgantown, which she says largely runs on volunteer efforts and she can see the shift and upswing in young volunteers and their movement to act, which has great impact in our local communities.  Nikki adds "A lot of our volunteer organizations are essentially dying out, and I am happy to see a recent resurgence of civic engagement from some of our younger students and citizens." 
Danielle Shepherd, a Ph.D. student in Dr. John Hollander's laboratory, has a passion for working with young students in the STEM fields with the hopes of sparking the interest of a young student in the sciences and seeing that "aha" moment on a child's face.  The personal measure for Danielle is the idea that "You never know who you will influence or what one interaction you may do to spark the interest of a young student, which is why it is critical to volunteer your time to reaching out to those around you and teaching them something new and exciting."  Danielle enjoys volunteering to judge elementary school science fairs, and is active in community science days.  Giving back to the community is a top priority for Danielle.
Ahmad Hanif, currently a Ph.D. student in the laboratory of Dr. Mohammad Nayeem, is a classic example of how a student can truly impact their local community.  He came to WVU from the College of Pharmacy at the University of Jordan, and has taken Morgantown under his wing and volunteers his time to improving the exterior and interior of his Church's school for children and serves on the School Board. "Despite being very busy with my Ph.D. degree (I was in my 3rd year then and was under pressure to publish and attend conferences), I at once became engaged in school work. I loved the feeling of helping others and making a positive change in their lives. Since then, my weekends have almost been completely devoted to improving the school building, revising and improving the curricula, selecting competent volunteer teachers and getting them involved in building an attractive school for the kids," Ahmad said. As his work continued, he became inspired to do more.  That's when he joined Habitat for Humanity, representing the Islamic Center of Morgantown.  While the work is rewarding, he recognizes that his volunteer work represents his family, faith and community in a positive light.  He goes one step further to say the organized volunteer work has been one of the best things he has experienced here in the United States.  He hopes the spirit of volunteerism will help to socially encourage and attract more students to dedicate their time in a manner that can serve others. 
Student volunteerism keeps the Mountaineer spirit alive here at the WVU Health Sciences Center. 
Let's go!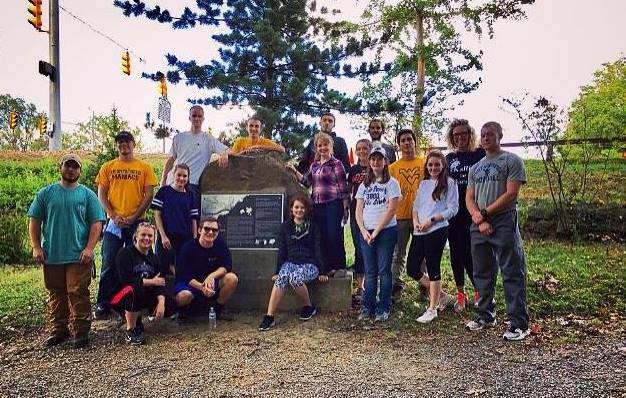 If you would like more information on how you can volunteer as a faculty, staff or student, visit: http://service.wvu.edu/
Contact us regarding Research @ the HSC