Curriculum
The following courses provide the core knowledge recommended for all students.  Students with demonstrated ability in one or more of these courses may substitute an elective with permission from the academic mentor. AGBI410 (Agricultural Biochemistry) or AGBI610 or AGBI512/513 can be substituted based on the recommendation of the graduate director.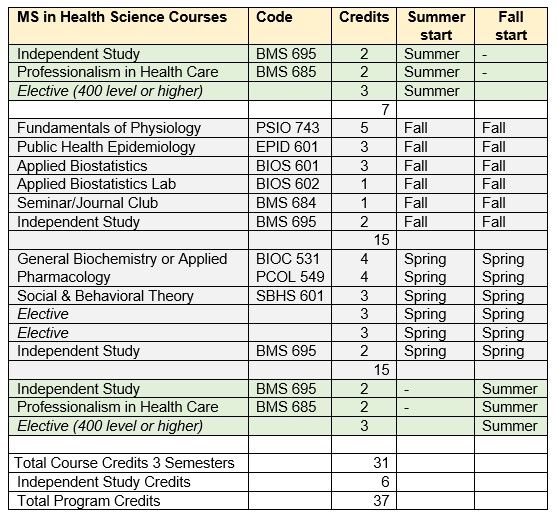 Spring/Summer Electives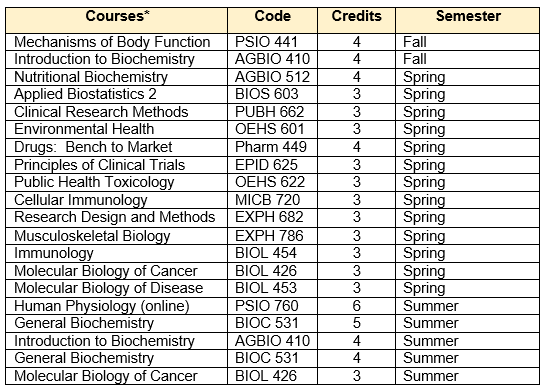 *Some courses are restricted, so please contact the professor for permission to enroll.
Independent study
The independent study project is a yearlong activity that allows the student to explore in depth a topic of their choice. These might include:
Retrospective analysis of clinical outcomes. Such projects are routinely done by medical students as research rotations or summer activities.
Secondary analysis of a national database, e.g., NHANES.
Participation in data management for an existing clinical or community study, e.g., the CARDIAC project.
At the end, the students will make short presentations of their projects to the other students and faculty in the program.
Career planning and test preparation
The hallmark of the program is the individual time spent assisting the student with career development. This begins with an assessment of the student's interests via an individual development plan and then mentored guidance throughout the program. Students will have access to workshops on resume preparation, interviewing or preparation to take admissions tests such as the MCAT or GRE to help them achieve their next career step.