Faculty Spotlight

WVU's Computational Neuroscience at Xth Summer School in Ukraine
Neuroscience is a dynamic research field marked by a wide range of discoveries that span theory and practice in medicine, robotics, and biology. Despite political and economic hardships, Ukraine remains a power house of engineering talent in the Eastern Europe with growing interest in computational neuroscience. Recognizing mutually beneficial opportunities in the biomedical field WVU School of Medicine and the National Technical University of Ukraine "KPI" have recently signed the Mutual Understanding Agreement to create substrate for the development of research and teaching goals. 
This year Dr. Sergiy Yakovenko lectured a course on Neuromechanics in the international summer school  "Achievements and Applications of Contemporary Informatics, Mathematics and Physics" organized by Student Science Association in the National Technical University of Ukraine "KPI" (Kyiv, Ukraine).  The goal was to expose advanced senior and graduate students (from Ukraine, Germany, Italy, Estonia, etc) to current research problems and cutting-edge computational tools in neuroscience. Students completed several neuroscience-related courses with the group research projects that created real-time human-machine interfaces with 3D-printed prosthetic limbs, simulated neuronal networks for spatial navigation and neural plasticity. The high quality scientific atmosphere was embellished by the cultural exposure to the unique vibe of Ukrainian capital. This year, the school had 101 participants from 10 countries (Ukraine, Germany, Slovakia, Austria, Italy, Serbia, Spain, Greece, India, and Canada), and 44 lecturers from 12 countries (Ukraine, Germany, Canada, Switzerland, Slovenia, USA, Hungary, UK, Russia, Estonia, Norway, and Turkey).
WVU SoM has directly benefited by recruiting talented students from this community. This continued international participation follows WVU's global engagement mission "to build pathways for the exchange of knowledge and opportunity between the state, the nation, and the world."

Student Spotlight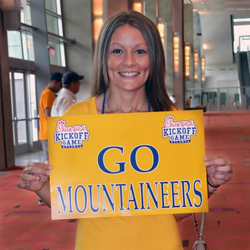 Danielle Doll, PhD
A West Virginia native, I graduated from WVU with a Bachelor of Science in Biology, summa cum laude and with honors. I am currently a post-doctoral fellow in the Simpkins lab, continuing my research project on the effects of the immune system on stroke.
Stroke is the 4th leading cause of death and leading cause of disability in the United States. During stroke and infection, cytokines, a component of your immune system, are increased.  One cytokine that is increased is TNF-alpha.  My research focuses on the effects of this cytokine on mitochondrial function.  Mitochondria are the powerhouses of the cell and provide cells with energy.  A decrease in mitochondrial function can result in profound cell death.  I found that TNF-alpha rapidly and profoundly decreases mitochondrial function in neurons.  This is an important observation because the increase in TNF-alpha after stroke can result in the death of neurons, which contributes to more brain damage after stroke.  Understanding how TNF-alpha affects mitochondria and contributes to neuronal cell death provides us with a possible therapeutic target to decrease the amount of brain damage after stroke.
Currently, there is only one FDA approved therapeutic for stroke, tissue plasminogen activator (tPA).  With stroke being such a burden not only in the United States but worldwide, new therapeutic targets are critical.  Moreover, infection is now recognized as a risk factor for stroke, but clinically it is not well understood how an infection prior to stroke can affect outcome.  I studied the effects of administering a bacterial infection mimic, lipopolysaccharide (LPS) prior to stroke on infarct size and post-stroke behavioral outcome.  I hypothesized that the bacterial infection mimic would increase infarct size and that, post-stroke, the bacterial infection would exacerbate stroke-induced functional deficits due to the increase in cytokines, such as TNF-alpha, that negatively affect neuronal mitochondrial function and cell viability.  I found that in fact a bacterial infection mimic (LPS) increases infarct size, exacerbates sickness behavior, and worsens neurological deficits.  A possible mechanism may be decreased mitochondrial function, which highlights mitochondria as a possible therapeutic target for stroke.
As a post-doctoral fellow in Dr. Simpkins's lab, I'm continuing my project on the effects of the immune system on stroke and learning molecular techniques to increase my current skill set.   I want to pursue a career in industry.  Ideally, I would like to work in a lab at a pharmaceutical company, and then eventually progress my career at the company to work closely with the FDA.