Return to the Research Labs
Dear Colleagues:
We are pleased that so many of you have patiently, but enthusiastically, retuned to your labs following the guidelines that have been provided and updated since Mid-May.  Each PI has been diligent in keeping safety as the top priority while returning their teams to the work that they are so passionate about.
We have approved over 75 laboratory repatriation plans and welcome additional PI plans if you did not previously submit for approval through our office. Contact Ms. Logan Miller for forms at
lmmiller@hsc.wvu.edu
.  This process is relevant to our lab based faculty only. If you need any assistance completing this request please contact Dr. Al Berrebi at
aberrebi@hsc.wvu.edu
so we can support you in getting it done.  We have asked each PI to work with their Chair for endorsement of the plan prior to submission.
In addition, please see the guidance below provided by the University research office for ongoing updates that are important to our HSC scientists and campus wide colleagues.
As always, please contact us with any questions or needs you have as you transition your team back to the HSC.  Thank you again for your attention to balancing progress at the bench while taking the best possible care of each other.
Laura
Professor, Senior Associate VP for Research and Graduate Education
Associate Dean for Research, School of Medicine
WVU Health Sciences Center
Note from The Office of Research and Graduate Education:
Dear Colleagues:
Earlier in the week we shared the message below with our HSC graduate students and subsequently with many of our research and education focused faculty. This was prompted by our desire to connect with the students in recognition of the anguish we have all felt related to the death of George Floyd. Many conversations have followed that have been heartbreaking, but essential, and remind us of the need for a shared commitment to creating and sustaining an environment of respect, compassion and actions that consistently demonstrate that we value each individual equally. It is essential that our commitment and actions outlast the media coverage and our team is dedicated to making that happen with all of you as partners. Dr. Julie Lockman will be leading some focused initiatives to facilitate critical conversations and I would ask you to please share your perspective, ideas and concerns with her as we move forward in transitioning ideas into a truly improved culture.  We will remain in this together.
 Laura F. Gibson, PhD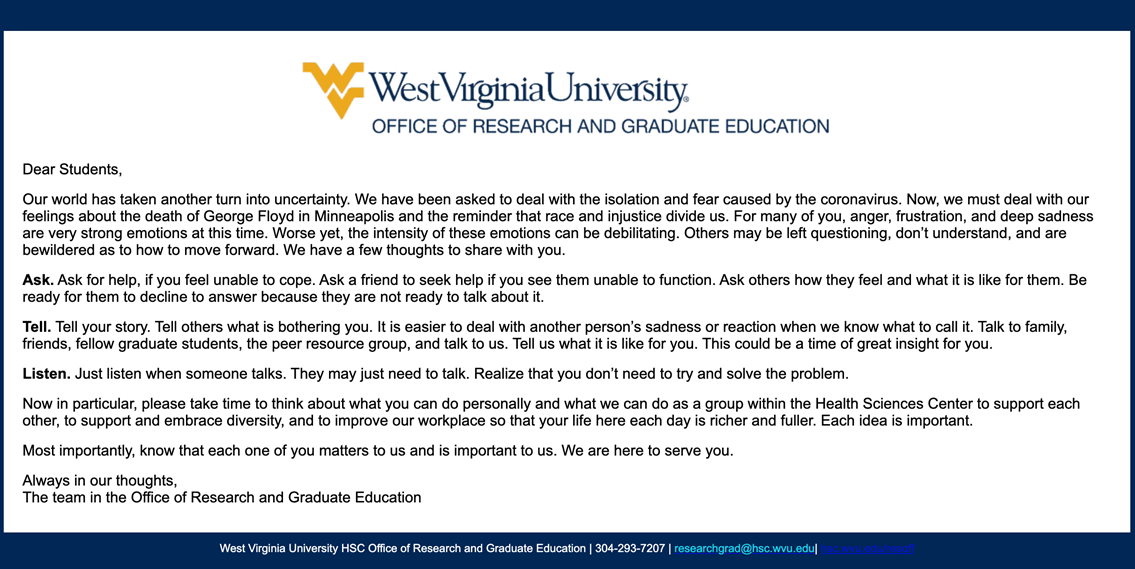 Announcements regarding COVID-19
For the latest updates related to COVID-19 - https://coronavirus.wvu.edu/. 
To facilitate the tracking of people accessing the HSC, a Qualtrics form  Building Access Log - HSC can be used instead of contacting departmental administrators by email. Please fill the form out each day you access HSC buildings. When we begin ramping up activity, we will provide a QR scan code that can serve a short-cut to the website for compatible smart phones. Please email Logan Miller (lmmiller@hsc.wvu.edu) and Dr. Al Berrebi (aberrebi@hsc.wvu.edu) with questions or concerns.
WVU issues updated travel guidelines for campus community
Beginning Tuesday, May 26, all University-related international travel remains prohibited and domestic business travel for WVU employees will be extremely limited and require prior approval by the unit's vice president or the dean of the college/school.
Individuals returning to the WVU campus from any location outside of West Virginia are subject to a 5-day self-quarantine/self-monitoring period. Anyone traveling for personal reasons outside of West Virginia are also subject to a 5-day self-quarantine/self-monitoring period. This does not include commuting to work.
Student-workers and employees are still asked to notify their supervisor of their travel and self-quarantine/self-monitor status. Also, all employees who have traveled should contact WVU Medical Management at MedicalManagement@mail.wvu.edu at 304-293-5700 ext. 8 to develop a return-to-work plan tailored to their specific situation before resuming normal work activities (on-campus or via an alternative work arrangement).
Please check coronavirus.wvu.edu frequently for updates. 
Campus Conversation: WVU's COVID-19 Response and Budget
A virtual Campus Conversation on West Virginia University's COVID-19 response and budget was held on Thursday (April 23). The discussion focused on WVU's COVID-19 response and transition activities to date, our current budget reality and the University's contingency planning efforts, including a potential furlough for designated staff employees as a last-resort measure. You can view a recording of the meeting, as well as the presentation on the Campus Conversations webpage. And a robust FAQ also lives at the site.
Gee: Mountaineer values continue to guide us in COVID-19 response
President Gordon Gee sent a letter Thursday (April 23) to the West Virginia University campus community calling on Mountaineers to "stay the course and take pride in knowing that we are adapting in ways we never thought possible." The full letter is available at this link: https://go.wvu.edu/8T2dF.
Talking Point: When will the University make a decision about fall?
Several teams across the University are examining different scenarios regarding the fall semester. Though we are hopeful we can return to campus, the decision will be driven by the information from our public health officials (local, state and national). The safety of our students, faculty and staff remains our highest priority. Every decision we will make is with that in mind. No date has been determined regarding a decision for fall, and we understand this is frustrating. However, as soon as a decision is made, we will communicate it broadly.
3-26-20
For the latest details about May commencement, visit https://graduation.wvu.edu/.
May 16, 2020 - Mountaineer Graduation Day - an online commencement experience for the Class of 2020 May graduates. 
3-24-20
3-23-20
The Office of Research and Graduate Education has shifted to a remote office in response to COVID-19. We have cancelled or postponed in-person events to lessen the spread COVID-19 until the end of the spring semester. The Office of Research and Graduate team will continue to work remotely, resources and services will still be available to faculty, graduate students, postdocs and staff in remote/virtual formats. Please reach out to office members via email and they will be happy to assist to you.
3-18-20: A Message from President Gee
3-18-20 Update: Dear Students, Faculty and Staff
Included below, the move to essential activities and personnel in our labs has been requested by University leadership.  We have been moving toward this through aggressive social distancing and our sense that this was the approach that would be needed, and now is the time to support each other and the broader community in making it happen.
Please put your energy and creativity into compliance with this approach that is balanced in keeping essential activities going while accomplishing what is required.  It is not a time for trying to figure out a "work around" but rather to be in it together in moving toward what I realize as a scientist is not a desirable circumstance.  I completely understand the concern over anything that slows down our research and reduces productivity, but a much bigger issue is at hand.
All aspects of this request are driven by a desire for safety and I ask us all to keep that as a top priority as well.  Any request for activity that does not comply with the mandate must be approved by Dr. King as noted and he has indicated the need for very robust justification.  
Please be in touch with our office if we can help in any way as we navigate this next step together.  Have talked with several of you this morning, and happy to talk with anyone as needed to help support you and your work.
Laura F. Gibson, PhD
Professor, Senior Associate VP for Research and Graduate Education
Associate Dean for Research, School of Medicine
One Medical Center Drive
WVU Health Sciences Center
Morgantown, WV 26506
Asst; Ms. Teresa Luci
304-293-7206
3-18-20: Research Office Info Letter
Communications
The Research Office has been providing communications (updated daily) via
https://coronavirus.wvu.edu/researchers/
Please refer to that resource as the most contemporary source of information. We will be updating FAQs there and direct any concerns to coronavirus_RO@mail.wvu.edu
For the most up to date information on changes/developments  on research policies from federal agencies, see https://www.cogr.edu/institutional-and-agency-responses-covid-19-and-additional-resources
Cessation of On-site Research
By now you should have received notice from your Deans about a directive from VPR King (see full text below) to scale back research and put labs into hibernation mode. This decision was not made lightly as research and scholarly activity is a core of WVU. Given the overarching priority that we put on community health and influenced by the proactive stance of other research institutions, we were obligated to take this dramatic step. (See March 18th - Inside Higher Ed News for perspectives from other research institutions:
https://www.insidehighered.com/news/2020/03/18/how-institutions-are-approaching-scientific-research-during-covid-19)
In most cases, you are being asked to stop performing on-site research, you can however return to the lab to fill up cryogens, tend to animals/cell lines, maintain samples and keep critical laboratory instrumentation and samples viable for your future on-site research needs. You do not presently need a waiver to do those things (but please honor public health guidelines for physical separation and always have another person in the general vicinity for lab safety. You do need a waiver (see below) in order to continue any on-site research that must be maintained in order to preserve the viability/significance of longitudinal data or samples.
Directive from VPR King
Dear Colleagues,
In light of the continued concerns around the coronavirus COVID-19 and minimizing community spread, the University is asking everyone to drive down their lab work to absolute minimal presence by close of business on Thursday, March 19, only to allow for instrumentation maintenance, cell/animal lines. Keep attendance to 2 researchers at time (lowest population that allows for safety backup). The goal should is zero attendance in most spaces. Researchers should NOT be using their offices for work that can be conducted elsewhere.
In rare exceptions, waivers will be granted for high-priority activities where work stoppage would result in significant loss of data or samples, or where the research has relevance to COVID-19. Waivers need to be authorized by VPR King (written waiver only). No waivers will be granted merely to maintain research productivity or to make deadlines for deliverables. Any work that is authorized to continue on site would be subject to low worker density and heightened hygiene protocols.
The overarching goal is to minimize transmission of COVID-19 in the community which includes researchers, those who maintain our facilities and all their families, as well as the larger Morgantown community. We are fully aware that research will not be conducted at the same pace as usual and that progress will be significantly stymied. However, public safety must be the premier focus. Our actions are not taken lightly.
If you have questions or concerns, please send them to: Coronavirus_RO@mail.wvu.edu.
Thank you for your understanding, cooperation and assistance in keeping our community and our state safe.
Fred L. King
Vice President for Research
West Virginia University
Guidance for what constitutes high priority work that should proceed in order to avoid jeopardizing data and or samples  (Modified from UC-San Diego)
 
When making these evaluations specific to the needs of your lab or research team, it will be important to distinguish carefully between those functions that are essential versus those that are desirable, and those that actually require access to campus versus those that can be conducted remotely. In most situations, we anticipate that only a small subset of research personnel will require access to campus.
Examples:
Essential Functions/Personnel
Professor X's research includes analysis of chemical interactions which must be measured at regular intervals. An interruption in these measurements will compromise the integrity of longitudinal data collected for an extended period in advance, putting at risk her work at risk.

Assessment: Maintaining these measurements is an essential function which requires ongoing access to campus even in the event of campus closure.
Essential personnel are required to maintain this activity and should include 2 researchers who will need access to the on-site lab. Related research that will not compromise the longitudinal data, will be hibernated. Backup personnel should also be identified, though not all members of the research team should be granted access. If this situation is comparable to your laboratory work, seek an authorization for this activity from mailto: and provide an explanation and a list of essential personnel and the requisite location access.

Cell lines in Professor Y's lab must be monitored and cared for on a regular basis. Freezing them may jeopardize their viability and they are not replaceable. 

Assessment: Continued monitoring and evaluation should be maintained by the minimum number of staff. If this situation is comparable to your laboratory work, seek an authorization for this activity from coronavirus_RO@mail.wvu.edu and provide an explanation and a list of essential personnel and the requisite location access.

Professor Z's team relies on instrumentation which must be calibrated and serviced daily or weekly, even when not in use. An inability to perform these services would result in damage to the instruments which would result in long-term delays in research or required replacement of instruments.

Assessment: Maintaining these instruments is an essential function
Essential personnel required to maintain these instruments might include 2 technicians who will need access to campus. Backup personnel who would need access to campus in the event that these persons are unable to get to campus should also be identified, though not all members of the research team will be identified as requiring such access. If this situation is comparable to your laboratory work, seek an authorization for this activity from coronavirus_RO@mail.wvu.edu and provide an explanation and a list of essential personnel and the requisite location access.
Non-essential functions/personnel
Professor A's research involves growth of novel materials. An interruption in access to the lab will delay completion of a project funded by NSF.

Maintaining on-site research is high priority, but not necessarily "essential." Professor A is advised to work remotely on project activities.
Can I go into my lab to check on things?
Yes. You can go in, but you are there just to check. The hibernation is intended to ramp research down to the absolute minimum just to maintain experimental/apparatus viability, so that they can be ramped up again within minimal difficulty when the situation is resolved. We recommend that you invest in remote sensors for temperature, humidity etc. otherwise used for residential use which are locally available to monitor conditions from off-site. These can be charged to your grant, but keep track of Coronavirus specific charges and follow the directives of your purchasing/budgeting staff for record keeping.
HSC Central Receiving Updates
Please limit ordering to align with activities that are consistent with directives from Dr. King's office.
The following Central Receiving updates are effective as of 2 p.m., Wednesday, March 18, 2020:
Central Receiving will remain open and receive shipped materials but will no longer be making deliveries.
Arrange for lab personnel to pick up materials from central receiving during the hours of 8:30-9:30AM and 1PM-3PM. 
For large shipments, please make arrangements with Central Receiving personnel.
Chris Cuff will check with Central Receiving at around 3PM for any unclaimed material that needs to be kept frozen. He (or someone from EH&S) will unbox the material and store it at the appropriate temperature.
The PI will be contacted by email with the identity and location of the material.
Maintain appropriate distance and hygiene while in central receiving. To reduce risk of cross contamination, central receiving personnel will electronically sign for packages 'per' the person picking up the package in his/her presence.
Please see additional information related to HSC Central Receiving Updates - https://health.wvu.edu/news/story?headline=hsc-central-receiving-updates
Information for All Researchers
https://coronavirus.wvu.edu/researchers/
Biowaste Pick-up
In the next few days, FM employees will begin decreasing their in-person presence in the HSC. One of the things that this is going to effect is the Stericycle biowaste pick-up.  Anyone who needs a biowaste box picked up and a new box delivered, please send an email to biosafety@wvuhsc.onmicrosoft.comand our office will be coordinating this moving forward. Labs that have automatic weekly pick-ups scheduled will now have to send a box request to our email.
Updated Travel Advisory
In Enews, there will be an updated travel advisory. You can find the new update on the website, as well: https://coronavirus.wvu.edu/faculty-staff/travel/. Please review as it has been amended to include personal travel outside of West Virginia and what precautions people should take.
In addition, several have inquired about the following:
The self-quarantine/self-monitoring period begins when the traveler returns to West Virginia.
There are two reasons for the 5-day period:
The current research indicates that viral shedding (infectivity) may be greatest in the first 5 days after contracting the disease (even if asymptomatic) and;
Five days is the median time for people to develop symptoms of COVID-19 following exposure.
VPN Service Launched
Most employees working off campus will be able to access what they need using their home internet service, but a new Virtual Private Network (VPN) service will replicate the on-campus experience for those who need to connect to WVU's network for restricted resources. You do NOT need a VPN to access email, calendars or anything else in the Office 365 suite, including Microsoft Teams.
Filelocker guidance
At WVU, the intended use of FileLocker is for uploading files containing sensitive data. FileLocker is not intended for large and mass document uploads. In fact, the University's servers cannot handle this type of traffic and will crash. As a result, faculty, staff and students are asked to avoid using FileLocker except for the transmission of sensitive data.Direct questions to the ITS Service Desk at 304-293-4444.
Contact us regarding Research @ the HSC
Contact us regarding Graduate Education