MEET THE GRADS: Early injuries lead a talented soccer player to WVU's exercise physiology program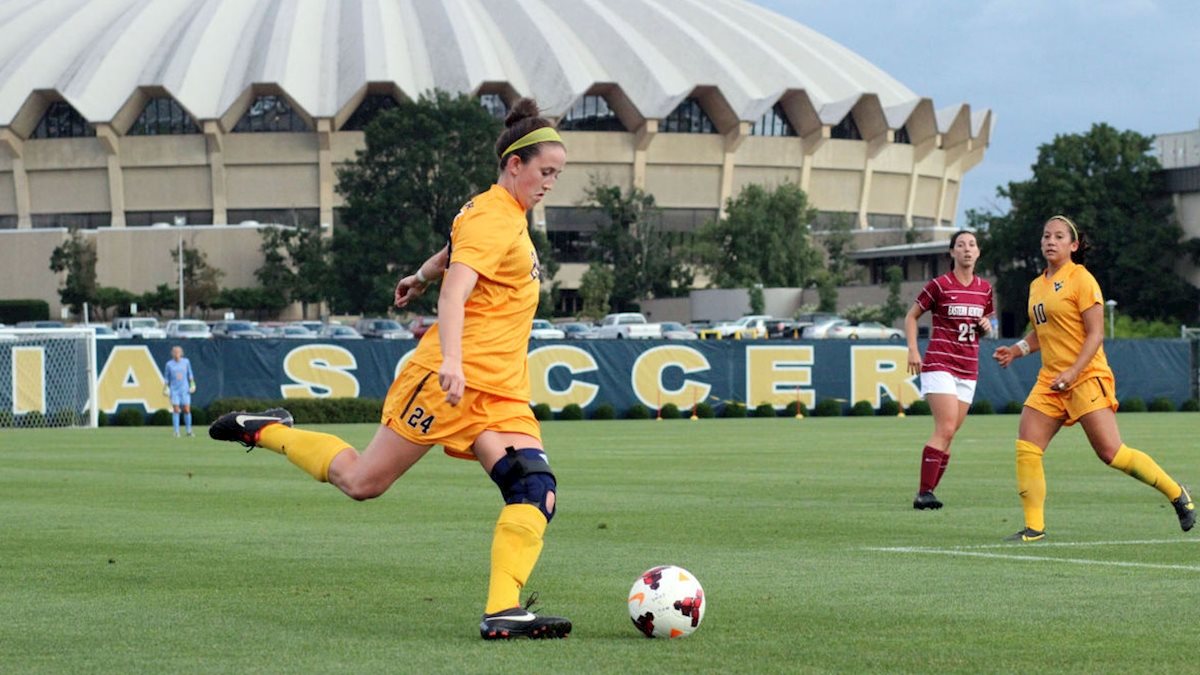 (Editor's Note: As commencement nears, WVU Health Sciences is featuring some of our most dedicated graduates. Here is the story of one of those students.)
An injury can be a guiding sign in disguise. At least that was the case for Carly Black. A native of Horsham, Pennsylvania, and a senior in West Virginia University's exercise physiology program, Carly tore both anterior cruciate ligaments (ACL) in her knees at a young age. It was then that she recognized a passion for the field of exercise physiology.
"The physician assistant who worked with me throughout the surgical process when I tore my ACLs opened my eyes to the field and inspired me to pursue that degree," Carly said. "Not only was her knowledge of medicine impressive, but her commitment to patient care and developing relationships touched me the most."
Carly says that her decision to pursue a degree in the exercise physiology program at WVU rested on the quality education it provides and the surrounding community and sports, which was and continue to play an integral role in her life.
"I chose WVU because I was looking for a school that had a strong medical program and a strong soccer team," Carly said. "I was recruited to play soccer for the Mountaineers, and I fell in love with the athletic facilities and the amazing community of people that support Morgantown athletics. I knew this was the school for me, and the atmosphere of Morgantown and its people confirmed my strong beliefs every day."
Carly emphasizes that her professors in the exercise physiology program were very hands-on in mentoring students and providing guidance whenever needed.
"At WVU, the exercise physiology teachers get to know you well and are able to help you in any way," she said. "Dr. Randall Bryner was a wonderful mentor who made exercise physiology classes interesting. He gave the toughest tests which prepared me for future graduate level tests. And, Dr. Carla Murgia was also an amazing mentor. She taught my cadaver anatomy laboratory class and challenged me more than I had been challenged before. Both she and Dr. Bryner wrote letters of recommendation for me and were able to speak about me as a person."
Carly's active lifestyle and sociable nature were perfectly positioned for success at WVU. Given the array of activities available to students, she was able to give back to the community and participate in activities that echoed her interests. Plus, she was able to be part of a nationally acclaimed, college soccer team!
"I was in the Exercise Physiology Club for one year and enjoyed participating in various community service projects," Carly said. "I was also a member of the WVU Women's soccer team, and in my five seasons with WVU I was a defender for the record-breaking team, won five Big 12 Conference Championships and made it to the 2016 NCAA National Championship game."
Carly says she left WVU with more than an undergraduate degree that paved the way for her future endeavors. Through soccer at WVU, she was a three-time recipient of the Academic All Big-12 First Team member, a two-time College Sports Information Directors of America (CoSIDA) Academic All-American and earned the Dr. Gerald Lage Award in 2015.
"WVU gave me priceless memories as a Mountaineer student-athlete," she said. "It also equipped me with the skills and knowledge to become an orthopedic surgical physician assistant who forms lasting relationships with her patients and allows them to feel confident during their treatment."
Contemplating her long-term goals, Carly credits her studies with positioning her to pursue her dream career while exploring other states.
"I am going to attend Philadelphia College of Osteopathic Medicine to pursue a degree as a physician assistant in June 2017," she said. "The one great thing about being a physician assistant is that you are not stuck in one specialty and have the freedom to explore different options."
Asked about her advice to prospective students, Carly says it all comes down to hard work and taking the initiative.
"WVU and the School of Medicine have so much to offer, but you have to be proactive and take chances," Carly said. "There are so many programs, clubs, internship opportunities, and more that will help set you up for your future, but you must be willing to take the first step. I was fortunate to learn about the Human Performance Lab and reached out to complete my internship there. I earned countless patient-contact hours that I needed for PA school applications, as well as important experiences that help me put to practice what I learned in the classroom."
The School of Medicine will hold three commencement ceremonies during the weekend of May 12-14, 2017: Ph.D. candidates at 9:00 a.m. on Fri., May 12 in WVU Health Sciences's Okey Patteson Auditorium; medicine doctoral candidates at 6:00 p.m. on Fri., May 12 at the Creative Arts Center; and, professional programs candidates at 4:00 p.m on Sun., May 14 at the WVU Coliseum. All ceremonies will be webcast live at www.webcast.wvu.edu. Following the events, videos will be available for viewing on WVU's official YouTube channel, WestVirginiaU. For more information, visit WVU's commencement website at www.graduation.wvu.edu.
For news and information on the WVU School of Medicine, follow us on twitter @WVUMedSchool, like us on Facebook or visit medicine.hsc.wvu.edu.
--WVU--
des: 4/21/17
Photos courtesy of WVU Athletics
Contact:
Tara Scatterday
Director, Communications and Marketing
WVU School of Medicine
tdscatterday@hsc.wvu.edu | 304-293-0630
Story originally published .