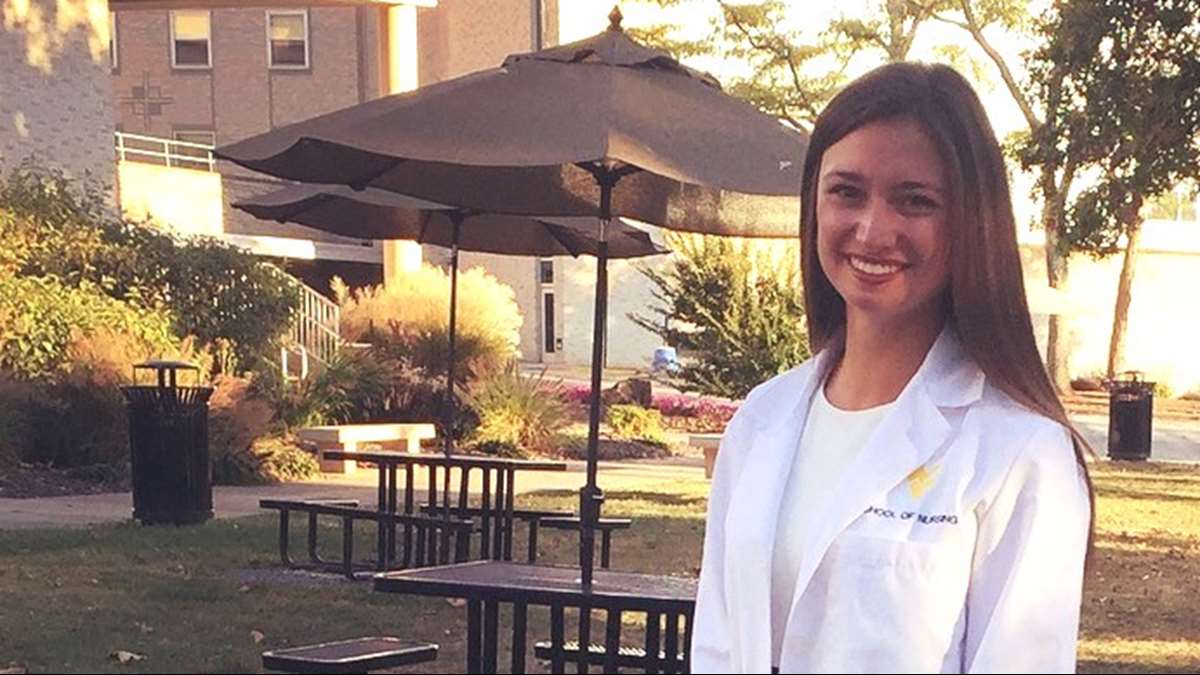 "While working at the World Scout Jamboree in summer of 2019, a team member had a stroke and was coding. I was the recorder on the team. As horrible as the event was, I knew in that moment I choose the right profession, and knew what type of specialty nurse I would work towards. "
Why did you choose the WVU School of Nursing?
I choose to come to WVU School of Nursing for a few reasons! When I first walked on the campus, I fell in love. I remember it was a sunny day and everyone seemed so happy to be there, I wanted to be a part of that. I got to see HSC, and I felt like I fit in. Ruby had a great reputation and I felt like I could learn a lot there. There is a smaller student to faculty ratio(8:1) than other schools I was looking at (12-16:1), and there were also fewer nursing schools at Ruby for clinical. I felt like I would get more experience and would be provided with more opportunities to learn here than most other hospitals. Lastly, my mother is an alumni. I respect her and the nurse she has become, so why not follow in her footsteps?
Why did you choose Nursing as a profession?
When I was a little girl, I was told I could change the world. I realized from a young age that there is not one single person that can change the world, and that I had to start small. So, I decided I could change the world one person at a time. Nursing gave me that opportunity. I take time to care for one person, make a difference in their life, and I am changing the world; I am changing their world.
Did you have an "a-ha!" moment when they knew they knew this was the right major for you?
I wish I could say there was an "a-ha" moment that I knew nursing was the right major, it just felt right from the beginning. I think some of that relates to growing up with my mom as a nurse. My "a-ha" moment was more towards the type of nurse I wanted to be. While working at the World Scout Jamboree in summer of 2019, a team member had a stroke and was coding. I was the recorder on the team. As horrible as the event was, I knew in that moment I choose the right profession, and knew what type of specialty nurse I would work towards.
Did you participate in any student organizations or clubs while at WVU?
While at WVU, I tried to get involved as much as I could. My freshman year I joined the women's club volleyball team and played for two semesters. My second semester I became a fundraising chair member. Once clinicals started taking my time, I had to stop but I found other ways to get involved. I became a board member of West Virginia University Student Nurses Association in 2018, and maintained a position through graduation. I was in charge of the media, organizing dinners, and small little side jobs that I could help with! I was nominated to be an Ambassador for the School of Nursing, working all the Decide WVU days and gave tours around HSC. I joined P.O.U.N.D. during my junior year as well. Outside of medical professions, I found myself missing the outdoors and joined Ducks Unlimited as well during my junior year. I was nominated for Chimes in my junior year and Mortar Board my senior year. I currently still hold a fundraising position on the board of Mortar Board.
What piece of advice would you give to the incoming class?
My advice for the incoming class is to have fun! Life is too short to not enjoy it. Time here at WVU will fly by. There will always be the next assignment due or a test the next week, but that doesn't mean that students cannot enjoy themselves. It is important to have fun to take care of yourself! Mental health is super important, so taking a day to go to lunch with a friend or take a hike is just as important as studying for an exam. We are only human. How can nurses take care of others if they cannot take care of themselves?
Why should a potential nursing student choose the WVU School of Nursing? 
Choose WVU Nursing school because it is the best! It is very challenging, but the staff is super friendly and helpful. There is so much to learn here, being tied to Ruby. There are so many activities to do outside of classes from sporting events to hiking to organizations. Everyone here wants to help you succeed and get involved. For the SON, there are fewer students to clinical instructors, so it helps promote learning and time to focus on strengths/weaknesses while on the hospital floor. It feels like the staff wants to be here, teaching students. Overall, it is a positive place with a positive learning environment.
It has been a little different ending your education at home under quarantine. How have you adapted? 
I made sure I had time for myself as classes finished online. I would exercise every day to relieve frustration and stress from the last few week's activities. I also kept reminding myself that as much as this sucks to end college like this, that what I am doing by staying home is for the greater good. Now more than ever, people cannot be selfish. By staying home, I am helping to make sure that families have the opportunity to say goodbye to their loved ones someday, and not be separated from the corona virus spread. I chose nursing to change the world, which starts with my actions and my feelings.
Where are you off to next? 
I am happy to announce that I will be starting this summer at Allegheny General Hospital in Pittsburgh, PA on their stepdown unit. Eventually I hope to make my way into an ICU or and ER, but for now I am taking the time to learn all I can!
Coronavirus has shown us the very best of health care professionals in trying times. Has this made you more focused on becoming a nurse/convinced you that you have made the right decision? 
Coronavirus defiantly showed me that I made the right decision. Once I saw what all was happening in New York, I wanted to go and help! I felt like it was my responsibility to do what I can to help others, especially in a time like this.
Do you have any interesting stories from your time at WVU and the School of Nursing?
I could probably write a 10 page paper on interesting stories at WVU and the SON, but I will keep it short and sweet. My favorite story is how all of us nursing students would still pretend we had lives and go out with our friends, but somehow all meet up. My favorite story was when we all meet up for happy hour as a cohort. We took the night, and all complained about the work we had to do together instead of talking our non-nursing friends' ears off. It was very interesting to have a bar full of only nursing students.
Did you receive any honors or awards?
I was invited into Sigma Theta Tau, Chimes, and Mortar Board while at WVU. Being asked to be a Nursing student ambassador was a huge honor for me as well!
2020 is the Year of the Nurse and is also 200 years since Florence Nightingale was born. What do you think is special about nurses?
I think nurses are the most selfless people that can make a difference. By always asking why/how and pursuing our curiosity, we have made a difference. Florence Nightingale is a prime example. By asking about how the environment can affect a patient outcome, she realized that hygiene is important for caring for wounds. Nurses chose a profession that is all about helping others. I couldn't be happier with my decision of choosing this special profession.