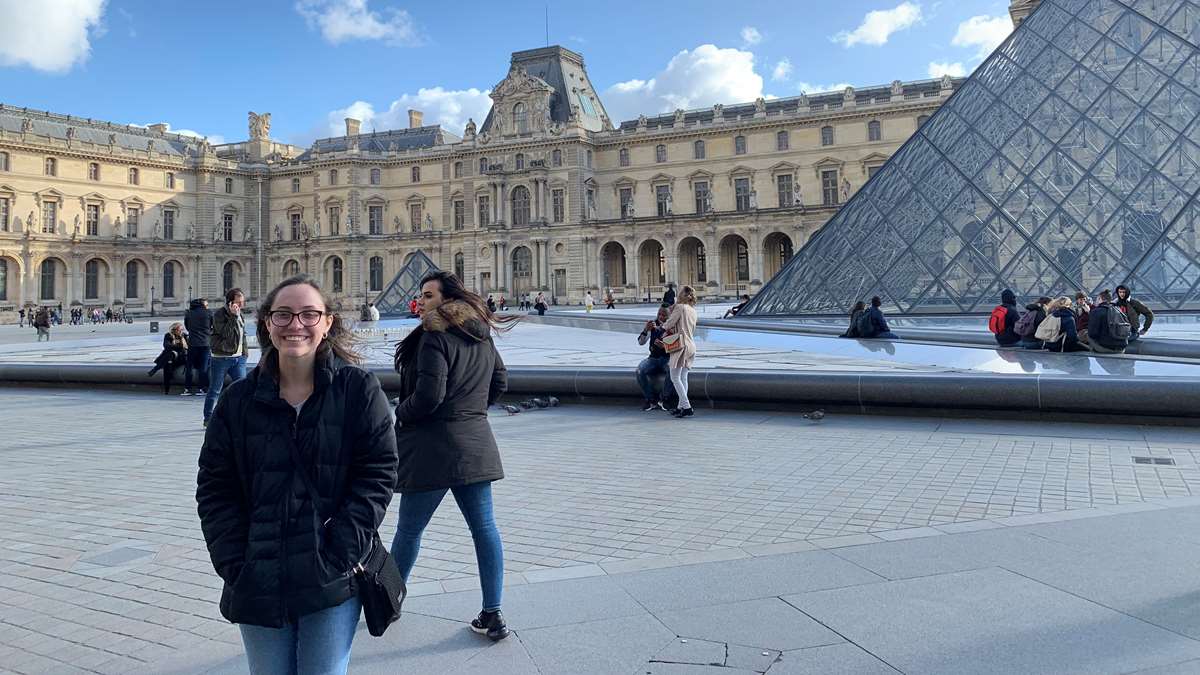 "WVU has a unique ability to blend scholarly activity and community outreach."
Program: Bachelor of Science in Public Health (Dual Major: Bachelor of Arts in World Languages, Literatures and Linguistics)
Area of Emphasis: Public Health Sciences
When did you know that you wanted to study public health?
I decided that I wanted to study public health while I was looking into different colleges and degree options during my senior year of high school. I knew that I wanted to help people, but I did not know if I wanted to work clinically, do some sort of health promotion or conduct research. Public health is a wonderful "umbrella" major in which you can pursue any of those paths!
Why did you choose to study public health at WVU?
I am from West Virginia, and I received a few very generous scholarships that enticed me to stay in state to complete my education. That said, it did not take long for me to realize that, scholarships aside, there is nowhere else I would rather be. WVU has a unique ability to blend scholarly activity and community outreach. As an R1 Research Institution, WVU has achieved the highest possible ranking on a scale that looks at doctoral students and university-wide research opportunities. Even within this R1 institution, research opportunities are not limited to masters or doctoral students—I was able to become involved in research in my first semester as an undergraduate! WVU has also received the highest ranking possible in community engagement from the Carnegie Foundation for Advancement and Teaching. There are countless opportunities for volunteer work and community engagement in the School of Public Health and WVU as a whole, and even the research we do is dedicated to bettering our community and our world.
Have you had any particular members of the faculty or staff who made an impact on you while studying at WVU? If so, how?
Absolutely. Brianna Sheppard, the assistant director of the WVU Institute for Community and Rural Health and an adjunct assistant professor in the School of Public Health, has been a mentor to me since my first semester of college. I met her at an undergraduate research interest group meeting and, for the following two years, worked with her on a project evaluating low-back pain patient demographics in West Virginia, treatment recommendations in primary care, and differences in treatment recommendations based on demographic variables. Through this project, I was able to participate in many different steps of the research process from IRB approval to data collection and cleaning to data analysis. Following the completion of our low-back pain research project, Dr. Sheppard also helped me get involved with a Center for Medicaid and Medicare Services Accountable Health Communities Study in which I administered a survey with questions about social needs (i.e. housing, food security, transportation) to WVU Medicine Emergency Department patients with Medicaid and/or Medicare.
Steve Davis is another faculty member who has served as a mentor for me. He was my professor for Clinical Research Methods and Practice (CHPR 440) and later Public Health Project Management (PUBH 338). These classes both gave me skills that I have already utilized in research and work experiences. Dr. Davis is not only passionate about his work in public health but also about the lives and success of his students, and he helped inspire me to attend graduate school at WVU.
Dr. Davis and Dr. Sheppard have also both helped me through applications for scholarships, jobs and graduate school. I am grateful to have had the opportunity to form relationships with faculty members who are so invested in my success!
What is a moment that made you realize public health is the right fit for you?
In May of 2018, I had the opportunity to attend the National Rural Health Association annual conference in New Orleans and learn from trailblazers in rural health practice and advocacy. Hearing all of the ways people were involved in empowering and bettering their communities really reinforced the idea that public health is a broad, diverse field and definitely the right place for me.
What are some unique or interesting experiences have you had during your time at WVU?
One very special experience I have had in my time as WVU has been the opportunity to be involved with an organization called A Moment of Magic. A Moment of Magic is a national non-profit that provides creative programming to medically vulnerable children. The main way that A Moment of Magic provides creative programming is by allowing college students to dress up as princesses, superheroes and other beloved characters and visit children in hospitals and other social service institutions, at home, via Skype and at public events. WVU first got a chapter of A Moment of Magic in 2017, and I have been involved with our chapter since its inception. In this time, I have had the opportunity to volunteer over 100 hours, visiting children at Ruby Memorial Hospital, UPMC Children's, Children's National Hospital, Penn State THON, MountaineerTHON, Camp Kesem, and events for Make-A-Wish and similar organizations. 
Tell us about your field placement experience.
I completed my field placement with the WVU Center for Resilient Communities. The center is new to WVU and aims to "cultivate a diverse network of grassroots leaders, scholars and students who are committed to advancing just, equitable and resilient communities in West Virginia and around the world." There are four collaborative action labs housed within the Center for Resilient Communities—the Food Justice Lab, the Health Equity Lab, the Food System Development Lab and the Community Mapping Lab—and each is involved in numerous projects. I spent most of my field placement working with the Health Equity Lab on a project called Take Back Our Health West Virginia. Take Back Our Health is a multi-sector initiative that aims to decrease obesity and chronic disease in West Virginia through policy, systems and environmental change. I spent a lot of my field placement compiling toolkit information for our three goal environments and establishing evaluation criteria to be used once the project is implemented. One thing I got out of my field placement was experience working with and balancing the needs and expertise of stakeholders from unique governmental, educational, and non-profit institutions. Another thing I got out of my field placement was a job; I have continued to work for the Center for Resilient Communities as an intern since I completed my capstone in December.
What would you tell prospective students about WVU and the School of Public Health?
With multiple areas of emphasis and work, research and volunteer opportunities, the School of Public Health has a variety of pathways well-suited for anyone with an interest in the field. WVU is also the best place you can be if you have a genuine interest in giving back to your community and your world.
What advice would you give to your freshman self?
I would tell my freshman self that it is okay not to know exactly what you are doing. I would also tell her to take as many opportunities and chances as she can because college is a once-in-a-lifetime experience that not everybody gets to have. There were times, especially earlier in my college career, when I would feel directionless and like I had no idea what I was doing. That said, the fact that I did not necessarily take the straight and narrow path through college gave me the opportunity to dip my toes in all sorts of different opportunities and experiences that I would not have otherwise had and that I would not trade for the world.
What are you looking forward to most after graduation?
I am looking forward to taking some time off this summer and then returning to WVU for graduate school in the fall! While I am glad to have time to take a break from school, I am the kind of person who has always enjoyed learning new things, and I am excited to be continuing my education at WVU.
Is there something people would be surprised to learn about you?
I am bilingual! In my first year at WVU, I declared a minor in Spanish, but last year I made the decision to bump it up to a second major. I have always wanted to learn a second language, and the ability to study Spanish at WVU has meant everything to me. I hope to use Spanish both personally and professionally in the future. I hope to be able to travel and absorb more of the world and also to reach more clients in my career as a social worker.