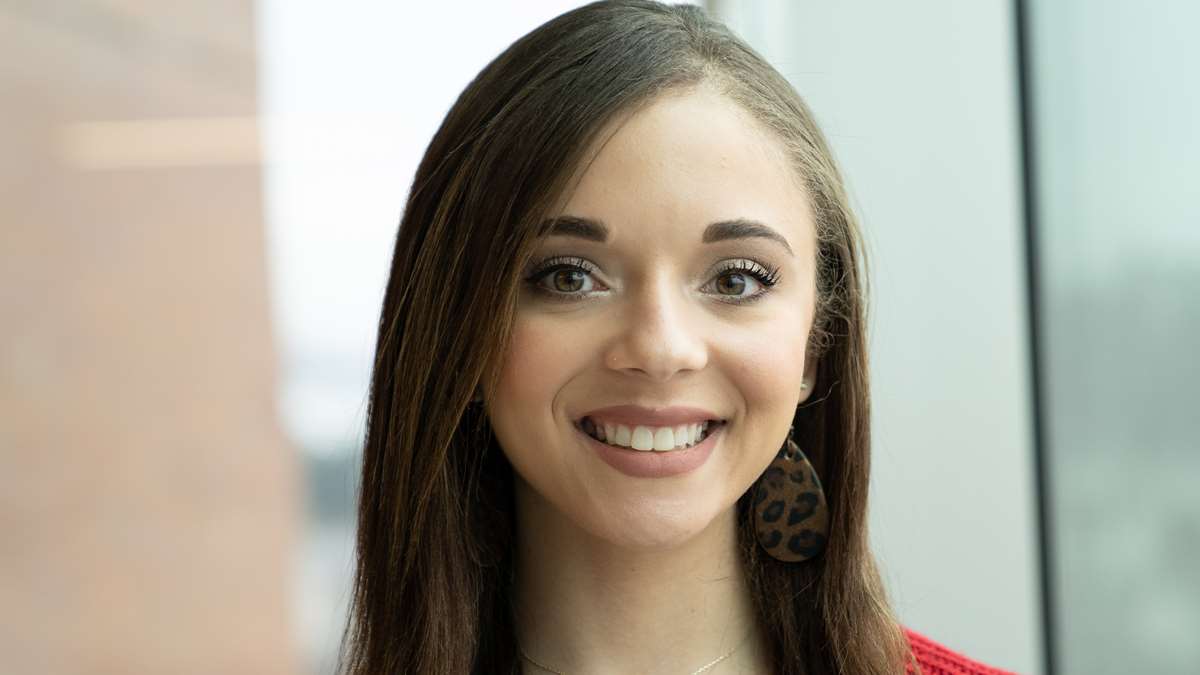 "What I like the most about the public health program is how willing everyone is to help you extend your experience by providing so many opportunities."
Program: Bachelor of Science in Public Health
Area of Emphasis: Patient Navigation
What does public health mean to you?
In public health, we focus on prevention. One of the things that interests me the most is how diverse it is. You can go from case management to epidemiology to statistics to doing health promotion. You can make such an impact on individuals and communities.
What do you like the most about WVU?
I like how much there is to get involved with, whether it's clubs or sports or if you want to be an advocate for something you're really passionate about. Ever since my freshman year I've always been involved with student life and res life and found that it was a good fit for me.
Have you had any particular members of the faculty or staff who made an impact on you while studying at WVU? If so, how?
A faculty member who has helped me so much is Toni Morris. She has a background in nursing, but her focus now is patient navigation so she understands what it takes to truly succeed in the field. She cares so much about her students and has really been there for me. She helps me find the different resources I need, gives me advice and helps me be the best I can be.
Tell us about your field placement experience.
My field experience was at the Heart and Vascular Institute, particularly the heart failure clinic, at Ruby Memorial Hospital. I was shadowing a patient navigator and seeing how she plays a huge role to their multidisciplinary care team. I got to observe how she develops appointments, coordinates care plans, collaborates with physicians and other members of the team, and, my favorite, talks with patients to get a real connection. A lot people don't realize what goes on behind the scenes of a clinic such as the HVI. To keep a timely, effective, efficient and patient centered approach to care, it takes a lot of hard work. The health care field in general is a very complex system so patient education is one of my favorite aspects of this role. I got to also shadow the heart failure nurse and visit patient rooms. She goes through patient admissions and discharges, managing their cases within the system. She also curates a patient education packet that consists of Do's and Don'ts when it comes to heart failure, diagnosis explanations, signs and symptoms to watch out for and, most importantly, heart healthy food options and ones to avoid. All patients come from different backgrounds and walks of life, so understanding where they are on their own and building upon that is the best way I've learned to increase the patient's quality of care. I love getting to put a face to a name and talk with them.   
What would you tell prospective students about the School of Public Health?
What I like the most about the public health program is how willing everyone is to help you extend your experience by providing so many opportunities. I also really like the small class sizes. You have the opportunity to connect with your professors and they're willing to help you with whatever you need to succeed.
It has really helped me narrow in on exactly what it is I want to do and what I'm passionate about, which is helping the community, having those one-on-one relationships and improving healthcare as a whole. Overall, it helped me find my place.
What advice would you give to your freshman self?
Looking back to my freshman self, I would definitely say to look at your options when it comes to majors. I would definitely from the very beginning, first semester, get involved with many other clubs and organizations. There are over 450+ organizations here at WVU and getting involved with just one of those can steer you in a different direction that you wouldn't have through otherwise.
What are you looking forward to most after graduation?
I'm looking forward to moving to a bigger city, somewhere I've always seen myself growing, and working in a big hospital. I'm excited to work with all the different departments and see how well they run together and how I'm able to fit in and make a difference.
How has being a first-generation student influenced your journey?
At first it put a lot of pressure on me, but it's also given me the drive and push to be able to show that anybody can do it. It really gave me the opportunity to want to grow even more and help other students who are first-gen as well.
Is there something people would be surprised to learn about you?
I am super into all things beauty, lifestyle and fashion. In my free time I do a lot of research on social marketing (totally outside of my field, I know). I want to be a woman of many talents, which includes being at the forefront with patients all the way down to empowering women by showing them a lifestyle that's simple but beautiful. With this deep passion that I've had for a long time, I'm also working on my own blog – stay tuned for that! Life's too short to not follow your dreams! You never know unless you put yourself out there.