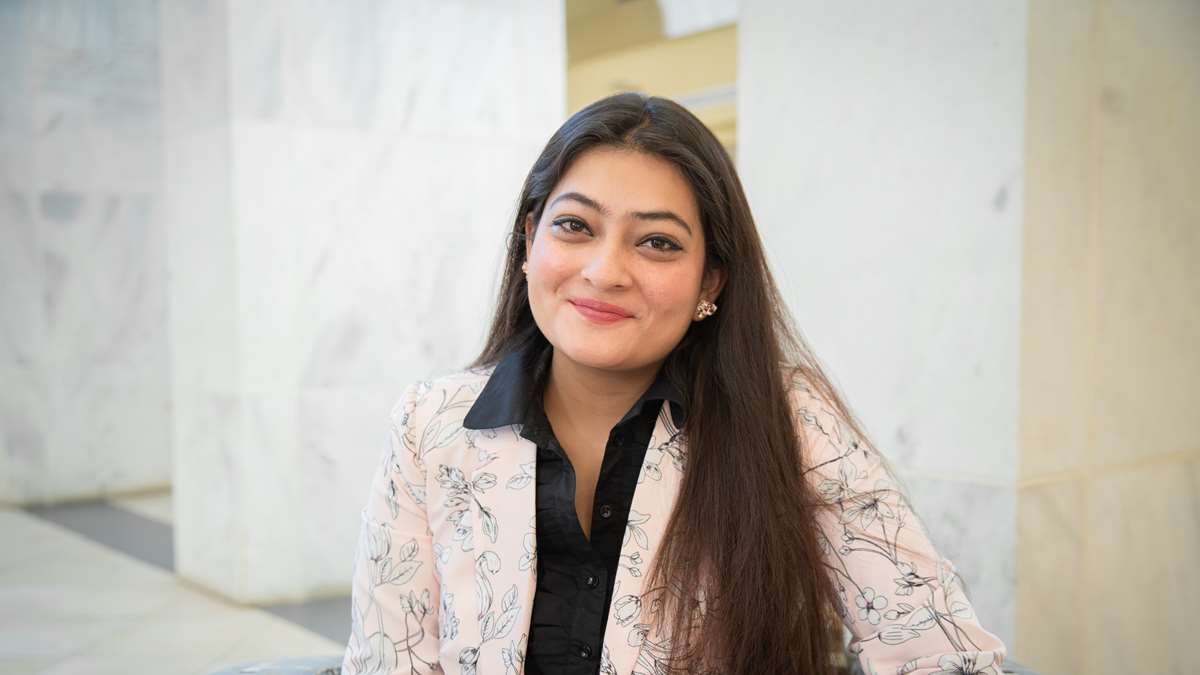 "...The School of Public Health especially is like one happy family."
Program: Master of Public Health, Epidemiology
Hometown: Calcutta, India
How do you define public health?
Quite simply, I would say public health is the science and art of preventing disease. I use the word 'art' along with 'science' because it doesn't just require scientific knowledge and good reasoning skills to be a public health professional, but it also requires the art of good communication and interpersonal skills – for health education to the public or for conducting qualitative interviews and collaborating with other stakeholders. To me, it means being able to study, safeguard and improve the health of the community as a whole instead of one person at a time.
When did you know that you wanted to study public health?
I always wanted to be in the medical field. After having a fall as a baby and growing up with my front teeth looking like Bugs Bunny for a few years, I finally had a minor surgery and got braces. Once I was done with my treatment, I was so impressed with the change this made to my face and my life that I wanted to be a dentist! I went to dental school in India and worked as a dentist for a year before coming to Morgantown.
As part of one of my courses at the Monongalia County Health Department, I was at White Park dressed in an all-white neck to toes protective suit (resembling the epidemiologists in their HAZMAT suits you see on TV) and hunting for ticks as part of Lyme disease research. Even though I am generally not a fan of bugs and anything that crawls, I enjoyed being "a field epidemiologist" in the outdoors while picking up anything that resembled a tick with tweezers and putting them in test tubes. I had a kid come up and ask, "Where is your spaceship?" and several adults on their walk ask us what we were doing. They were so impressed and thankful for our work after we told them, and in that moment, I definitely felt like I could not have made a better choice in life! 
Why did you choose to study Public Health?
What attracted me to public health was how diverse and dynamic the field is. There are endless areas of research interests to choose from and the power to make changes to the health of the whole community and not just a single person. It combines my love for research and healthcare and gives me the satisfaction that I'm trying to do something to make our society healthier every single day. 
I chose epidemiology because it keeps my curiosity alive. Trying to find the 'why' and 'what' for health questions and digging deeper about where the problem really lies is a fulfilling and enriching job with rich rewards when you finally find your answers. I like to think of epidemiologists as the Sherlock Holmes of public health - we solve mysteries and shed light onto the health of people and communities for a living and there is nothing else that I'd rather do.
I have always been fascinated by epidemiologists in movies like "Contagion" and medical mystery books and TV shows where they investigate outbreaks and eventually save the day. My love and curiosity for this field grew when I learned more about it in dental school in India. While I didn't know then that I would eventually become an epidemiologist, I definitely had a lot of respect for the field and thought that this would be an amazing job to have.
Why did you choose WVU?
I moved to Morgantown when my husband got a post-doctorate position here and thought I'd take a tour of the campus. It was love at first sight! I was so enchanted by the beauty of the campus and warmth of everyone I met. WVU felt like a family from the first day I stepped foot on the campus, and I knew I wanted to be a part of this family and call WVU home. The close-knit atmosphere and friendly smiles I see all around make me happier than words can say.
Have you had any particular members of the faculty or staff who made an impact on you while studying at WVU? If so, how?
Everyone has been so great! Dr. Robin Pollini has been a wonderful mentor and encouraged me to apply for the PhD here. I look forward to working with her over the next few years. Dr. Ruchi Bhandari has been like a second mom to me – she cares so much and is always there to help me out with anything I need. Dr. Diane Gross is such an inspiration and I consider myself lucky to have been her only student for a semester. I hope to be like her someday!
What are some unique or interesting experiences you've had during your time at WVU?
Working as a research assistant for a randomized controlled trial, I got to travel and stay overnight at lots of different places all over West Virginia, Ohio and Pennsylvania for data collection and this definitely made for some interesting stories. I would work during the day, which was fascinating in itself because people in rural Wood County are always surprised to see an Indian woman traipsing about their town (I got asked "Are you lost, honey?" quite a bit!) and then explore the quaint little towns with their shops and mom and pop restaurants when I was done. I consider myself privileged to have had these experiences! 
Tell us about your field placement experience.
My field placement experience was at NIOSH. I worked in the Respiratory Health Division of the Field Studies Branch. I was the first author for a review paper on respiratory diseases in dental professionals. Being a dentist back in India and now studying public health, this was the ideal placement for me where I could apply all the skills that I'd learnt through the years to real world research. I learnt a lot about how NIOSH works and the huge role they play in protecting workers' health in the country. I met some really accomplished and friendly people while I was there, and I hope to have laid the foundation for some future collaborations. As for what I want to accomplish – I would like to try to get the paper I am working on published in in the American Dental Association's journal.
What do you want to do after graduation? What is your ultimate career goal?
I want to get an Epidemiology PhD and ultimately, I want to work in a university being a substance use researcher and a professor. I have been so inspired by all my professors here and I wouldn't be here without them. Someday I want to be this inspiration for students and hopefully make a difference in their life.
What would you tell prospective students about WVU and the School of Public Health?
Welcome home! WVU truly feels like a place where everyone feels welcome and the School of Public Health especially is like one happy family. I cannot think of a better environment to learn, to make friends, to be inspired and to make great memories. There are so many experiences that await you here both inside and outside the classroom and it is so easy for time to just fly by because you're having such an amazing time. Make the most of every single day here – they'll be gone before you know it!
Why should someone choose WVU to study public health?
Public health is a field that you can't effectively learn by just being inside a laboratory or a classroom. Hands-on training, real world research and work experience goes a long way in helping you be a well-rounded public health scientist, and this is where WVU excels. There are so many organizations you can intern at during your time here – NIOSH, Mon County Health Department, WVU Extension Service, WVU Cancer Center – and it is easy to find an area of interest that works best for you. There are rural immersion experiences that are so valuable and teach you so much more than books ever can, inter-professional meetings that help you learn to be part of a bigger team and many research assistant positions that prepare you for jobs in the future. The low student-teacher ratio is also amazing here because it ensures that everyone gets undivided attention and care instead of getting lost in a huge classroom where professors don't know you personally. WVU will ensure that you learn your subject as best you can, build an impressive resume and have lots of fun in the process!