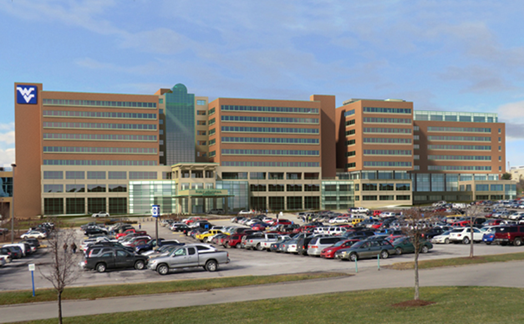 The WVU Medicine Dietetic Internship is a 41-week full-time, comprehensive program with an emphasis in Medical Nutrition Therapy. Each year, up to 8 applicants are matched to the program. Interns are provided with over 1400 hours of supervised practice experience with training in Clinical (~50% of rotations), Administrative (~15% of rotations), and Community Dietetics (~35% of rotations).
See attached handbook and schedule for 2018-19 class.
This internship is accredited through ACEND and provides the necessary education and training to qualify you for a position as an "Entry Level" generalist dietitian and qualifies you to sit for the national registration examination. Over the course of 5 years, our pass rate of those taking the Registered Dietitian exam for the first time is 85.7 percent. 
The WVU Medicine Dietetic Internship Program began in 1983 and is administered by the Department of Nutrition Services of WVU Medicine. WVU Medicine is the teaching hospital of West Virginia University that works in conjunction with the Robert C. Byrd Health Sciences Center Medical School.
The WVU Medicine Complex is composed of a 10-story acute care facility and an adjacent facility with a total capacity of 675 beds. WVU Medicine has been ranked the No. 1 hospital in West Virginia by "U.S. News & World Report." In addition to the state ranking, WVU Medicine was recognized as a Best Regional Hospital and four of our clinical programs – pediatric urology, urology, diabetes and endocrinology, and gynecology – were ranked nationally.
In January 2017 the WVU Medicine "Heart and Vascular Institute" (HVI) opened in our new Southeast tower. Our mission is to provide the best possible heart and vascular care for our patients. We do so by recruiting some of the finest physicians from across the country – men and women who are often recognized leaders in their specialty or subspecialty; investing heavily in new technology; practicing – and frequently developing – the latest techniques in heart and vascular care; and placing the highest emphasis on achieving great quality outcomes. https://wvumedicine.org/heart/about-us/
In 2019 WVU Medicine HVI plans to start West Virginia's first Heart Transplant program.
The WVU Heart and Vascular Institute's cardiac team uses the most current diagnostic procedures to detect and evaluate mild to life-threatening heart problems in our state-of-the-art facility.
The HVI tower houses a new Medical Intensive Care Unit, Pediatric unit and shell space for future expansion. The breakdown of floors is as follows:
First floor: clinic space/exam rooms
Second floor: 10 OR and procedure rooms, plus pre- and post-op
Third floor: 28 Cardiac ICU rooms
Fourth floor: 22 exam rooms
Fifth floor: 28 MICU beds
Sixth floor: 30 pediatric beds
Seventh floor: Heart and Vascular Institute offices
Eighth floor: 32 Thoracic, Cardiology and Medicine beds
Ninth floor: 32 acute care Cardiology beds
Tenth floor: 32 acute care Cardiology beds
In 2020 WVU Medicine will open a new Children's Tower.  This will be a 155-bed, nine-story hospital including:
Entry, registration, administration, and building services
Diagnostic imaging and lab services
Two connections to the Southeast Tower (the WVU Heart and Vascular Institute)
Operating rooms, cardiac catheterization, and endoscopy facilities
A 25-bed Pediatric Intensive Care Unit (PICU) and sedation unit
A 61-bed Neonatal Intensive Care Unit (NICU)
A 39-bed pediatric acute care unit
A 30-bed obstetrical unit with potential for expansion
A medical office building, including Pediatric subspecialty and more
 2019 - 2020 Graduates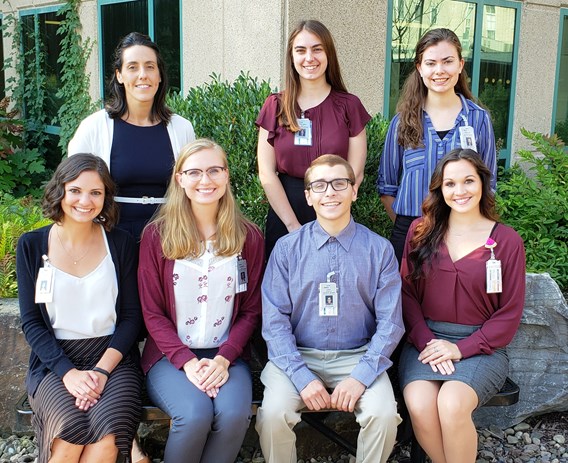 Back row L to R:  Michelle Kuimba, Malorie Anile, Janelle Muller
Front row L to R:  Allegra Picano, Lindsay Swartz, Levi Johnson, Lindsey Bonneau
Application Deadline:
February 15th
Eligibility for Applying to the Internship
Learn About Our Internship:
The WVU Medicine Dietetic Internship Program is granted accreditation status through June 30, 2025, by the Accreditation Council for Education in Nutrition and Dietetics (ACEND) of The Academy of Nutrition and Dietetics (AND), 120 South Riverside Plaza, Suite 2000, Chicago, IL 60606-6995,1-800-877-1600. https://www.eatrightpro.org/acend
Missions, Values, & Goals of the WVU Medicine Dietetic Internship
Selection Criteria for Application

Note: Morgantown, West Virginia has 2 internships;
this program is associated with but NOT part of West Virginia University.
Contact Information:
Dietetic Internship Director
Jill Johnston MS, RD, LD
Email: jill.johnston@wvumedicine.org
Phone: (304) 598-4105