Interns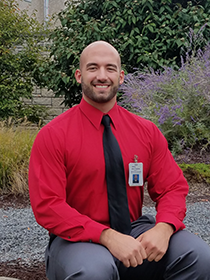 Name:  Matthew Breit
Hometown:  Mosinee, Wisconsin

College:  University of Wisconsin – Stevens Point (B.S. – Dietetics, 2015)
               West Virginia University (M.S. – Exercise Physiology, thesis-track, 2017)

Family:  I am extremely fortunate to have solid support systems from my family and friends. My parents, two sisters, brother-in-law, and grandparents have been there for me from the beginning and throughout graduate school. The greatest gift my parents have given me is unconditional love and support through all my endeavors, no matter how lofty or foolhardy. Moving 800 miles away for graduate school has been difficult, but it has made me appreciate the love between family bonds, as it strengthens and tests relationships on a deeper level. I attribute the man I am today to my family and friends whom instilled a strong moral and ethical compass within me and continually push me to become the best possible version of myself.

Interests:I love exploring remote places by taking backcountry backpacking trips, with the most recent being Yosemite and Yellowstone National Park. I enjoy any outdoor activity, such as whitewater rafting and kayaking, hiking, camping, sports, and exercise. I am a certified personal trainer at HealthWorks Rehab and Fitness across the street from Ruby Memorial Hospital and train for CrossFit and half-marathon competitions. I also have an immense passion for total human optimization through multiple modalities (yoga, meditation, exercise, nutrition). I practice mindfulness and meditation and focus on awareness of the present moment. Lastly, I love learning about the most up-to-date scientifically and technological advances so I am often found reading or listening to podcasts.

Words of Wisdom:  "If you can't explain it simply, you don't understand it well enough" – Albert Einstein

"Be fearless. You have one chance here to do amazing things. Being afraid of being wrong is not how you make an impact in this life. Be fearless" – Adam Gazzaley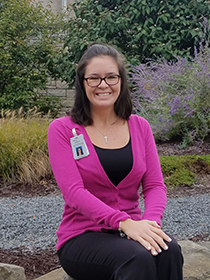 Name: Sarah Gillette
Hometown: Derry, New Hampshire
College: Florida International University (B.S. in Dietetics & Nutrition, 2017)
Family: I have family all along the East Coast of the United States, so I've been fortunate enough to travel to many interesting places to see them throughout my life. My mother and sister currently reside in Southwest Florida, so visiting them is like taking a warm, tropical vacation!
Interests: I'm passionate about doing things that soothe the body, mind, and soul; my three favorite activities are running, cooking, and snuggling my English Bulldog, Lilly.
Words of Wisdom:   "Bloom where you are planted."
"Our greatest happiness does not depend on the condition of life in which chance has placed us, but is always the result of a good conscience, good health, occupation, and freedom in all just pursuits." -Thomas Jefferson


Name: Anna Raymond

Hometown: Morgantown, WV

College: Duquesne University- BS in Biology, Minors in Psychology and Biochemistry; 2015                
              Kansas State University- BS in Dietetics; 2017

Family: I am very close with my family and their love and support means the world to me. I have two devoted parents, an identical twin sister, a baby brother (even though he's 21 now!) and two, little fur brothers named Valentino and Leonardo (Tino and Leo for short). I am looking forward to being back home to complete my internship at the WVU Hospital and know it wouldn't have been possible without the support and guidance from my family, friends, boyfriend, professors and mentors.

Interests:  I have a wide variety of interests and try my best to be open to new opportunities. Some of my favorite are: exploring theme parks (especially Disney), cooking and baking, traveling the world, learning new things, connecting with friends, getting lost in a book, finding fun ways to stay active, making animals friends, facing my fears, going on adventures and spreading love anyway I can, one smile at a time.

Words of Wisdom: I spend a great deal of time thinking about how far I've come in the last 24 years, what I would do differently if I could and how I would mentor those who have similar aspirations to my own. After some contemplation I chose two phrases that have shaped me to be the person I am today. The first is to always stay positive, even in the bleakest of situations there can be a glimmer of hope. And the second is that everything happens for a reason. It is my firm belief that if you work hard and have faith in yourself success is sure to come.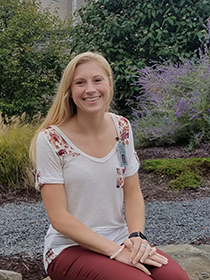 Name: Caitlin Thomas
Hometown: Stow, Ohio
College: Kent State University - Kent, Ohio
Family: My mom is my guardian angel and my dad and younger brother are my biggest support team.  I have 14 aunts and uncles and more cousins than I can count who live all across the United States.  I love this big and crazy family of mine.
Interests:  I enjoy reading, whether it's fiction or nonfiction. I am a bit of a runner with my farthest distance being 13.1 miles.  I spend many of my summer evenings hiking through the Cuyahoga Valley National Parks.  Finally, there is no feeling I love more than having my toes in the sand of a sand volleyball court!
Words of Wisdom: "Remember that everyone you meet is afraid of something, loves something and has lost something" -H. Jackson Brown Jr. 
I believe that we can make the most impact on someone's life if we just show them a little respect no matter what they have shown us in return. Everyone has good days and everyone has bad days, but you should never judge a book by it's cover because you never know what someone is going through.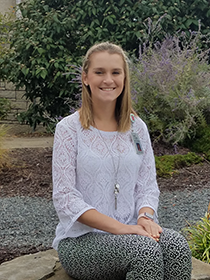 Name: Allison White
Hometown: Wyomissing, Pennsylvania
College: West Chester University, B.S. Nutrition and Dietetics
Family: Throughout my life I have blessed with lots of love and support of my family especially my parents and younger brother. They have been my number one fans from the beginning and I cannot thank them enough for everything they have done for me. Mom and Dad thank you so much for everything you do for not only me but in the world around you. I would not be the strong and optimistic woman I am today without their support and pushing me to challenge myself. My friends and my boyfriend are a part of my family as well so thank you for always being there for me and providing me with continuous laughter/advice about life. Last but not least I have to thank my pup Sophie for being the best cuddle buddy ever.
Interests:  When I have free time I love to bake and read fiction and non-fiction novels. I also love running outdoors and working out at the gym. Running is one of my biggest stress relievers and I can't imagine my life without it. I also love trying new foods and places to eat with my friends and family. Spending time with my friends and family is something I very much look forward too. Last but not least my biggest passion is volunteering for Relay for Life and the Ronald McDonald House. These charities hold a very special place in my heart. I love giving back to these organizations in addition to people in my community.
Words of Wisdom:  "Thinking positively isn't about expecting the best to happen every time, but accepting that whatever happens is the best for this moment"- Unknown.
"Optimism is the faith that leads to achievement. Nothing can be done without hope and confidence." – Helen Keller.
Name: Paige Wieman
Hometown: Rawson, Ohio
College: Bowling Green State University, B.S. Dietetics, Minor in Public Health
Family: I am incredibly blessed to have a mother, father and grandparents who have encouraged me and supported me through every aspect of my life. They have always had faith in me and continuously push me to do my best. I have an older brother who is currently a mechanical engineer at Whirlpool Corporations and an older sister who is an ICU nurse in Lima, Ohio. They have inspired me to pursue my dreams and put my best foot forward, and I am very thankful for their comic relief that brightens my days. My fiancé, Kyle, is a high school history teacher and football coach. We love to travel together and explore the outdoors. After completing this internship, we plan to settle in Arlington, Ohio. Lastly, my dog Murphy provides me with laughter and photo bombs, and we love going on long walks together.
Interests: I absolutely love biking, hiking and exploring new places. I have a passion for agriculture, as I was raised on a farm and worked on a sweet corn and strawberry farm during the summer. I enjoy reading mystery books and watching my favorite TV shows (Parks and Recreation, The Office, Grey's Anatomy, Friends) and you can always find me baking something sweet in my kitchen!
 Words of Wisdom:   "Twenty years from now you will be more disappointed by the things that you didn't do than by the ones you did do, so throw off the bowlines, sail away from safe harbor, catch the trade winds in your sails."  Explore, Dream, Discover. –Mark Twain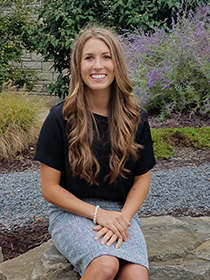 Name: Paige Winfield    
Hometown: Memphis, Tennessee
College: Middle Tennessee State University, B.S. in Nutrition and Food Science - Concentration in Dietetics (2014)
Family:My family's strength and wisdom has been a constant source of inspiration and I feel beyond fortunate for the ways in which they have shaped my life. Where I am today, is a direct result of their unwavering encouragement and something I am abundantly grateful for.
Interests: Reading, practicing and teaching yoga, gymnastics, aerial silks, camping, hiking, kayaking and paddle boarding.
Words of Wisdom:  "The world is a book and those who do not travel read only a page." – Saint Augustine
"We are shaped by our thoughts; we become what we think. When the mind is pure, joy follows like a shadow that never leaves." -The Buddha
 "When we love, we always strive to become better than we are. When we strive to become better than we are, everything around us becomes better too." - CoPaulo elho, The Alchemist