Interns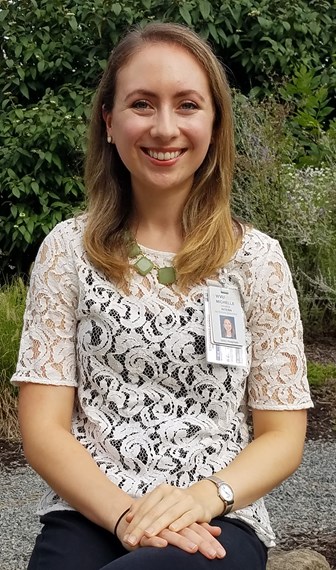 Name: Michelle Davies
Hometown:  Long Valley, NJ

College:  The College of New Jersey (B.A. Communication Studies, 2013)
               Hunter College, School of Urban Public Health (M.S Nutrition, 2018)
Family:  I am very fortunate to have a large yet extremely supportive family! I come from a family of nine, and I am the third oldest of seven siblings. With two loving parents, four brothers, two sisters, two sisters-in-law, and now two twin nephews and my baby niece, I feel blessed to be given these relationships. We also have two golden retrievers, Rudy and Jamie, and two cats, Benji and Teddy, who always keep life exciting. I could not have made it this far without my support system including my boyfriend and friends cheering me on along the way!

Interests:  Alongside nutrition, some of my biggest interests include yoga, hiking, cooking, baking, going to concerts, and running. I have completed three marathons so far including New York City, Chicago, and most recently the Pittsburgh Marathon in 2017, as well as many half-marathons and 5Ks. I also love to travel as much as possible and explore other countries and cultures.  Some of my most memorable travel experiences include studying abroad for a semester in Rome, spending a week in Japan, and volunteering on a nutrition project in the Philippines.

Words of Wisdom:  "We are what we believe we are." -- C.S. Lewis
                                  "Only a life lived for others is a life worthwhile." -- Albert Einstein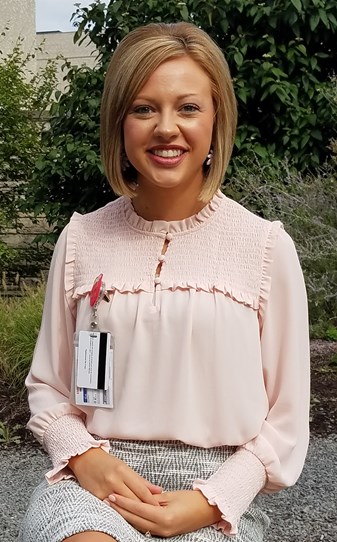 Name:  Shelby Ferguson
Hometown:  Grayson, KY
College: Eastern Kentucky University
Family:  All 21 years of my life I have been blessed with incredible parents and loved ones who have encouraged, guided, supported me. Each branch of my support system has molded me into who I am today. Life thus far has been filled full of blessing and I am beyond thankful for God's grace and mercy that is ever faithful in my life. My boyfriend has also provided me with a second family that I am able to call my own.
Interests:  I love all things having to do with food! I enjoy cooking and baking, having guests over and trying new restaurants.  My favorite of all is spending time on the beach or anywhere 75 and warmer!

Words of Wisdom:   "Teachable moments are all around us" -- Dad
                                   "Life is like an ice cream cone, you have to learn
                                          to lick it" -- Dad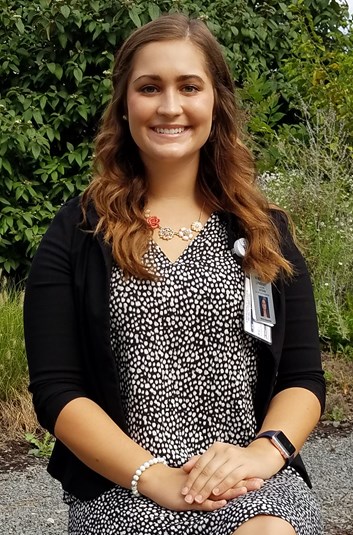 Name:  Lyndsey Galvin
Hometown:  Columbia Station, Ohio
College:  Bowling Green State University (B.S. Dietetics)

Family:  I am blessed to have such a large and supportive family throughout this crazy journey called life. My mother works as a nurse manager and my father is an (IT) systems engineer senior. I have one older sister that is a dental hygienist and she is married with one beautiful baby girl. In addition, I have three amazing grandparents, aunts, uncles, cousins, and my boyfriend Tyler that has been by my side through the highs and the lows. I am very grateful for my family and I don't know what I would do without them.

Interests:  I love to be active in ways such as biking, hiking, kayaking, and attending Zumba classes. I also love cooking and baking new recipes in my free time. My favorite things are traveling and exploring new places when I am able.
Words of Wisdom:  "Our character is what we do when we think no one is
                                       looking" -- H. Jackson Brown, Jr.
                                  "Knowledge is of no value unless you put it into
                                        practice" -- Anton Chekhov
                                                                                                                      "You need a little bit of insanity to do great
                                                                                                                           things" -- Henry Rollins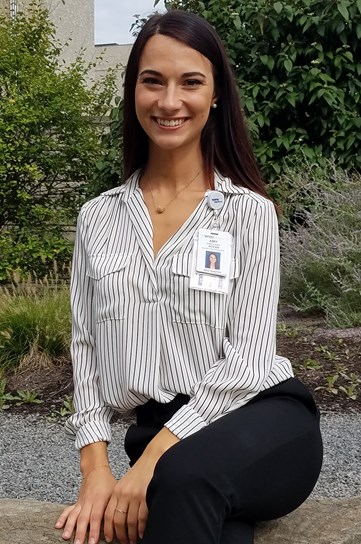 Name:  Amy Ganyukov
Hometown:  Solon, Ohio
College: The University of Akron
Family:  I am very fortunate to have such a supportive and close-knit family, who all live in Cleveland or Chicago. I wouldn't be where I am today without my mother, father, older sister, and grandparents, who inspire me to do my best every day.
Interests:  I love staying active, especially anything outdoors. I enjoy hiking, snowboarding, tennis, and working out at the gym. I love cooking and baking, and I am always looking for new recipes to try. I also enjoy painting or drawing in my free time.
Words of Wisdom:  "The best view comes from the hardest climb."
                                 "To be yourself in a world that is constantly trying to
                                        make you something else is the greatest
                                        accomplishment." -- Ralph Waldo Emerson
                                  "There is no path to happiness: happiness is the
                                        path." -- Buddha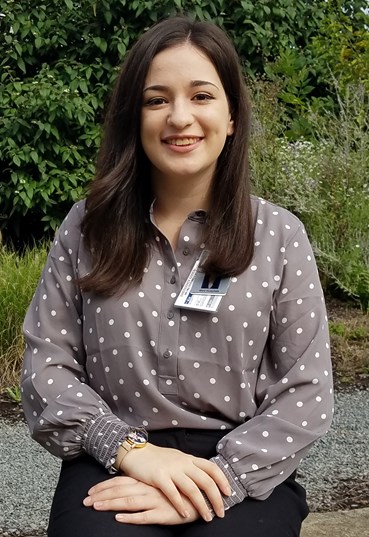 Name:  Stephanie Haber
Hometown:  Plainview, NY
College:  Syracuse University (B.S. in Nutrition/Dietetics, Minor in Psychology)
Family:  My family has always been extremely supportive of both my professional and academic endeavors. My parents have never missed a concert or an award ceremony, and are always in the front cheering on me and my siblings. I have an older sister who works in public relations in Manhattan and a younger brother who studies IT at Rochester Institute of Technology. We are all rather competitive but have each other's best interests at heart. Finally, I have three cats who I love dearly. I would not be sane without their unconditional love and fluffiness to cuddle.
Interests:  I've always been passionate about music. I taught myself to play guitar when I was in high school and I never move to a new place without bringing it with me. I'm also an avid songwriter. I love to travel, so much so that I studied abroad in Italy during my junior year of college. I enjoy baking mug cakes and mac n cheese from scratch (because from a box just isn't the real deal!) and watching reruns of Friends while eating said mug cake.


Words of Wisdom:  "In life's journey, learn from others and take the
                                      best from everyone to better yourself." -- Prof. Donna Acox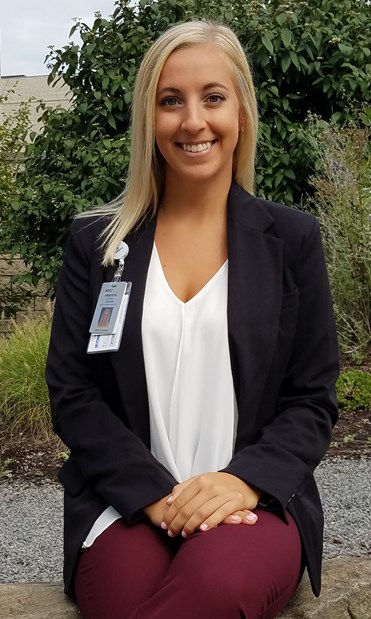 Name:  Amanda Spears
Hometown:  Wellington, Ohio – don't blink or you'll miss it
College:  Ashland University in Ashland, Ohio
Family:  My parent's names are Jim and Margie Spears and I have two older brothers Adam and Kyle Spears. Adam and his wife Cassie have three girls, Brenna, Hadley and Evelyn and my other brother Kyle is married to Brooke Spears. We are a close family who loves spending time together any chance we get!
Interests:  I enjoy anything outdoors! Hiking, laying in a hammock, fishing, anything you name it. Shooting archery indoors and outdoors is one of my passions along with practicing yoga. Cooking for others as well as being social with friends is another favorite past time.
 Words of Wisdom:  "In a world where you can be anything, be kind" – kindness can go a long way not only in a work setting but in life. Simple gestures or words can positively impact a person's day without you even knowing & "Not all who wander are lost" – it's okay to not have roots and stay in one place, there's a huge world out there, go enjoy it!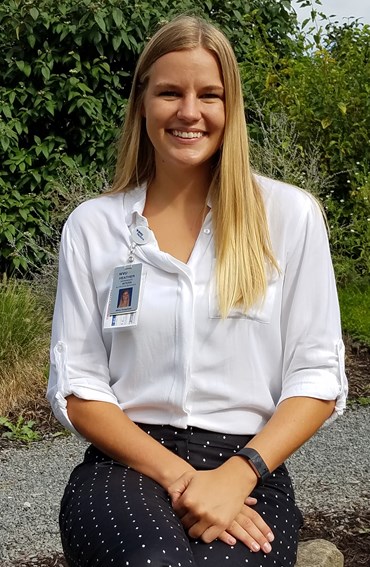 Name:  Heather Weninger
Hometown:  Kingman, Arizona
College:  The University of Arizona – Tucson, AZ
Family:   I am blessed to have a very kind and supportive family who encourages and pushes me to pursue my dreams. My parents and older sister currently reside in Arizona, and while it will be challenging moving 2,000 miles away, I am extremely grateful to have their support as I start my next journey.
Interests:  I love being outdoors and staying active whether I'm hiking, running, swimming, or going to the gym, I also enjoy cooking and trying new food, and I am always interested in exploring new places. My favorite place to be is soaking up the sun at the beach.
Words of Wisdom:   "Do the one thing you think you cannot do. Fail at it. Try again. Do better the second time. The only people who never tumble are those who never mount the high wire. This is your moment. Own it." – Oprah Winfrey