PROFESSIONAL NETWORKS
Association of International Educators (NAFSA)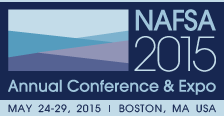 NAFSA was founded in 1948 as the National Association of Foreign Student Advisers to promote the professional development of U.S. college and university officials responsible for assisting and advising the 25,000 foreign students who had come to study in the United States after World War II. The academic institutions, government agencies, and private organizations that combined to form NAFSA knew that meeting the needs of diverse students required special knowledge and competencies.
The association's scope soon expanded to include admissions personnel, English-language specialists, and community volunteers who played an important role in helping foreign students acclimate to U.S. college communities. To reflect this growing and increasingly diverse membership, in 1964 the association changed its name to the National Association for Foreign Student Affairs.

By 1990, as the number of foreign students in the United States approached the 400,000 mark, there were 6,400 NAFSA members on 1,800 campuses and increasing numbers of U.S. students were studying abroad.

Awareness grew of the importance of international competence. Larger numbers of NAFSA members led the way in creating opportunities for Americans to study abroad, participate in scholarly exchange programs, and study foreign areas and languages.

To reflect the now well-established role of NAFSA members in all aspects of international education and exchange, the name of the association was changed once more: In May 1990, the membership formally renamed the organization NAFSA: Association of International Educators. The acronym was retained to reflect NAFSA's proud past and broad name recognition.

Interested faculty, staff, and students must obtain individual memberships to participate in NAFSA's activities. For more information, please visit the NAFSA website. 
Consortium of Universities for Global Health (CUGH)
The Consortium of Universities for Global Health (CUGH), founded by leading North American university global health programs, aims to:
Define the field and discipline of global health; Standardize required curricula and competencies for global health; Define criteria and conditions for student and faculty field placements in host institutions; Provide coordination of projects and initiatives among and between resource-rich universities and less-developed nations and their institutions.
CUGH is dedicated to creating balance in resources and in the exchange of students and faculty between institutions in rich and poor countries, recognizing the importance of equal partnership between the academic institutions in developing nations and their resource-rich counterparts in the planning, implementation, management and impact evaluation of joint projects.
The Bill and Melinda Gates Foundation provided the leadership and funding to plan this consortium. The Rockefeller Foundation provided a grant to help develop the organizational structure of CUGH in its first year of existence.
The WVU Health Sciences is a member of CUGH. Interested faculty, staff, and students may participate in the CUGH activities. For more information, please visit the CUGH website.

Global Health Learning Opportunities (GHLO)
GHLO™ is the Association of American Medical College's (AAMC) new initiative that is a network of collaborating institutions in more than 16 countries, facilitating global mobility for final year medical students pursuing clinical or research electives outside their home country. The AAMC recognizes that with ever-increasing globalization in medicine there is growing interest on the part of medical students and medical schools to incorporate international electives into their medical education curriculum. Cross-border exchanges in the health professions enable students to work with different patient populations, develop cross-cultural understanding, and learn about health systems and approaches to wellness and illness in other nations. The WVU Health Sciences Center is a member of GHLO and is accepting applications from visiting international students now. For more information, please visit the GHLO website https://ghlo.aamc.org/ or contact the Global Engagement Office.