UNDERSTANDING GLOBAL HEALTH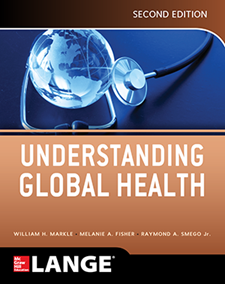 "The rapidly evolving world of global health and medicine -- in the palm of your hand.
Understanding Global Health is the groundbreaking, go-to primer that puts global health and its many challenges into sharp focus like no other text. Written with the nonspecialist in mind, this powerful resource expertly reviews all the core topics that you must know in order to thrive in this decentralized new global health environment. It's all here: unique, authoritative coverage of public health concepts, plus insights into infectious diseases and clinical medicine-everything you need to truly comprehend how global medicine is dramatically affecting today's practice of medicine-and to prepare for your role in it." (Lange Textbooks)

Several WVU faculty members contributed to the second addition of this textbook. For more information, please visit Lange Textbooks.
Contributors
EDITORS
William H. Markle, MD, FAAFP, DTM&H
Clinical Associate Professor Family Medicine
University of Pittsburgh School of Medicine
Senior Associate Director Family Medicine Residency
UPMC McKeesport

Melanie A. Fisher, MD, MSc
Professor of Medicine, Section of Infectious Diseases
Director of the International Health Program
Robert C. Byrd Health Sciences Center
West Virginia University

Raymond A. Smego, Jr., MD, MPH, FACP, FRCP, DTM&H, Deceased
Former Professor and Head, School of Medicine
University of the Free State
SOUTH AFRICA
AUTHORS
Lisa V. Adams, MD (Chapter 10)
Associate Dean for Global Health
Assistant Professor, Section of Infectious Disease and International Health, Department of Medicine, and Coordinator, Global Health Initiative, Geisel School of Medicine at Dartmouth
Hanover, New Hampshire
Lisa.V.Adams@Dartmouth.edu

Jordi Alonso, MD, PhD (Chapter 17)
IMIM- Institut Hospital del Mar d'Investigacions Mèdiques,
Pompeu Fabra University (UPF),
CIBER en Epidemiología y Salud Pública, Barcelona, Spain.
jalonso@imim.es

Onil Bhattacharyya, MD, PhD (Chapter 20)
Assistant Professor, Department of Family and Community Medicine
Clinical Scientist, Li Ka Shing Knowledge Institute
St. Michael's Hospital, University of Toronto
Toronto, Ontario, Canada
BhattacharyyaO@smh.ca

John H. Bryant, MD (Chapter 21)
Adjunct Associate Professor
Department of Public Health Sciences
Senior Faculty Associate, Department of International Health
University of Virginia School of Medicine
Charlottesville, Virginia
Johns Hopkins University School of Public Health
Baltimore, Maryland
jbryantwcbr@gmail.com

Thuy D. Bui, MD (Chapter 2)
University of Pittsburgh School of Medicine
Director of the Global Health and Underserved Populations Track
Internal Medicine Residency Program
University of Pittsburgh Medical Center
Pittsburgh, Pennsylvania
buit@upmc.edu

John R. Butterly, M.D., FACP, FACC (Chapter 7)
Executive Medical Director, External Affairs, Dartmouth-Hitchcock Medical Center
Associate Professor, Dartmouth Medical School and The Dartmouth Institute of Healthcare Policy and Clinical Practice
Lebanon, New Hampshire
john.r.butterly@hitchcock.org

Kathleen Casey, MD (Chapter 14)
Director, Operation Giving Back
American College of Surgeons
Chicago, Illinois
kcasey@facs.org

Somnath Chatterji, MD (Chapter 17)
World Health Organization
Geneva, Switzerland
chatterjis@who.int

Kevin Chan, MD, MPH, FAAP, FRCPC (Chapter 19)
Assistant Professor, Department of Pediatrics
Faculty of Medicine, Hospital for Sick Children, and University of Toronto
Toronto, Ontario, Canada
kevinjchan@aol.com

Kathryn Chu, MD, MPH, FACS (Chapter 14)
Assistant Professor of Surgery
Johns Hopkins Medical Institutions
Baltimore, Maryland
Honorary Assistant Professor of Surgery, National University of Rwanda
Adjunct Faculty, Brigham and Women's Hospital Center for Surgery and Public Health
Instructor in Surgery, Harvard Medical School
kathryn.chu@joburg.msf.org

Deyanira Gonzalez de Leon, MD, MPH (Chapter 4)
Professor, Department of Health Care
Universidad Autónoma Metropolitana Xochimilco
Mexico DF, Mexico
dgonzal@correo.xoc.uam.mx

Monika Doshi, MPH (Chapter 4)
Principal, Saath
West Hartford, Connecticut
mdoshi@saath.co

Emmanuel Elobu, MBBS, MMED (Surgery) (Chapter 14)
Senior Scholar
Global Partners in Anesthesia and Surgery
Mulago National Referral Hospital
Kampala, Uganda
elobuemmy@yahoo.co.uk

Jessica Evert, MD (Chapter 22)
Clinical Faculty, UCSF Department of Family and Community Medicine
Medical Director, Child Family Health International
San Francisco, California
jevert@fcm.ucsf.edu

Sheri Fink, MD, PhD (Chapter 15)
Senior Fellow, Harvard Humanitarian Initiative and New America Foundation
New York, New York
sherifink@gmail.com

Jeffrey K. Griffiths, MD, MPH&TM (Chapter 6)
Director, Global Health
Associate Professor of Public Health, and of Medicine
Department of Public Health and Family Medicine
Tufts University School of Medicine
Boston, Massachusetts
Jeffrey.Griffiths@tufts.edu

Wayne A. Hale, MD, MS, FABFP, CAQ Geriatrics (Chapter 16)
Associate Professor, Department of Family Medicine
University of North Carolina at Chapel Hill
Cone Health System Family Medicine Residency Program
Area Health Education Centers
Greensboro, North Carolina
wayne.hale@conehealth.com

Yanling He, MD (Chapter 17)
Director, Department of Epidemiology
Shanghai Mental Health Center
Shanghai, People's Republic of China
heyl2001@yahoo.cn

Rooney Jagilly MBBS, MMED(Surgery) (Chapter 14)
General Surgeon
National Referral Hospital
Honiara, Solomon Islands
rjagilly@gmail.com

Jané D. Joubert, MA (Chapter 16)
Specialist Scientist
Burden of Disease Research Unit
South African Medical Research Council
PhD scholar, School of Population Health
The University of Queensland
jane.joubert@uqconnect.edu.au

Gregory Juckett, MD, MPH (Chapter 11)
Professor of Family Medicine
West Virginia University School of Medicine
Director, WVU International Travel Clinic
Morgantown, West Virginia
gjuckett@hsc.wvu.edu

Sebastiana Kalula, MBChB, MRCP, MMed, MPhil (Chapter 16)
Clinical Head of Division of Geriatric Medicine
Department of Medicine
Institute of Aging in Africa
University of Cape Town, South Africa
Kalula@uctgsh1.uct.ac.za

Ronald Kessler, PhD (Chapter 17)
McNeil Family Professor of Health Care Policy
Department of Health Care Policy
Harvard Medical School
Boston, Massachusetts
kessler@hcp.med.harvard.edu

Rashida A. Khakoo, MD, MACP (Chapter 12)
Professor and Section Chief
West Virginia University
Robert C. Byrd Health Sciences Center
Morgantown, West Virginia
rkhakoo@hsc.wvu.edu

Amir A. Khaliq, MBBS, MSHS, MSc, PhD (Chapter 1)
Associate Professor of Public Health
Health Administration & Policy
College of Public Health
University of Oklahoma Health Sciences Center
Oklahoma City, Oklahoma
amir-khaliq@ouhsc.edu

Judy Lewis, MPhil (Chapter 4)
Director Global Health Education
Professor, Departments of Community Medicine and Pediatrics
University of Connecticut School of Medicine
Farmington, Connecticut
LewisJ@nso.uchc.edu

Paul R. Larson MD, MS, DTMH (Chapter 9)
UPMC St. Margaret Family Medicine Residency Program
Director, Global Health Education
UPMC St. Margaret
New Kensington, Pennsylvania
larsonpr@upmc.edu

Scott Loeliger, MD, MS (Chapter 22)
Faculty, Contra Costa Family Medicine Residency
Martinez, California
sloeliger@ccfamilymed.com

William H. Markle, MD, FAAFP, DTM&H (Chapter 2)
Clinical Associate Professor Family Medicine
University of Pittsburgh School of Medicine
Senior Associate Director Family Medicine Residency
University of Pittsburgh Medical Center
McKeesport, Pennsylvania
marklew@upmc.edu

Jeffrey F. Markuns, MD, EdM, FAAFP (Chapter 8)
Assistant Professor
Boston University
Executive Director, Boston University Family Medicine Global Health Collaborative
Boston, Massachusetts
Jeffrey.Markuns@bmc.org

Christopher Martin, MD, MSc (Chapter 3)
Professor and Director, International Programs
Robert C. Byrd Health Sciences Center
West Virginia University School of Medicine
Morgantown, West Virginia
cmartin@hsc.wvu.edu

Jeffry P. McKinzie, MD, FACEP (Chapter 13)
Assistant Professor of Emergency Medicine & Pediatrics
Vanderbilt University
Nashville, Tennessee
jeff.mckinzie@vanderbilt.edu

Mark W Meyer MD (Chapter 9)
UPMC Shadyside Family Medicine Residency Program
Director, UPMC Family Medicine Global Health Tracts
Shadyside, PA
meyermw@upmc.edu

Alain J. Montegut, MD (Chapter 8)
Associate Professor Family Medicine
Boston University
Vice President, Primary Care Development, Martins Point Health Care
Portland, Maine
alain.montegut@martinspoint.org

Eileen S. Natuzzi, MD, MS, FACS (Chapter 14)
San Diego State University, School of Public Health
Surgical Education Coordinator
San Diego, California
esnmd@mac.com

Thomas E. Novotny, MD, MPH (Chapter 14)
Professor and Associate Director for Border and Global Health
Graduate School of Public Health
Co-Director, Joint Global Health PhD Program
San Diego State University
San Diego, California
tnovotny@mail.sdsu.edu

Georges Ntakiyiruta, MMed, FCSECSA (Chapter 14)
Academic Head of the Department of Surgery, National University of Rwanda
Kigali, Rwanda
georgentakiyiruta@yahoo.co.uk

Doruk Ozgediz, MD, MSc (Chapter 14)
Assistant Professor of Surgery
Yale University School of Medicine
Co-Founder of Global Partners in Anesthesia and Surgery (GPAS)
New Haven, Connecticut
doruk.ozgediz@yale.edu

Robin Petroze, MD (Chapter 14)
Resident in General Surgery
Research Fellow, National University of Rwanda
University of Virginia
Charlottesville, Virginia
rtp3z@virginia.edu

Clydette Powell, MD, MPH, FAAP (Chapters 5, 7 & 15)
Associate Professor
Department of Pediatrics
George Washington University School of Medicine and Health Sciences
Washington, DC
CPowell@USAID.gov

Amany Refaat, MD, MSc, MHPE, PhD (Chapter 4)
Public Health Faculty, College of Health Sciences
Walden University
Minneapolis, MN
Amany.Refaat@walden.edu

Arif R. Sarwari, MD, MSc, MBA (Chapter 12)
Associate Professor
West Virginia University
Robert C. Byrd Health Sciences Center
Morgantown, West Virginia
asarwari@hsc.wvu.edu

Vera Sistenich, MD (Chapter 15)
Program on Humanitarian Policy and Conflict Research, Harvard University
Emergency Physician, Research Associate
Cambridge, Massachusetts
vsisteni@hsph.harvard.edu

Raymond A. Smego, Jr., MD, MPH, FACP, FRCP, DTM&H (Chapter 1)
Professor and Head, School of Medicine
University of the Free State
Bloemfontein, SOUTH AFRICA
Deceased

Gary Snyder, MS (Chapter 18)
Assistant Dean, Health Affairs Communications and Marketing
Geisel School of Medicine at Dartmouth
Hanover, New Hampshire
Adjunct Faculty Member
Ohio University Tropical Disease Institute
Gary.Snyder@dartmouth.edu

Anvar Velji, MD, FRCP(c), FACP, FIDSA (Chapter 21)
Associate Dean, Global Health Sciences
California Northstate University School of Medicine, Elk Grove, California
Chief Infectious Disease
Kaiser Permanente, South Sacramento
Clinical Professor of Medicine
University of California, Davis
Sacramento, California
anvarali.velji@kp.org

Philip S. Wang, MD (Chapter 17)
Division of Services and Intervention Research, National Institute of Mental Health
Bethesda, Maryland

Xiaolin Wei, MBBS, MPH, PhD, FFPH(UK) (Chapter 20)
Assistant Professor, Jockey Club School of Public Health and Primary Care, Chinese University of Hong Kong
Hong Kong, China
xiaolinwei@cuhk.edu.hk

Edward Winant, PE, PhD (Chapter 6)
US Department of State, Vice-Consul
US Consulate General
Almaty, Kazakhstan
Winanteh@state.gov

Godfrey Woelk, BSc (Soc), MCOMMH, PhD (Chapter 10)
Former Professor of Epidemiology
Department of Community Medicine
University of Zimbabwe
Harare, Zimbabwe
Adjunct Associate Professor
The University of North Carolina at Chapel Hill
Gillings School of Global Public Health
Department of Health Behavior and Health Education
Chapel Hill, North Carolina
gwoelk@gmail.com

David Zakus, BSc, MES, MSc, PhD (Chapter 20)
Professor of Preventive Medicine and Director, Office of Global Health
Faculty of Medicine and Dentistry, University of Alberta
Edmonton, Alberta, Canada
davidzakus@med.ualberta.ca