WVU STUDENTS INTERESTED IN GLOBAL HEALTH
Are you a current WVU student at the Health Sciences Center and interested in global health rotations?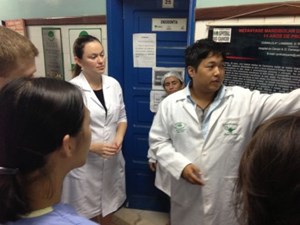 If yes, then we have several opportunities for you to choose from. We have school-specific rotations, as well as our increasingly popular interprofessional rotations, such as the Amizade Multilateral Partnership for Interprofessional Exchange (MPIE) trips.
For more information about school-specific rotations, please contact your School Representative below:
School of Dentistry:
School of Medicine:
School of Nursing:
School of Pharmacy:
Douglas Slain, PHARMD, BCPS, FCCP
School of Public Health:
Students interested in global health opportunities through the School of Public Health: Please copy Bobbi Sykes, Director of Practice-Based Learning, on e-mails to the following contact points. 
For more information about the Amizade interprofessional trips, please contact:
Are you interested in rotating with an external organization not listed on our website?
Please contact the Global Engagement Office with your suggestion. We hope to expand our network of partners over time.