WVRHA names Outstanding Rural Health Students of the Year award
Thursday, November 5, 2015
Three West Virginia University School of Medicine medical students received the  West Virginia Rural Health Association's (WVRHA) Outstanding Rural Health Student of the Year award. Yi-Wen Chen and Nicole Garcia, fourth-year medical students, and Colleen Beatty, third-year medical student, were recognized for their work as co-leaders of Project REACH (Rural Education Alliance for Community Health) and received the award at a luncheon held during the WVRHA's annual West Virginia Rural Health Conference at Stonewall Resort in October.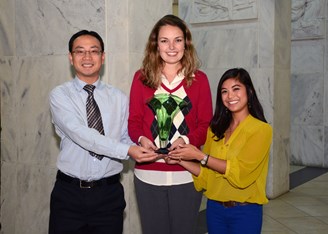 Yi-Wen Chen, Colleen Beatty, Nicole Garcia
The Rural Health Conference celebrates the accomplishments of outstanding individuals and organizations in the field of rural health each year. The Outstanding Rural Health Student of the Year award recognizes extraordinary student initiated and performed activity demonstrated within the field of rural health. Efforts may include clinical, infrastructure development, research, promotional or volunteer activities.
"This award is not about the recipients," Yi-Wen Chen, said. "It represents the hard work of all the volunteers at Project REACH, the dedication of our student leaders, and the guidance and support of the staff at the WVU Institute for Community and Rural Health. This honor will serve as a reminder for us to continue our efforts to address rural health disparities here in WV."
Project REACH is a student-run organization with the goal of serving and educating West Virginians about healthy living. Health professions students from diverse disciplines travel to events across the state, with an emphasis on rural and underserved areas, to provide health information about topics such as nutrition, exercise, smoking cessation, diabetes education, oral hygiene, blood pressure screenings and self-exams. Student volunteers help run health education stations from start to finish including set-up, breakdown and working with the public. Students have the opportunity to practice clinical skills such as interviewing, calculating Body Mass Index (BMI) and taking blood pressure.
"We are so proud of these students and their creative project that not only serves West Virginia communities, but focuses on the significant health problems of our citizens," Norman Ferrari, M.D., vice dean for education and academic affairs and chair of the WVU Department of Medical Education, said. "They will be well prepared to serve the public once they graduate and begin the practice of medicine."
For news and information on the WVU School of Medicine, follow us on twitter @WVUMedSchool, like us on Facebook or visit medicine.hsc.wvu.edu. .