WVU Institute for Community and Rural Health announces 2012 scholarship winners
Students receive financial award for commitment to stay in rural W.Va.
MORGANTOWN, W.Va. – The West Virginia University Institute for Community and Rural Health has awarded five students with scholarships for the 2011-12 academic year in exchange for their commitment to practice in the state after graduation.
The intent of the scholarship is to reduce financial debt and enable quality health professionals to practice in rural areas of the state. Recipients are required to practice in a part of West Virginia that is considered either medically underserved or a health professions shortage area.
"We could have only dreamed of having such outstanding applicants for our inaugural awarding of scholarships to Health Sciences students. These awardees are not only representative of the most outstanding students in the schools of Dentistry and Medicine, they each have sincere passion for providing healthcare in underserved areas of our state," Larry Rhodes, M.D., director of the Institute, said. "It is my opinion that if future applicants are of this quality and have similar dedication to the people of West Virginia, this program will have a significant impact on healthcare in rural West Virginia."
Two graduating seniors from the WVU School of Dentistry – Amy Isble of Kanawha County and Emily Mayhew of Jefferson County – each received $50,000 for two-year commitments to practice in the state. Both are finalizing plans to return to their home counties after graduation.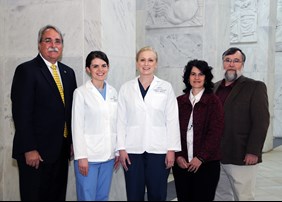 "Growing up in a service-minded and hardworking family exposed me to people from various walks of life and has taught me how to relate to and have compassion for each individual," said Isble, who hopes to practice in a rural area of Kanawha County.
In recommending Isble for the scholarship, Susan Morgan, D.D.S., clinical assistant professor in the WVU Department of Periodontics, said, "I have no doubt that this young professional will not only be a positive role model for others, but that she will be a leader in her community as well as the dental profession."
Mayhew is finalizing practice plans in an area near her home and plans to care for patients in underserved areas.
"Since I have actually experienced providing dental services in the community health setting, I am confident that it is a good fit for me to begin my career," she said. "I would like to be able to afford to help those in need in my community."
Michael Bagby, D.D.S., professor in the WVU Department of Restorative Dentistry, recommended her for the award and said, "Emily is probably the best operator in her class. Her clinical skills are second to none. Her concern for her patients is on par with her clinical abilities. She is very effective and efficient in providing the best possible care for her patients."
Three students from the WVU School of Medicine – Stephanie Sisler of Preston County, Sky Gwinn of Summers County and Garrett Butler of Mineral County – also received scholarships.
Sisler, who will graduate this month, received $50,000 for a two-year commitment to practice in rural West Virginia. After completing her residency training in pediatrics at WVU, she hopes to return to Preston County.
"My strong conviction that patient rapport and close patient-physician relationships are keys to being a successful physician have drawn me towards the rural setting even more," she said.
Norman Ferrari, M.D., senior associate dean for medical education, recommended Sisler for the award, saying her commitment and interest in rural primary care practice are much stronger than the average medical student.
Though Butler, a second-year medical student, was born and raised in Nebraska, he calls Mineral County his home. He received $25,000 for a one-year commitment.
"I'm a slow-paced individual who loves family and friends. My ideal career is working in multiple small, family clinics in rural areas," he said. "I'd also like the ability to teach students how to better care for rural residents."
Gregory Doyle, M.D., professor in the WVU Department of Family Medicine who recommended Butler for the award, called him a warm and caring individual with unlimited potential. "He's well above typical," Dr. Doyle said. "He is totally committed to practice in a rural, medically underserved area."
Gwinn will not be the first in his family to practice in rural West Virginia. His 88-year-old grandfather still practices as a family physician in Oak Hill.
The second-year medical student and member of the U.S. Army received $25,000 for a one-year commitment to practice in a rural community.
"By accepting the scholarship, I feel a special personal obligation to promote access to quality healthcare for rural and underserved West Virginians," Gwinn said. "It is widely accepted that obesity and related chronic-health issues, such as diabetes, heart disease and uncontrolled hypertension, are more common among rural residents. Working with this population on a daily basis would help me become
more actively involved in rural health research and promote comprehensive health reform in order to bring affordable, high quality healthcare to those that need it most."
Gwinn was recommended for the award by Brian Talbott, M.D., a resident in the WVU Department of Medicine.
"Sky is from and loves rural West Virginia. His ability to care for and about the people of this state is a key part of who he is," Dr. Talbott said. "He's a genuine guy. West Virginia needs doctors like Sky."
Each student received a certificate from Rhodes and their respective deans on April 24.
Attention reporters and editors: If you would like individual photos of a particular student, please contact Angela Jones at jonesan@wvuhealthcare.com or 304-293-7087.
–WVU–
For More Information:
Angela Jones, News Service Coordinator, 304-293-7087, jonesan@wvuhealthcare.com
12-081
asj: 05-03-12