WVU medical director of substance abuse programs discusses drug addiction in West Virginia
WVU medical director of Substance Abuse Programs discusses drug addiction in West Virginia
Posted: Thursday, September 24, 2015 11:29 pm | Updated: 11:32 pm, Thu Sep 24, 2015.
By Hollie Greene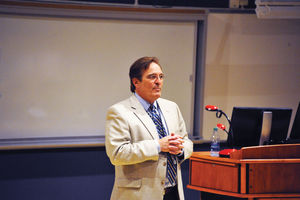 Carl Sullivan, MD and Director of the Addiction Program for WVU Hospitals, talks to students and faculty about addiction in rural West Virginia Andrew Spellmann/THE DAILY ATHENAEUM
In West Virginia, 34 out of every 100,000 deaths are a result of drug overdoses—the highest in the nation, according to Dr. Carl Sullivan.
Sullivan, West Virginia University's medical director of Substance Abuse Programs, spoke to students Thursday afternoon about the importance of battling addiction in the Mountain State.
"There's not a student from West Virginia who comes to WVU who has not been either directly or indirectly affected by addiction back in their home town," he said. "Unfortunately, we have a culture in which drugs are very pervasive, and I don't know any community that hasn't been affected."
Sullivan said West Virginia has and continues to suffer from a terrible and "seemingly unrelenting drug addiction."
"There is an enormous problem in this state with drugs such as, primarily, prescription opioids, but also with tranquilizers, heroin, methamphetamine and marijuana," he said.
Ana-Alicia Leonso, a first-year medical student at WVU, knows someone with substance abuse problems from a town in West Virginia where she lived. "She started out working as a nurse's assistant," Leonso said. "She got on opioids because she had chronic back pain, chronic knee pain and head pain."
Leonso said her friend became addicted to the medication and started buying it off the street when her doctor stopped prescribing it to her. Sullivan said that situation is a perfect example of how opioid abuse arose in West Virginia during the 1990s.
"At (that) time, there was a pharmaceutical company that developed a new drug called OxyContin," Sullivan said. "They went to small clinics all over West Virginia and said, 'This drug is really good for patients with moderate to severe chronic pain,' and then cited some incredibly faulty data that said addiction was unlikely to occur if patients used it correctly and if they had no history of addiction." Those companies claimed there was less than a 1 percent chance of patients becoming addicted, according to Sullivan.
Doctors prescribed OxyContin to working-class citizens who were likely to experience some form of pain resulting from their jobs. Citizens became addicted, and when their doctors started holding back on renewing the same prescription, patients resorted to buying the drugs off the street, Sullivan said. Sullivan believes this is where West Virginia's drug abuse problem originates.
"The good news is, we do have early prevention and treatment programs here at WVU," Sullivan said. "Student Health is much more able to provide treatment than they were in days past."
Students interested in becoming involved with the Rural Health Interest Group, the group that hosted Sullivan, can contact Yi-Wen Chen at ychen6@mix.wvu.edu. The group's next meeting is at noon on Oct. 28 in the Health Science Center's Hostler Auditorium.
Andrew Spellman/THE DAILY ATHENAEUM