WVU's Rhodes receives national rural health award
05/10/2013


MORGANTOWN, W.Va. – Larry Rhodes, M.D., interim chair of the West Virginia University Department of Pediatrics and director of the WVU Institute for Community and Rural Health, has been named the 2013 Rural Health Practitioner of the Year by the National Rural Health Association (NRHA).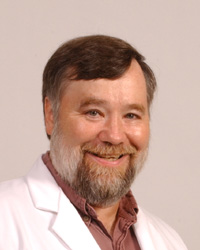 The award recognizes a direct service provider for leadership in bringing health services to rural populations. The Practitioner Award is meant to be inclusive of all health disciplines (e.g. dentistry, optometry, nursing, etc.). Factors taken into consideration include providing outstanding care, involvement in the community and lasting contributions to the healthcare system.

"I am truly honored to receive this award. I must admit, I was surprised at being chosen, in that I am a pediatric subspecialist.  Upon reflection I realized that much of my work in the state occurs in rural areas. When you live and work in a place you love, such as West Virginia, you sometimes need to be reminded that you are rural," Dr. Rhodes said. "I also believe that the bulk of the credit for this award goes to the staff of the WVU Institute for Community and Rural Health who are committed to improving healthcare for people in rural West Virginia."

A native West Virginian, Rhodes received his medical degree from the WVU School of Medicine. He completed residency training in pediatrics at WVU and fellowship training in pediatric cardiology and pediatric electrophysiology at Boston Children's Hospital. Before returning to WVU permanently, he spent 10 years working at Children's Hospital of Philadelphia. He is now chief of the WVU Section of Pediatric Cardiology.

"We at the WVU School of Medicine are totally focused upon doing all we can to improve the health and wellness of West Virginians, who, by and large, live in rural areas," Arthur J. Ross III, M.D., M.B.A., dean of the WVU School of Medicine, said. "To have one of our leaders be recognized for his dedicated commitment to rural health is a huge honor, both for Dr. Rhodes as well as for us."

Rural West Virginia and the people who live among its rolling hills hold a special place in Rhodes' heart.

He volunteers at outreach clinics serving rural West Virginia. He founded and volunteers each summer at Camp Mountain Heart – a week-long adventure where his patients and other kids with heart problems participate in fun activities under close medical supervision. In 2012, the WVU Institute for Community and Rural Health, which is under his leadership, enabled 400 students to complete 2,700 weeks of rural health training. To-date, it has also provided $475,000 in scholarships to WVU dental and medical students in exchange for a commitment to practice in a rural West Virginia community in areas where healthcare professionals are needed the most.

"I am delighted that the Rural Health Association has recognized the servant leadership of Dr. Rhodes by awarding him the 2013 Rural Health Practitioner Award. He has made profound contributions to the Health Sciences Center's rural health educational efforts for all of our health professions," Christopher C. Colenda, M.D., M.P.H., chancellor for WVU Health Sciences, said. "His devotion to young patients with heart problems is a powerful example of how he has personally 'transformed lives and eliminated health disparities.'"

April Vestal, associate director of the Institute for Community and Rural Health, nominated Rhodes for the award. In her nomination, she talks about how his "calm voice, graying beard and well-worn cowboy boots are familiar to hundreds of parents in rural West Virginia who have a child with heart disease or a congenital heart defect."

Of his dedication to his home state, Vestal wrote, "It was his intense bonding with the state of West Virginia and Appalachia which drew him back to his childhood roots. His identification with the people of this rural mountainous region of the nation created in him the desire to not only provide the highest quality of care for children with heart disease at WVU Children's Hospital but to make sure this care was available to every child who needed it in the state, wherever they live."

Rhodes received the award May 9 during NRHA's 36th Annual Rural Health Conference, which attracted more than 900 rural health professionals and students to Louisville, Ky. It is the largest gathering of rural health professionals in the nation.

View his Acceptance Speech here!

Awardees will receive a complimentary one-year individual membership to NRHA, coverage in "Rural Roads" (NRHA's magazine) and a plaque or award appropriate for display.

NRHA is a nonprofit organization working to improve the health and well-being of rural Americans and providing leadership on rural health issues through advocacy, communications, education and research. NRHA membership is made up of 21,000 diverse individuals and organizations, all of whom share the common bond of an interest in rural health.
---
13-088
For more information:
Angela Jones-Knopf, News Service Coordinator, 304-293-7087
knopfa@wvuhealthcare.com
ajk: 05-03-13