Being Home in Grantsville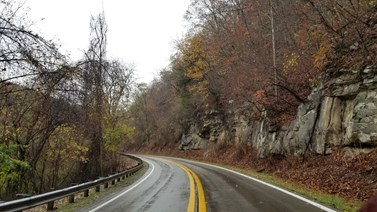 The Little Kanawha River tucks Grantsville into mountainous wrinkles. You will drive meandering roads into town. When you're there, make the choice to accept the low cell service, short commute time, crisp and clean air, and attentive and engaging neighbors. The house has WiFi, so you can be connected. Don't scroll-troll too long; unplug and venture out. Look at our galaxy's stars and planets. Calhoun County is a renowned area for stargazing. Walk through the woods and listen to the river. Sit and get to know somebody. For right now, you are a thread in their tight-knit community.
Food
Grinders Coffeehouse & Cafe: You might not eat elsewhere once you go and eat here. The food is too good. Really. Get a chicken quesadilla or a pulled pork sandwich or another sandwich on incredible, homemade bread. A local family who cares about sharing excellent food at an affordable price with world-class customer service opened the restaurant in late 2022. 
Tudor's Biscuit World: Tudor's seems to be a community gathering space. I shared lunch with Donna, a life-long resident who introduced me to Grantsville. She greeted a gentleman as he walked in with others. "That's the mayor," she whispered. "He comes here every weekday and sits at this table," she says as she smiles and waves. She senses my trepidation. "Oh, he's fine," assures Donna. There's only one big round table, you can't miss it. 
High Rise Pizza (12 minutes northwest of Grantsville)
Gino's Pizza and Spaghetti House
Smoke House BBQ in Glenville
Entertainment
Grantsville Farmers Market (Thursdays from 9 a.m. - 2 p.m., May through October)
Glenville Farmers Market (Saturdays from 9 a.m. - 1 p.m., May through October)
Glenville State University (Pioneer Stage holds regular bluegrass jams)
DiFeo Family Vineyards (one hour west of Grantsville)
Misty Mountain Farm. Features local grass-fed beef, pastured poultry and pastured pork. E-mail mistymtfarm@yahoo.com or call 304-354-9001 for current product availability and pricing. It is located 15-minutes south of Grantsville.
Other events near Grantsville include:
WV State Folk Festival in Glenville (late June)
Wood Festival in Grantsville (early June) 
Molasses Festival near Grantsville (late September)
Outdoors
Fishing on the Little Kanawha River - Pull-offs along the Little Kanawha Pkwy - Go to WVfish.com for info on fishing regulations and obtaining a fishing license.
Hunting in Stumptown Wildlife Management Area and Little Kanawha River Wildlife Management Area. For maps and hunting info, visit West Virginia Department of Natural Resources website.
High Adventure Disc Golf Course (in Glenville, next to a ball golf course)
Calhoun County Park - Grantsville - Known for stargazing and trails for walking and bicycling
Cedar Creek State Park (near Glenville): Swimming pool, putt-putt golf, paddle boats and fishing ponds
Kayaking on the Little Kanawha River. There is rental place in Grantsville called Little Kanawha Kayaks
E-mail Gerardo Patron with feedback on your adventures in Grantsville.
The views, thoughts, and opinions expressed on this website belong solely to the author and not the author's employer, West Virginia University. They are not intended as an endorsement or recommendation on behalf of West Virginia University of any person, organization, activity, product, or service.