Being Home in Martinsburg
Martinsburg is West Virginia's fingertip reach towards Washington, D.C. I picture Michelangelo's painting "The Creation of Adam" as if our state stretched mightily to get within an 1.5-hour drive of downtown D.C.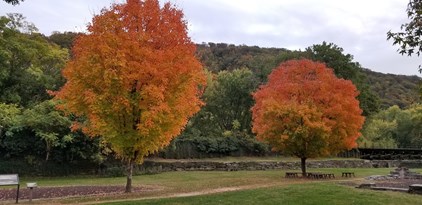 The eastern panhandle has surely evolved since West Virginia's creation in 1863. Back then young adults might have fought in the Civil War in one of the several nearby battlefields; whereas now, we might practice yoga and rock climb at Climbing New Heights after a day at clinicals. Like all else, Martinsburg continues to change, but this is the moment to enjoy.
Be encouraged to visit Shepherdstown and Harpers Ferry. Shepherdstown is a small college town where eccentricity charges every corner, and the Potomac flows. Harpers Ferry is smaller yet, where John Brown led others in a raid opposing slavery two years before the Civil War, where the Potomac and Shenandoah Rivers converge, and where walking outside feels like a museum. See below for recommendations on places in those two towns. But Martinsburg is your home, so get to know it here:
Food
Cider Press Deli and Grill: inside Taylor's Farm Market 10 minutes south of Martinsburg2 - Locally owned, locally supplied. Be a locavore with a $12 burger.
Chesapeake Crab Company: aka Mother Shuckers
Brix 27: $15 entrees that I assume are very delicious
Good Natured Collective Market and Cafe: full menu for lunch and dinner, plus bulk herbs, cheeses, non-dairy products, and meat substitutes. And local foods! Great veggie burgers!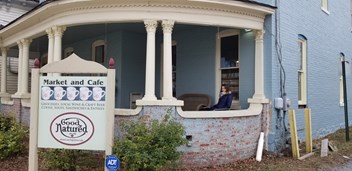 Other well-marketed food options include:
Moe's Donut Shop
Habanero Mexican Grill (pronounced Ah-Bah-Ne-Ro, not Ha-Bah-Nye-Ro)
Blue White Grill: your local diner 
King's NY Pizza
Entertainment
Southside Farmers Market: Sundays 9am-1pm, May-October - 525 Winchester Ave OR Marintsburg Farmers Market on Fridays from 4:30-7:30pm on the Town Square
Climbing New Heights: Indoor rock climbing, bouldering, yoga, and outdoor guide services
Berkeley Art Works: Exhibits, work spaces, classes in this arts facility
West Virginia Glass Outlet
Black Draft Distillery 
DeFluri's Fine Chocolates
Shepherdstown, W.Va. and Harpers Ferry, W.Va. (see below as they are a must-go).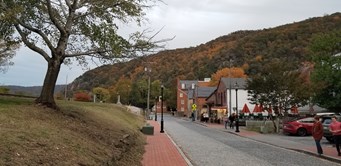 Cushwa Brewing Company - 20-minutes north in Williamsport, MD
Other events in Martinsburg include:
Mountain State Apple Harvest Festival (held in late-October)
Fridays at Five is free summer concert series on corners of King and Queen streets (10-minute walk from Martinsburg)
Chili Cookoff (late-September - curious, is it not?)
Soap Box Derby race (early-June, an annual Martinsburg tradition)
Boots, Brews, and BBQ (mid-August, $25 for 10 pours, local BBQ to savor, and live music).
Outdoors
River Riders Family Adventure Resort - 25-minutes south of Martinsburg - zipline, canopy tours, white water rafting, flat water tubing, white water tubing, kayaking, canoeing, stand-up paddle boarding, and mountain biking.
Shepherdstown, WV - the Appalachian Chocolate Company, Civil War reenactments, live music and riverside cafes. Consider taking the C&O Canal Trail 13-miles to Harpers Ferry. Or consider their farmers market on Sundays from 9am-1pm from March to December.
Harpers Ferry, WV and its National Historical Park - The Shenandoah and Potomac Rivers converge where John Brown's men fought against slavery. Home of excellent rock climbing and bouldering, Vintage Lady Jewelry (serving beer, wine, and cider), Ghost Tours of Harpers Ferry, and the Harpers Ferry Brewing Company (with a sweet view of the Potomac!). Driving back to Martinsburg, consider the Black Dog Coffee at Shenandoah Junction.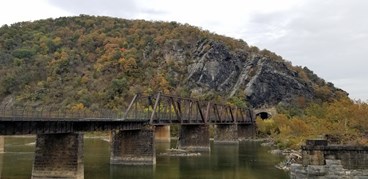 Hiking trails just north of Martinsburg - I have not yet been there, but the trail system appears on AllTrails.com
Poor House Farm Trail System - can't tell you much about it, except that it's just west of Martinsburg - looks like a bunch of .5-mile loops
Sleepy Creek Lake - 50-minutes west of Martinsburg
E-mail Gerardo Patron with feedback on your adventures in Martinsburg! 
The views, thoughts, and opinions expressed on this website belong solely to the author and not the author's employer, West Virginia University.  They are not intended as an endorsement or recommendation on behalf of West Virginia University of any person, organization, activity, product, or service.