Being Home in Wheeling
Wheeling is a hip, post-industrial city. Collaborators say they are "shaking off the rust" to preserve the town's heritage while supporting locally-owned breweries, bakeries, restaurants, and annual events. We are still in West Virginia, which means we have plenty of access to natural beauty. When not studying or working at the medical center, you can wander now in 2021.
Some 240 years ago, wandering might have meant riding with Major McColloch, the frontiersman who once famously leaped with his horse down a 300-ft precipice in Wheeling. McColloch's Leap is commemorated with a monument; commemorate your time in Wheeling a bit differently. Take your leap into high quality establishments to nourish yourself in Wheeling.
Food
Whisk Bakery – Edgwood Neighborhood – Delightful cupcakes, cakes, and other baked goods. Clearly for "treat yo-self" days, when you need the sugar to be light and fluffy.
Later Alligator – Downtown, next to the Wheeling City Center Market – 4.6 stars out of 624 Google reviews. Known for specialty crepes. Somebody from WV Tourism recommends their "mad tea concoction of blackberry moonshine and fresh-brewed sweet tea." I wonder if people at WV Tourism get free stuff, because I ain't. 
Coleman's Fish Market – in Wheeling City Center Market – Proud to serve fried fish sandwiches since who knows when - a long time ago.
Vagabond Kitchen – downtown area – "hand-crafted, locally sourced food" for entrees in the $15-$20 range. Maybe someday I'll fork up the cash, but right now, I'd rather go get tacos.
For Mexican food:
Tacoholix
El Zocalo Mexican Restaurant
For Italian food:
Figaretti's Restaurant
DiCarlo's Pizza
Good Mansion Wines – Walk up red carpet stairs to admire and maybe enjoy wines, cheeses, breads, cured meats, sauces, and pastas.
Entertainment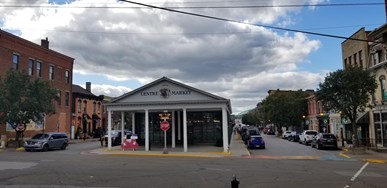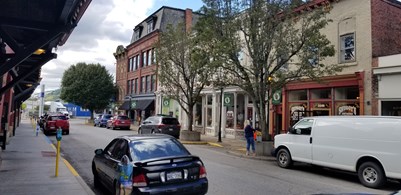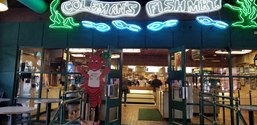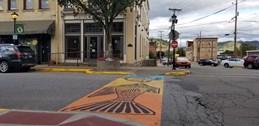 Wheeling Brewing Company - downtown - I have not yet been. How's their beer?
Wheeling Artisan Center - downtown hub for artwork by regional artists.
Other Entertainment options include:
Wesbanco Arena - home to the Wheeling Wailers (hockey) and the West Virginia Roughriders (football)
Oglebay Winter Festival of Lights displays millions of lights along a 6-mile drive.
Wheeling Park hosts summer drive-in movies.
Wheeling Symphony Orchestra
Nail City Record Store
Kruger Street Toy and Train Museum
West Virginia Penitentiary – Moundsville, WV – Would you take a study break to visit a gothic-style prison and its 5-by-7 foot cells? Hmm.
Outdoors
Oglebay Resort and Oglebay Park – A 1700-acre elegant estate with golf courses (plural), hiking trails, horseback riding, mountain biking, tennis, spas, gourmet restaurants, outdoor and indoor pools, the Good Zoo, skiing and snowboarding, and probably more.
Wheeling Heritage Trail – 17-mile rail trail along the Ohio River.
Big Wheeling Creek has a rope swing somewhere. Go swimming.
Palace of Gold – 30 minutes south of Wheeling – "America's Taj Mahal" built by the International Society for Krishna Consciousness. 
Wheeling Island Marina Disc Golf Course – a short course that plays alongside the Ohio River – one day I will play there and report back to you all.
E-mail Gerardo Patron with feedback on your adventures in Wheeling. We can post comments on this page!
The views, thoughts, and opinions expressed on this website belong solely to the author and not the author's employer, West Virginia University.  They are not intended as an endorsement or recommendation on behalf of West Virginia University of any person, organization, activity, product, or service.