The Author's Home
Where is Home?
Where are you from? We ask each other that question frequently. Everybody quickly names a hometown that might define their identity. I might say, "I'm from Mexico originally, and grew up in the US." I have moved several times. I also think being with Brooke, my partner and wife, as a kind of being home. Edward Sharpe sings, "Home is wherever I'm with you." I also think of our home planet Earth. Our stories are deeper than a home's name, of course. Our identity evolves, and our perspective of home develops.


My brief story of home as a place goes roughly as follows: My family has been in Merida, Mexico since the mid-18th Century. My parents embraced the challenge of adapting to new peoples and lifestyles while remaining unique as themselves, so we moved. Their love was my brothers' and my bedrock. We first moved from Mexico to the US when I was 2 years old. We lived in Columbus, IN for 1.5 years, then back to Mexico until I was 4. From ages 4-10, we lived near Miami, FL. Then, we moved back to Columbus, IN until I went to college.
The day after I moved to college in Cincinnati, OH, my parents and younger brother moved to Beijing, China for 3 years (and then to Brussels, Belgium for 5 years). I lived in Cincinnati for 5 years, Denver for 2 years, Bruceton Mills, WV for a year, Cincinnati for another year, Frederick, MD for a year, Morgantown for one-year, and now Mount Morris (just north of Morgantown) for the last year. I also spent months long stints visiting my parents during school breaks, and had other short-lived homes while studying in Ghana for 4-months during college, bicycle-camping through Europe for 4-months, and working in Sarasota, FL for 2-months and Steamboat Springs, CO for 2-months.
My story of home just happens to involve many physical spaces, and people who have lived in one or few places share unique insights on feelings of home. Ultimately, we all know what being home feels like. At home, we are comfortable to be ourselves with no pretenses. Somebody said something like, "if you can wake up in the familiar, and see it anew, you need never leave home." The reverse is also wise: if you leave a home, and accept the moment, then you'll always be home. For me now, as a young 31-year-old, I seek stability in place, and Brooke and I love exploring and being home in West Virginia. We intend to stay.
Why do I love West Virginia?
I love the deep soul that these mountains engender in people; the humble confidence people share in being their true selves; the history that squeezes the heart with love and agony; the biodiversity through the countless colorful hollows; the significance of land and nature in many fascinating lifestyles; the refreshment of a waterfall splash in a swimming hole; the everlasting greenery of rhododendrons in the winter; the forest hug; bluegrass music; big rocks, ferns, and mosses; pepperoni rolls; and so forth. I am inspired by our wild and wonderful state. West Virginia is a special home on this planet. If you would please, send me an email on why you love West Virginia, too. How do you engage community and develop sense of place?


May we all be home,
Gerardo Patron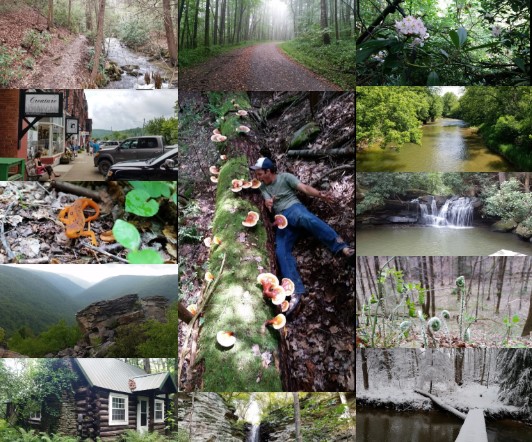 The views, thoughts, and opinions expressed on this website belong solely to the author and not the author's employer, West Virginia University.  They are not intended as an endorsement or recommendation on behalf of West Virginia University of any person, organization, activity, product, or service.