Experience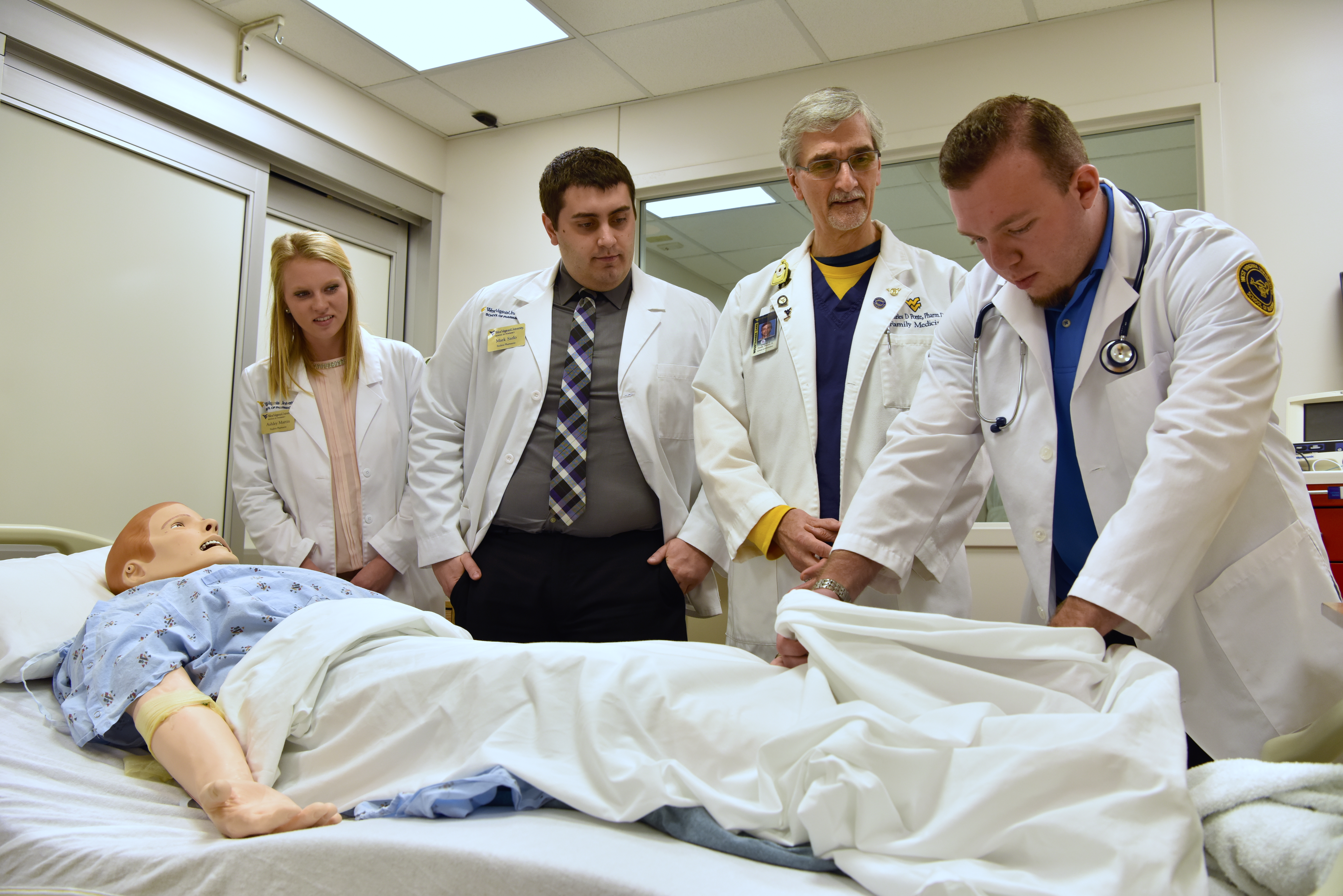 West Virginia University's Interprofessional Education students have access to incredible hands-on experiences on campus, with the environments they would interact with in a hospital or patient-care setting.
Simulation
Project Delivery of Chronic Care (DOCC) -  Center for Excellence in Disabilities along with STEPS and IPE have a simulated experience with lived-experience parents of children with disabilities. This experience allows pharmacy, nursing, and medical students an opportunity to interview a parent of a child with a severe disability. The intent of the activity is to promote interprofessional teamwork and communication skills and promote compassionate care. The experience introduces the learners to the parents first through a video of their home environment and gives some background on how they live their daily life.  During the Covid-19 pandemic the format was quickly shifted and was offered as a telemedicine event.  This format works well for the families and allows the learners to see the environment and meet the children for a more robust experience. 
IDEAS - Interdisciplinary Education Apartment Simulation
Students from six different disciplines (dentistry, medicine, nursing, occupational therapy, pharmacy, and physical therapy) will work together to see a patient recently discharged home after having surgery.  This takes place in an offsite apartment for a more authentic experience.  The students interview the patient and have time to work together to address any concerns. Faculty from all of the disciplines and the STEPS Center took part in the project.  
IPE Rounding
Students from medicine, nursing and pharmacy round on two patient cases in the simulation center.  They examine a standardized patient and then develop a care plan for treatment.
Emergency Room Tele-Medicine Encounter
Medicine, nursing and pharmacy students work together during this encounter to work with rural hospitals to give aid to the doctor and nursing staff.  The learners experience two rural experiences via telemedicine.  They work together to provide a plan for the patient. 
Pediatric Interprofessional Education
This simulation involves nursing, medicine and pharmacy students and has two pediatric cases in an emergent care setting.  This simulation focuses on compassionate care, communication and team work.
Clinical Practice
Needs content
Health Fairs
The IPE Health Fairs are one of the greatest examples of a sustainable IPE outreach program at our institution. This program began in 2013 and has evolved with continuous quality improvement to a program that provides community engagement with the school system.  Seven disciplines comprised of pharmacy, occupational therapy, physical therapy, music therapy, speech language pathology, dental hygiene and nursing come together to form 13 teams that develop current health topics relevant to the participants at the middle and high school level. 
IPE Emergency Department Clinical Experience
This project includes pharmacy, medicine, nursing, dentistry and physical therapy students, and they have the opportunity to care for a patient has a team from intake until discharge/ admission into the hospital. The attending physicians' have dedicated a patient room for this activity during the scheduled time. 
Monday Night opportunities
These sessions are offered twice a semester and deliver the four IPEC competencies to students from 12 disciplines: Professional Roles & Responsibilities; Values & Ethics; Teams & Teamwork; IPE Communication.