Experiences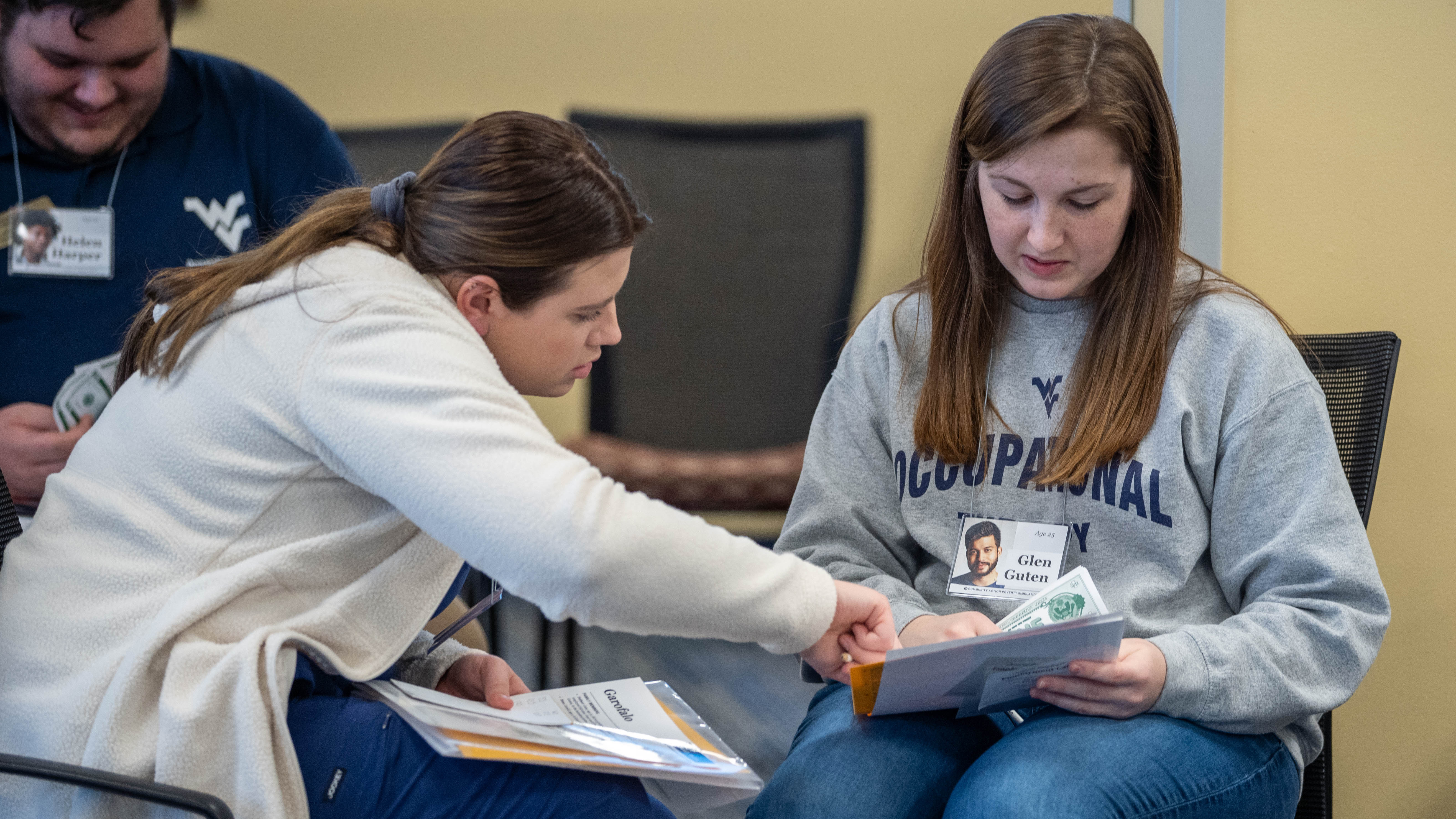 West Virginia University students have access to incredible hands-on experiences on campus, with the environments they would interact with in a healthcare or community setting.
The Office of Interprofessional Education offers opportunities for WVU Health Sciences students to earn certificates through simulation programs that help build their portfolio and network with individuals who are studying other disciplines.
Many experiences include time spent in the state-of-the-art David and Jo Ann Shaw Center for Simulation Training and Education for Patient Safety where students practice patient scenarios and proper care techniques in a safe learning environment.
Interdisciplinary Education Apartment Simulation (IDEAS)
Students from disciplines such as dentistry, medicine, nursing, occupational therapy and pharmacy work together to see a patient recently discharged home after having surgery during the Interdisciplinary Education Apartment Simulation (IDEAS).
Poverty Simulation
Poverty is a reality for many individuals and families. Unless you have experienced poverty, it is difficult to truly understand. The Poverty Simulation bridges that gap from misconception to understanding.
Project Delivery of Chronic Care (DOCC)
WVU's Center for Excellence in Disabilities along with STEPS and IPE offer Project Delivery of Chronic Care (DOCC), a simulated experience with lived-experience parents of children with disabilities. This experience allows pharmacy, nursing and medical students an opportunity to interview a parent of a child with a severe disability.
Transitions of Care Clinical Experience
Through the implementation of Interprofessional Huddles in the Transitions of Care Clinic, learners from various healthcare disciplines are not only exposed to live telemedicine clinical encounters but also contribute to multidisciplinary interventions that improve health outcomes for high-risk rural patients following hospital discharge.
IPE Rounding
Students from medicine, nursing and pharmacy round on two patient cases in the simulation center. They examine a standardized patient and then develop a care plan for treatment.
Monday Sessions
Monday Sessions are offered throughout the year and deliver the four IPE competencies: Professional Roles & Responsibilities; Values & Ethics; Teams & Teamwork; IPE Communication.
View photos from the Fall 2023 kickoff event.
MUSHROOM
 - Multidisciplinary UnSheltered Homeless Relief Outreach Of Morgantown
Modeled after the "Operation Safety Net" program in Pittsburgh, WVU's program is known as MUSHROOM - Multidisciplinary UnSheltered Homeless Relief Outreach Of Morgantown. The program brings together medical, nursing, dental, social work and other health professional volunteers with the goal of reaching out to those most marginalized from society with the basics of care including food, water, clothing and basic medical intervention.
Special Events
CAARES House
The Office of Interprofessional Education offered CAARES House, an educational event exploring the impact of social determinants of health and unique experiences, on Thursday, Sept. 21, in the Pharmacy Skills Development Center (HSC-North 3000 wing).
Open to all WVU students, faculty and staff ages 18 and older, the CAARES House - Curiosity, Accountability, Appreciation, Respect, Empathy and Service - immersive experience was developed to help individuals become a healthcare professional who CAARES.
View photos from the March 2023 CAARES House event.
Interprofessional Education Week
Interprofessional Education Week celebrates and shares the importance of healthcare professionals practicing and promoting a collaborative approach to person-centered care. During the 2023-24 academic year, Interprofessional Education Week will be held April 8-12. A schedule will be posted closer to the event.