Jim Keresztury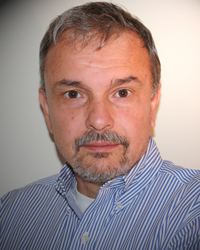 Director, Mountains of Hope Cancer Coalition
Education
MBA, West Virginia University 
Sample Publications
Building a statewide clinical trials network for cancer care in West Virginia.
Abraham J, Keresztury J, Azar J, Monga M, Bowers T, Jones MP, Tirona MT, Pollock J, Coonley C, Jubelirer SJ, Frame J, Fogg P, Getto M, Filburn S, Naim JO, Lucas D, Petros WP, Hall S, Remick SC.
WV Med J. 2009;105 Spec No:6-11.
From high tech to high touch: integrating community voices in mobile mammography outreach.
Kennedy S, Stephens S, Tephabock K, Brown PK, Davis P, Keresztury J, Narsavage GL.
WV Med J. 2009;105 Spec No:74-77.
The development and outcomes of a statewide network of hospital-based palliative care teams.
Demanelis AR, Keresztury J, Emmett M, Moss AH.
J Palliat Med. 2005;8(2):324-332.
Contact Info
Email: jkeresztury@hsc.wvu.edu
Phone: (304) 293-0481