Jane Ruseski, PhD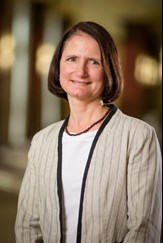 Associate Director, Bureau of Business and Economic Research
Associate Professor, West Virginia University College of Business and Economics
Education
PhD, Economics, Johns Hopkins University
Focus Areas
Health economics, health financing and policy, sports economics, industrial organization
Bio
Dr. Ruseski is an Associate Professor of Economics. She is an applied microeconomist with specializations in health economics, health financing and policy, sports economics, and industrial organization. Her current research studies the socioeconomic determinants of health and (un)healthy behaviors; the effect of health behaviors on outcomes, including chronic health conditions, obesity, and health disparities; and the mechanisms underlying health behaviors. A central theme in this research is improving understanding of how and why individuals make decisions that affect their health. The overarching goal of this research is to inform the policy environment in an effort to design policies and interventions that will promote health behaviors and reduce the burden of disease. Some current research projects study the longitudinal effects of participation in physical activity on health; the role of present bias and habit formation on physical activity; maternal smoking in Appalachia; determinants of drug abuse in West Virginia; the effect of public subsidies for professional sports facilities on infant health; the effect of Appalachian Regional Commission (ARC) investments on health outcomes; economic freedom, physical activity and health disparities; adolescent steroid use and intercollegiate athletic incentives; and the role of the built environment on physical activity and health. Dr. Ruseski has published in academic journals including Contemporary Economic Policy, Health Economics, Journal of Behavioral and Experimental Economics, Southern Economic Journal, BE Journal of Economic Analysis & Policy, and Journal of Sports Economics. She is a co-editor of Contemporary Economic Policy and an associate editor of the International Journal of Sport Finance.
Sample Publications 
Ruseski, J.E. & Maresova, K. (2014). Economic Freedom, Sport Policy and Individual Participation in Physical Activity: An International Comparison. Contemporary Economic Policy, vol. 32, no. 1, 42-55.
Humphreys, B.R., McLeod, L. & Ruseski, J.E. (2014). Physical Activity and Health Outcomes: Evidence from Canada. Health Economics, vol. 23, no. 1, 33-54.
Humphreys, B. R. & Ruseski, J.E. (2011). The Economics of Participation and Time Spent in Physical Activity. B.E. Journal of Economic Analysis & Policy, vol. 11, no. 1, article 47, 1-38.
Humphreys, B. R. & Ruseski, J.E. (2007). Participation in Physical Activity and Government Spending on Parks and Recreation. Contemporary Economic Policy, vol. 25, no. 4, pp. 538-552.
Humphreys, B. R. & Ruseski, J.E. (2011). Socio-economic Determinants of Adolescent Use of Performance Enhancing Drugs: Evidence from YRBSS. Journal of Socio-economics, vol. 40, no.2, 208-216.
Contact Info
Email: jeruseski@mail.wvu.edu
Phone: (304) 293-7835