Valarie K. Blake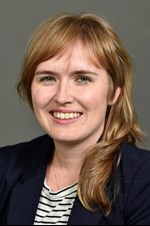 Associate Professor, WVU College of Law
Focus Areas
Healthcare law, Healthcare finance and delivery, medical ethics, chronic disease
Bio
Valarie K. Blake is an associate professor at WVU College of Law focusing on health care law. Before joining the WVU College of Law faculty in fall 2015, she was a visiting professor at Duquesne School of Law. Prior to that, she served as an ethics senior research associate for the American Medical Association (AMA), where she engaged in research and policy-making efforts related to the AMA's Code of Medical Ethics. She has also worked at the Cleveland Clinic as an advanced bioethics fellow providing bedside ethics consultation, research teaching, and service in the areas of law, ethics, and professionalism.
Professor Blake's scholarly research is on the intersections between health care delivery and ethics. She is particularly interested in how increasing state and federal regulation of health care financing and delivery will impact chronic disease, health insurance, and professionalism in medicine.
Sample Publications
Narrow Networks, the Very Sick, and the Patient Protection & Affordable Care Act: Recalling the Purpose of Health Insurance and Reform, 16MINN. J. L. SCI. & TECH. 63 (2015).
An Opening for Civil Rights in Health Insurance After the Affordable Care Act, forthcoming in Boston College Journal of Law & Social Justice (May 2016).
It's an ART Not a Science: State Mandated Insurance Coverage of Assisted Reproductive Technologies and Legal Implications for Gay and Unmarried Persons, 12 MINN. J. L. SCI. & TECH. 651 (2011).
Professional Achievements
2015 American Society for Law, Medicine, and Ethics Health Law Scholar
Contact Info
Email: Valarie.blake@mail.wvu.edu
Phone: (304) 293-8639