Melissa Olfert, DrPH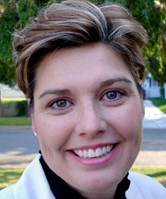 Associate Professor of Human Nutrition and Foods, Davis College of Agriculture, Natural Resources, and Design
Adjunct Professor, WVU School of Medicine and School of Public Health
Education
DrPH, Preventive Care in Chronic Disease Emphasis in Clinical Nutrition, Diabetes/Obesity Management & Education, Loma Linda University
Focus Areas
Lifestyle behavior change interventions to prevent chronic disease, food and nutrition, impact of environment on behavior
Link to Olfert Research Lab: http://melissa-olfert.davis.wvu.edu/
Bio
With training in exercise physiology, nutrition, and as a preventive care specialist in chronic disease, I bring diverse experience in working with clinical, industry and entrepreneurial partners in diverse populations. Throughout my career I have cultivated a strong background with expertise in program development, implementation, management and evaluation at a local, county, state and national level. Through my public health influence and private practice I have developed and conducted lifestyle intervention programs to hundreds of individuals with chronic disease (such as metabolic syndrome, obesity, diabetes, cardiovascular disease and cancer) and primary prevention of disease throughout the lifespan from early childhood to geriatric populations in urban and rural settings with socioeconomically disadvantages. Lifestyle intervention programs that incorporate physical activity, nutrition, tobacco cessation as well as appropriate alcohol use and stress-management (including resiliency training) for at risk individuals have been a passionate area for me for the past two decades. For two decades I was actively involved in the development, measurement and delivery of statewide regional training for the California state funded Sweet Success Gestational Diabetes Program targeting screening, treatment and education for in-patient and out-patient venues especially focusing on non-pharmacological interventions using exercise and nutrition to control glucose levels.  Within the state of West Virginia, I have worked across the lifespan in translational research surrounding myself with multi-disciplinary colleagues using intervention research designs in community based participatory research (CBPR) approach specifically targeting groups of multiple generations of underserved, low socioeconomic status, rural whites. By using a multi-disciplinary approach to answer complex public health issues that continue to move evidence based practice through dissemination and implementation I continue my research agenda. 
Sample Publications
Olfert M, Smith E*, Flanagan S. Colby S, Shanklin K, White A, Mathews D, Yerxa K, Franzen-Castle L, Krehbiel M, Kattleman K, Koens A. iCook: Lessons Learned about Recruiting Youth and Their Primary Adult Food Preparers for a 4-H Cooking Intervention.  FASAB J 2013 27:1063.18
Colby S, Shanklin K, Olfert M, Flanagan S, White A, Mathews D, Yerxa K, Franzen-Castle L, Krehbiel M, Kattleman K, Koens A. iCook: Technology development for use in a Youth and Adult 5-State 4-H Program.  FASAB J 2013 27:36.2
Olfert M, Lilly C, White J, Flanagan S, Meade R, Franzen-Castle L, Krehbiel M, Kattelmann K, Wilson-Sweebe K, Mathews D, White A. Health Disparities including and Not Including Race Correlate to Quality of Life: iCook 4-H. JNEB 2014:46(4Suppl1):P47.
Kattlemann K, Mortinsen K, Phillips B, Greene G, Shelnutt KP, Olfert M, Esters O, Nitzke S, Horacek T, Quick V, Hoerr S, Kidd T, Colby S, Morrell J. Tailoring a Management Access System for Use by Campus Coordinators in 14 States for a Web-Based Nutrition Intervention. JNEB 2011;43(4Suppl1); S33-34.
Contact Info
Email: Melissa.olfert@mail.wvu.edu
Phone: (304) 293-1918