Kimberly Kelly, PhD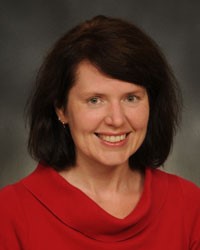 Associate Professor, Department of Pharmaceutical Systems and Policy, WVU School of Pharmacy
Education
PhD, Social and Health Psychology, Rutgers University
Focus Areas
Cancer risk communication, cancer risk perception, health behavior, family history, health disparities
Bio
Dr. Kimberly Kelly is an Associate Professor in the Department of Pharmaceutical Systems and Policy in the School of Pharmacy and the Mary Babb Randolph Cancer Center. She received her MS (1998) and PhD (2000) in social and health psychology from Rutgers University, her MS (2002) in genetic counseling from Indiana University, and completed a post-doctoral fellowship in cancer control and behavioral science at the University of Kentucky (2002-2004). Before joining West Virginia University, Dr. Kelly was a member of the Department of Molecular Virology, Immunology, and Medical Genetics, with affiliations in the Department of Psychology, the College of Public Health, the Primary Care Research Institute, and the Comprehensive Cancer Center at The Ohio State University.
Three overlapping themes emerge from Dr. Kelly's research: (1) cancer risk perception/communication, (2) health behavior (e.g., cancer screening, genetic testing), and (3) elevated risk populations (e.g., Appalachians, those with a family history of cancer). Her work relies on behavioral theory from psychology (health, social, cognitive), as well as communication and information sciences. She mixes qualitative and quantitative methods, utilizing clinic-based and community-based approaches. Most of her research has focused on how risk is communicated in the context of cancer genetic counseling and how risk perceptions differ from objective estimates of risk. She also examines the role of risk perception in cancer screening. Through her research, Dr. Kelly hopes to understand how best to enhance appropriate decision-making about health behaviors in elevated risk populations to accomplish optimal health outcomes.
Sample Publications
Kelly, K.M.*, Schoenberg, N., Wilson, T.D., Atkins, E., Dickinson, S., Paskett, E. (2015). Cervical cancer worry and screening among Appalachian women. Journal of Primary Prevention, 36(2):79-92. 
Kelly, K.M.*, Agarwal, P., Attarabeen, O., Scott, V.G., Elswick, B., Dolly, B., Tworek, C. (2015). Pharmacists' perceptions of tobacco sales in an elevated-risk population. Journal of Pharmacy Technology, 31(5):195-203. 
Kelly, K.M.*, Chopra, I., Dolly, B. (in press). Breastfeeding: An unknown factor to reduce heart disease risk among breastfeeding women. Breastfeeding Medicine. 
Kelly, K.M.*, Ferketich, A., Ruffin, M., Tatum, C., Paskett, E. (2012). Perceived risk of cervical cancer in Appalachian women. American Journal of Health Behavior, 36(6): 849-859. 
Kelly, K.*, Shedlosky-Shoemaker, R., Porter, K., DeSimone, P., Andrykowski, M. (2011). Cancer recurrence worry, risk perception, and informational-coping styles among Appalachian cancer survivors. Journal of Psychosocial Oncology, 29(1):1-18. 
Contact Info
Email: kmkelly@hsc.wvu.edu
Phone: (304) 293-1453