2019 Research Induction Ceremony scheduled for October 18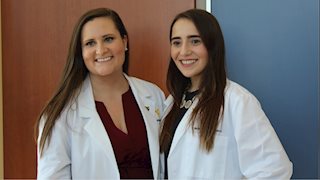 All are welcome to attend
The Research Induction ceremony marks an important step in the lives of doctoral students who have completed their core educational course work, identified their mentors, and are now entering their selected areas of graduate research. The laboratory coat presented at this Ceremony symbolizes the entry of these young scientists into the process of research and discovery. It also serves to recognize the bonding of mentor and student in a mutually supportive interaction that is key to successful training for a career in research.
Dr. Carey Hwang, MD, PhD, will serve as the guest speaker for the event. He is the Executive Director and Distinguished Scientist in Global Clinical Development/Infectious Diseases section at Merck Research Laboratories. Among various leading roles at Merck, he has lead innovative discoveries in HIV research including medical lead for early HIV small molecules and biologics, immunovirology, virology early clinical development, and translational research and development. Prior to Merck, he was associate medical director in discovery medicine/virology at Bristol-Myers Squibb.
Dr. Carey Hwang is an alumnus of the MD/PhD Scholar's Program at West Virginia University.
The Research Induction Ceremony will be held on October 18, 2019, at 4:00 PM, in the Okey Patteson Auditorium at the Health Sciences Center. Doctoral students at the Health Sciences Center moving into their research career will be honored. All faculty, staff, students, and families are welcome to attend. A reception will follow in the Pylons lobby.