Back to

News
2020 dental hygiene degree candidates present two years of research findings
Oral health related studies required for graduation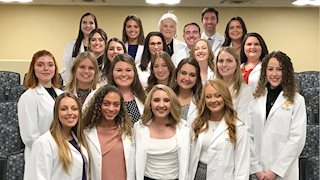 Students in the West Virginia University School of Dentistry dental hygiene class of 2020 presented two-year research projects, a requirement to successfully complete the oral healthcare program.
The uniquely integrated four-year baccalaureate curriculum includes a research focus to help students pursue professional development in oral healthcare.
Working in pairs and small groups, dental hygiene students are encouraged to explore a wide variety of topics including oral health awareness, working environments of providers, fluoride and efficiency in the profession.
As WVU holds the prestigious ranking as an R-1 status school, the dental school Department of Dental Hygiene supports that mission to lead research education and apply biostatistical principles in the analysis of the scientific literature and the design and interpretation of student-based research projects.
Dental hygiene students take specific research related courses in dental health education and public health. A dental health education course requires student field experiences in three settings followed by case histories and completed studies. In the public health course, the theory and practice of preventive dentistry and community are addressed as well as methods and techniques used in dental hygiene research.
Explore the dental hygiene program on the dental school's website.
The following includes student participants and projects:
(Additional photos can be found on the school's smugmug page.)

Shelby Hawk and Kylie Sharp
In Vitro Effect of 20%, 50% & 100% Concentration of Aloe Vera on Cariogenic Bacteria
Emily Longerbeam and Victoria Rutherford
The JUUL's Effect on the Oral Cavity and Lung Function
Jordyne Jones, Hailey Neubert and Ashley Taylor
Parental Knowledge on Children's Oral Health Needs
Elizabeth Green and Malia Howard
Operator Musculoskeletal Comfort Related to Chair Design
Kirsten Lancia and Kaitlin Ross
Comparison of Physiological Biomarkers Between Dental Hygiene Practitioners of Physiological Biomarkers Between Dental Hygiene Patients and Practitioners
Makenzy Fox, Brittani Stephenson and Peyton Wimmer
Fluoride Administration in Pediatric and Family Practices in West Virginia
Gianna Mollica and Madison Mullenax
Preventative Practices of Ergonomics in Dental Curriculum
Matthew Duggan and Megan Fisher
Effects of Mouth rinses on Salivary pH After Acidic Drink Consumption
Taylor French and Morgan Stemple
The Whitening Effects of Activated Charcoal Dentifrice Compared to Other Dentifrices
Allison Bauer and Nicholas Campbell
Something in the Water-Edentulism & Water Fluoridation in West Virginia
Each Capstone Project was presented to the Department of Dental Hygiene in partial fulfillment of the requirements for the degree of Bachelor of Science in Dental Hygiene for the West Virginia University School of Dentistry.