A Brighter Future for Clinical Education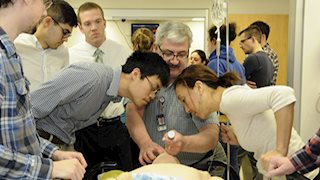 WV STEPS Center receives generous gift to expand
At first glance, the exam rooms are identical to what you would see in any typical hospital. Equipment is set up in the same fashion. Monitors display what appears to be actual patient data. Staff is dressed in hospital scrubs, and the hallways are bustling with activity and commotion.
It isn't until you look more closely at the patient's bed that you realize it's not actually a person who is being treated. Rather, it's a manikin – a model of the human body used for teaching anatomy, demonstrating surgical operations, practicing cardiopulmonary resuscitation (CPR) and automated external defibrillator (AED) use, even delivering a baby.
"The technology in the WV STEPS Center is amazing. I can't imagine how different training during medical school would have been for me if we would've had access to a simulation center," said Jo Ann Goldbaugh Shaw, MD. "And if you're trying to promote team, what better way to do it than to have a simulation lab open to medical students, nursing students, pharmacy students, and others to get the training they need."
Pharmacist David Shaw and Jo Ann Goldbaugh Shaw are on a mission to provide WVU health sciences students with more training opportunities and scholarship assistance.
They both know what it's like to be starving students. They worked their way through undergraduate and graduate school, sometimes trudging up hill, in the snow just to get to class and then to work. David worked as a pharmacy technician while enrolled in the WVU School of Pharmacy, and Jo Ann worked as a medical technologist while completing her medical degree at WVU.
Because of their experiences, the Shaws, from Wheeling, West Virginia, have chosen to dedicate a substantial financial gift to the School of Medicine that will help support a $5 million expansion of the WV STEPS Center (Simulation Training and Education for Patient Safety).
By spring 2015, along with expanding its footprint within the Health Sciences Center, the WV STEPS Center will improve computer-based systems, open a fifth simulation laboratory dedicated to mothers and babies that is equipped to simulate the obstetrical environment, and enhance programs such as the standardized patient and the clinical skills programs.
WV STEPS was recently granted accreditation in the areas of teaching/education and assessment by the Society for Simulation in Healthcare (SSH) and the Council for Accreditation of Healthcare Simulation Programs. Communication and collaboration between the Health Sciences Center schools were the top strengths listed by the review committee.
"It is timely that our Health Sciences Simulation Program has joined about 30 other programs internationally who have achieved this accreditation status at the same time that David and Jo Ann Shaw have so generously contributed their support to our mission," said David Wilks, MD, medical director of WV STEPS and assistant dean for technology in medical education in the School of Medicine. "I believe that they see and understand the innovative work we do. Their support for our program will allow us to continue to provide the highest quality educational experiences for the future healthcare professionals of West Virginia and beyond."
An additional donation will also support the Jo Ann Goldbaugh Shaw Scholarship Fund, established in 2011 and focused on helping students from each of the four years of medical school with tuition and expenses.
"It was the trials and tribulations that we had while we were in school that helped us to consider creating a scholarship fund," said both Shaws. "We are in a unique position to be able to provide financial assistance, and we are hoping that our fellow alumni will follow suit, even if it's to support an established fund such as the Dean's Scholarship Fund. Others don't have to commit at the level we do but can contribute at a much smaller level and collectively have a huge impact."
The Jo Ann Goldbaugh Shaw Scholarship Fund recently reached the $1 million mark and will successfully fund four separate scholarships. Two WVU medical students are currently receiving scholarship assistance, and a third student will also be named.
"We both worked part time at the hospital while we were going to school," David said.
"She worked the first two years as a med tech, and I worked as a pharmacy tech to help put us through medical and pharmacy school. Our big treat was going to Mario's on Friday night and getting a pizza – with no extra toppings!"
"It was so difficult to work while trying to go to school," Jo Ann said. "I hope that our students realize how much help a scholarship would be to them. They wouldn't have to work 30 to 40 hours per week just to be able to go to school and make ends meet."
With the cost of college tuition on the rise across the country and the competitiveness in graduate schools increasing, that just may be an understatement.
"I am so grateful to the Shaws for their generosity and not only what they have done for me personally, but for the entire School of Medicine," said Joshua Roach, a third-year medical student and a recipient of the Jo Ann Goldbaugh Shaw Scholarship. "Thanks to them, when I graduate, I will have far less debt than the average medical student, and this takes so much stress out of my day-to-day life. As medical students, the discussion of debt is common; it is something that is constantly in the back of our minds and can be very distracting. However, I feel as though the Shaws have given me an advantage because I can focus more of my time and energy into my studies."
"The Shaws, with their generosity, are helping to create extraordinarily competent, highly competitive health sciences students graduating from WVU," said Arthur J. Ross III, MD, MBA, dean of the WVU School of Medicine. "They are helping to train the future healthcare practitioners that will take care of West Virginians. And, they get to see their gifts at work right away."