A funny thing happened on the way to commencement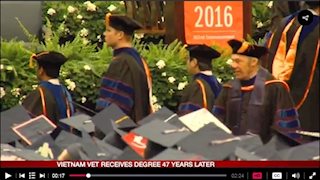 WVU's John Thomas participates in Syracuse University doctoral hooding ceremony, 47 years after finishing degree
(Courtesy Rob Enslin, Syracuse University)
When WVU Professor Emeritus John G. Thomas was completing his Ph.D. at Syracuse University, the last place where he thought he would end up was an Army base in San Antonio.

"In 30 hours, I went from being a graduate student in the College of Arts and Sciences to a tank commander at Fort Sam Houston in Texas," says Thomas, 74, speaking by phone from Allegheny General Hospital in Pittsburgh, where he is the director of clinical microbiology and a principal investigator of research into medical biofilms. "Eventually, my records caught up with me, and I was transferred to the Medical Service Corps at the Presidio in San Francisco."
Video from WSYR-TV, Syracuse

The year was 1969, the peak of the U.S. involvement in the Vietnam War. At first blush, Thomas probably looked like any other gangly twentysomething. When he wasn't studying submicroscopic viruses in Syracuse's new, state-of-the-art Biological Research Building, he could be found perusing the stacks in nearby Carnegie Library, slumming on Marshall Street, or volunteering for the National Ski Patrol. (He also found time for fishing, boating, tennis, and hockey.) Few people knew, however, that Thomas was a junior commissioned officer in the Army—something that wasn't exactly, um, cool.

"I hate war, but I believe in what we, as a country, stand for," says Thomas, who prior to Syracuse, was a Distinguished Military Graduate of Norwich University, the nation's oldest private military college and birthplace of the Reserve Officer Training Corps. "I made an oath to defend the Constitution and to obey the orders of the president and my officers. I wasn't about to renege on any of that."

Thomas still marvels at the fact that he had only a day to wrap up his Ph.D. requirements at Syracuse and report for duty at MacArthur Parade Field at Fort Sam, or be considered AWOL. "I got a letter informing me that I had to finish my paperwork on Saturday [September 6] and then be in Texas, the following day," he says. "I never had time to think about graduating."

Until now, 47 years later.

On Friday, May 13, Thomas returns to Syracuse as the oldest and presumably most illustrious doctoral degree recipient. A self-described "international educator and global microbiologist," he is passionate about teaching. Thomas estimates that, in the past 50 years, he has mentored approximately 250 students who have gone on to postgraduate study in science or health care. With some, he has co-authored over 50 scholarly articles, essays, and book chapters. "I love doing research and clinical science, but teaching is where my heart is," says Thomas, who also has taught all three of his daughters. "My students' success is my own success. I'm their greatest advocate."
Kerri Thomas Simpson can attest to her father's sense of youthful exuberance. "He has always inspired us daughters to work hard, do our best, and leave our completions with honors," says Simpson, president of the Class of 2017 at the West Virginia University (WVU) School of Dentistry. She recalls numerous instances in which Thomas would get up early or stay up late to work, so he could focus on his family during the daytime. "There is nothing he wouldn't sacrifice to help his profession, colleagues, friends, or family."

Convinced that learning should be fun, Thomas sometimes relies on puppets, of all things, to convey serious messages. The Culture Plate Gang, as they are collectively called, include such aptly named creatures as Biofilm Bradford, Candy Candida, and Planktonic Phyllis. (Future additions are Harry Herpes and Ellen Ebola.) "The puppets are entertaining and educational," says Thomas, who uses them in schools and hospitals around the globe. "They appeal to almost any age group, even college students. I think it's a good way to do transnational teaching."

Thomas's puppetry, however, is no substitute for cutting-edge work in pathology, dentistry, and medicine. He is particularly interested in biofilms and medical devices, such as endotracheal tubes, and their impact on oral disease, ventilator-associated pneumonia, and wound infections. His involvement with molecular and 3D imaging techniques have all but revolutionized microbiology research.
James Snyder is a longtime friend, colleague, and fellow Army vet. "John is a highly respected researcher, especially in the area of biofilms and their use as models in the study of infectious diseases, and he is an excellent teacher of medical students, laboratory scientists, and pathology residents" says Snyder, professor of clinical service and director of microbiology at the University of Louisville School of Medicine. "John also is an avid hockey player, and used to drive a hopped-up Camaro, something you wouldn't normally expect from an academician, researcher, or clinical laboratory scientist."

Thomas, who earned an M.S. and a Ph.D. in microbiology and virology, respectively, from Syracuse, says the University showed him the value of education, research, and service. "Being there opened my eyes to science and how I could make a difference in patient care," he says.

Fresh from Norwich, where he graduated fourth in his class, Thomas came to Syracuse to work under microbiologist James Eldon Smith. From 1964 to 1969, Thomas had a front-row seat to the nascent study of herpes simplex virus (HSV)—which, along with finding a cure for cervical cancer, had been as important to President Kennedy as sending an American safely to the moon.

"Dr. Smith could be a real pain because he was a stickler for good writing," says Thomas, who, at Syracuse, focused on the anti-viral activities of poly vinyl sulfate, in hopes of finding a cure for HSV. "He made sure that we understood the science behind our research and could communicate it effectively. I always felt like we were writing for a Nobel Prize."

Thomas remained friends with Smith until his death in 2008, and has praised him for his courage and deep regard for humanity. When Syracuse's Biological Research Laboratories (BRL) was falsely linked to the production of napalm in 1967, Thomas says it was Smith who made sure everyone knew what to do, in the likely event of a riot or protest.

"The late '60s were a tense time on campus," says Thomas, whose "citizen-solider" ethos sometimes rubbed peers the wrong way. "I believed in the United States—still do, but I also had to be careful about what I said and to whom, especially when it came to our work in BRL. Otherwise, I could've seen five years of research go down the drain."

By all accounts, Smith trained him well. Following a two-year stint in the Bay Area, Thomas held various faculty positions at Northeast Ohio Medical University and Rutgers University and directed the microbiology lab at Aultman Hospital in Canton, Ohio. In 1990, he began a 23-year stint at WVU, doubling as a clinical professor of endodontics in the School of Dentistry and a professor of pathology in the School of Medicine. Thomas also held visiting professorships at the National University of Singapore and Cardiff University in Wales, where, in 2007, he did his pioneering imaging work.

"More recently, I've become interested in dental and medical disease management—specifically, how probiotics can be used for intervention purposes," says the Morgantown, W.V., resident, who retired as a professor emeritus in 2013, after receiving the coveted WVU Foundation Award for Outstanding Teaching.

These days, Thomas divides his time as a consultant among Allegheny Health Network and Carnegie-Mellon University, both in Pittsburgh, and Massachusetts General Hospital in Boston. He also maintains a steady diet of teaching and guest-lecturing, as evidenced by a recent two-week tour of Europe. "I especially like Pittsburgh," says Thomas, who still skis and plays recreational hockey. "Although I'm not a big baseball fan, I enjoy going to Pirates games. It's where I do some of my most creative brainstorming."

No doubt that, while sitting in the stands at PNC Park, Thomas's thoughts turned to Syracuse, to which he placed a call, last fall, about coming back to campus. (Credit one of his WVU students for suggesting the idea, nearly five years ago.) Seven months and many exchanges later with The Graduate School, Thomas' dream of being hooded is a reality.

At Syracuse, no one is prouder than Interim Dean Peter Vanable. "Dr. Thomas is a paragon of success in research, teaching, and clinical science," says Vanable, who also serves as interim vice president of research at the University and professor of psychology in A&S. "All of us in The Graduate School look forward to meeting him in person, and are pleased to have facilitated his return to campus. He is one of Syracuse's great ambassadors, and we are honored to recognize him."
Thomas is equally excited about the visit, labeling it a "milestone." "It's personal because I have great admiration for Syracuse," says Thomas, who is being hooded by Ramesh Raina, associate professor and chair of biology. "The University helped me see the big picture. Being able to finally walk across that dais is a way of rewarding myself for a job well done, while honoring the memory of my mentor, Dr. Smith."