Abstract Call for the 2020 Undergraduate Research Day at the Capital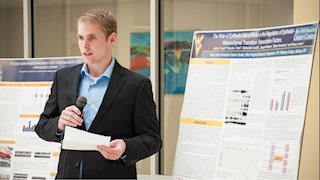 The 17th annual West Virginia Undergraduate Research Day at the Capitol will be held in the West Virginia Capitol Rotunda Friday, February 7, 2020 beginning at 8:30 am. The format for the 2020 Research Day will be a poster session featuring research and creative works conducted by undergraduate students under the guidance of faculty mentors from colleges and universities across the state. The purpose of this event is to familiarize state legislators with some of the research and creative activities involving undergraduate students that occur on campuses across the state and the educational impact of those activities. We encourage undergraduates to apply/submit abstracts (due by midnight Nov. 1, 2019) to present their work. The event will showcase posters in a wide range of subjects, including the sciences, arts, social sciences, and humanities.
If selected, attendance is free.
A detailed description of the event can be found at: http://wvstateu.edu/Research/Undergraduate-Research-Day.aspx
Because the number of spaces for posters is limited, students will be selected for a space on the basis of several criteria, including: the quality and significance of the research or creative activity, the quality and readability of the submitted abstract (abstracts should be written for a general audience!), and the relevance of the research to West Virginia. Additionally, the organizing committee will strive to provide representation of the diversity of the students engaged in research or creative activities as well as the range of institutions supporting faculty-supervised student research.
URDC will provide lunch for all student presenters and faculty mentors at a nearby venue (WV Culture Center), immediately after the poster session. Each institution must cover the costs of participation for its students and faculty. We anticipate this to include travel to and from Charleston, lodging (if necessary), and preparation of the poster.
Applications must be submitted no later than midnight Friday, November 1, 2019.