American Lung Association honor goes to WVU's Dino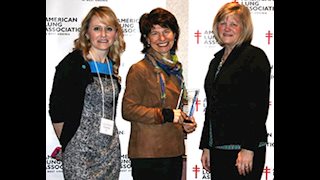 MORGANTOWN, W.Va. – In recognition of her years of work and dedication to helping teens kick their tobacco habits, Geri Dino, Ph.D., director of the West Virginia Prevention Research Center at West Virginia University, has been presented the American Lung Association of West Virginia's (ALA WV) Breath of Life Award.
Each year, the award is presented to a woman who has devoted a large part of her professional life to preventing lung disease by promoting tobacco cessation and prevention.
Dr. Dino received the honor in large part due to her creation of the Not-On-Tobacco (N-O-T) teen smoking cessation program. Dino and colleagues created this program in the 1990s when the smoking rate among W.Va. teens was 43 percent. N-O-T is a voluntary, highly-researched program offered in school and community settings. The program offers hands-on tools to assist teens in quitting tobacco use and increase other healthy lifestyle behaviors.
In 1998, ALA collaborated with Dino to formally adopt N-O-T as its teen smoking cessation program in 1998. Research by Dino, colleagues and others has demonstrated that N-O-T helps teens to reduce and even give up tobacco use.
"The American Lung Association projects that N-O-T has reached over 300,000 teen smokers nationwide since 2000," states Chantal Fields, Vice President of Mission at ALA WV. "There are a lot of teens who will live longer, healthier and more productive lives because of Dr. Dino's work."
"I am very humbled and honored to receive the Breath of Life award," Dino said. "N-O-T began in West Virginia at the state's land-grant institution. It highlights how W. Va. researchers, community members, and state agencies partnered to develop a program that not only addressed the health needs of teens in our state but across the nation."
Dino is a professor in the Department of Social and Behavioral Sciences in the WVU School of Public Health, director of the Community Engagement and Outreach Core of the West Virginia Clinical and Translational Science Institute and co-principal investigator and co-director for the West Virginia Prevention Research Center. She has over 14 years of leadership experience building alliances and leading public health missions that bring together researchers, clinicians, communities and state and national partners to conduct and translate community driven research to inform public health policy and practice.
Photo caption: Left to right, Chantal Fields, Vice President of Mission, American Lung Association of West Virginia; Geri Dino, Ph.D., WVU; Deb Brown, President and CEO of ALA WV.
-- WVU HEALTH --
15-040
For more information: Leigh Limerick, Communications Specialist, 304-293-7087
lc: 03-03-15