Annual Farmers Market to return May 25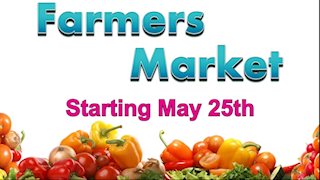 MORGANTOWN, W.Va. – The annual WVU Medicine-WVU Hospitals Farmers Market will kick off the 2016 season at 11 a.m. on Wednesday, May 25 in the parking lot between the Mary Babb Randolph Cancer Center and the Blanchette Rockefeller Neurosciences Institute on the WVU Health Sciences campus.
The Market will offer fresh produce, flowers, seedlings, breads, jams/jellies, honey, canned goods, handcrafted artisan items, meats, and more. Area restaurants will be on site serving fresh hot foods and meals.
Vendors participating in this year's Farmers Market include:
Produce
All Produce (lettuce, broccoli, and kohlrabi)
Bernatowicz Farms (sweet corn – coming in late July)
Brian's Tomatoes (hydroponic tomatoes)
Green Acres Farm (various produce)
Moonlight Gardens (various produce)
Mountain Hollow Farms (various produce)
Ornery Acres Farm (various produce)
Richardson Farm (various produce)
Sines Family Farm (produce)
Wild Nut Acres (produce and dog treats)
Flowers/Plants
Clark's Nursery (flowers and landscaping accessories)
Fancy Plants (herbs and flowers)
Mike and Betty Wilson (flowers and produce)
Baked Goods, Honey, Eggs
Clear View Farm (baked goods, eggs, and produce)
Harmony Farm (eggs, honey, and organic produce)
Morgantown House (honey, baked goods, and produce)
Rising Creek Bakery (breads and baked goods)
Sonia Guirguis (baklava)
The Cupcakerie (cupcakes)
Food and Drink Vendors
Dina Colada (lemonade)
Garcia's Latin Market (tacos)
Hash Browns and New Grounds (sandwiches and tacos)
Martin's Barbecue (barbecue)
Quantum Bean Coffee (hot and iced coffees)
SaladWorks (salads)
Soul Brothers (barbecue sandwiches and wraps)
Sundae Driver (ice cream)
Taziki's Mediterranean Café (gyros and Greek salads)
The Greeks (gyros and Greek salads)
Chair Massages
Touch of the Hand Therapeutic Massage
The market will be held every Wednesday until mid-October.
For more information on the Farmers Market, including information on becoming a participating vendor, email farmersmarket@hsc.wvu.edu.
For more information: Angela Jones-Knopf, Manager of Media Relations, 304-293-7087