Annual Safety Town course is back at WVU Medicine Reynolds Memorial Hospital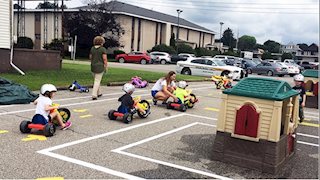 Student applications now available
GLEN DALE, W.Va. – WVU Medicine Reynolds Memorial Hospital's annual Safety Town course, an annual program designed to teach four- and five-year-olds basic safety precautions, will take place from 9:30-11:30 a.m. each weekday between June 17 and 28.
Applications are now available at the Reynolds Memorial Hospital Information Desk in the main lobby or can be downloaded here. A total of 40 students will be accepted on a first-come, first-served basis. A $25 course fee should be included with the completed application to pay for all snacks, classroom materials, a graduation T-shirt, and a bicycle helmet. Seats cannot be reserved until the $25 course fee has been paid.
Safety Town is taught by Reynolds employees, a City of Glen Dale police officer, students from the B.M. Spurr School of Practical Nursing, and Reynolds Volunteens. Reynolds has been hosting Safety Town for more than 30 years.
Safety Town students will meet many community members and learn numerous safety lessons over the course of the program. Students will have the opportunity to spend time with police, firefighters, and EMS to tour their police cruisers, fire trucks, ambulances, and the HealthNet helicopter. They will also have the chance to go through the Fire Safety House and learn how to "get low and go!" out of a fire- or smoke-filled area.
In addition, they will learn animal safety with guests from the Marshall County Animal Shelter. The Marshall County Schools School Bus Safety Team will stop in for a bus safety lesson and take the children for a ride on the bus to Glen Dale Park for a playground safety lesson. The class will learn dental health and healthy eating choices with the Marshall County Health Department. There will be lessons on stranger danger, sun and water safety, household product safety, and much more!
A graduation ceremony and reception will be held on the last day of class, and family and friends are invited to attend.
For more information about this program, please contact Megan Denny in the Public Relations Department at 304-843-3254 or megan.denny@wvumedicine.org.
For more information: Megan Denny, Communications Specialist, 304-843-3254