Annual WVU Medicine Children's Gala heads Under the Big Top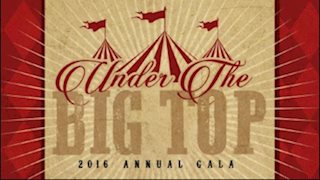 MORGANTOWN, W.Va. – There may not be any lion tamers or trapeze artists, but the attendees of the 13th Annual WVU Medicine Children's Gala will experience "the greatest show on earth" when they head Under the Big Top for the black-tie event on Saturday at the Morgantown Event Center at Waterfront Place.
The evening will begin at 5:30 p.m. with a cocktail reception, entertainment from The Move Makers Band, and a silent auction.
At 7 p.m., former Pittsburgh Steelers wide receiver Hines Ward, who will serve as the evening's ring master, will begin the program, which will include the presentation of the WVU Medicine Children's Award and the Community Service Award and the introduction of the 2016 Children's Miracle Network Champion Child for West Virginia.
The live auction will begin at 7:30. In previous years, the live auctions have included vacation packages, sports packages, jewelry, and other high-ticket items.
Award-winning dance band Party on the Moon will take the stage at 8 p.m., and at 10 p.m., one lucky raffle ticket holder will win a 2016 Mercedes-Benz CLA-250 during the Mercedes CARe for Kids drawing.
WVU Medicine Children's – located on the sixth floor of Ruby Memorial, WVU Medicine's flagship hospital – provides maternal, infant, and pediatric care for West Virginia and the surrounding region, giving care to high-risk mothers, premature infants, and children with life-threatening conditions through adolescence to adulthood. For information on WVU Medicine Children's, see www.wvukids.com.
--WVU MEDICINE--
For more information: Angela Jones-Knopf, Manager of Media Relations, 304-293-7087