ARTHRITIS: A Matter of Joint Interest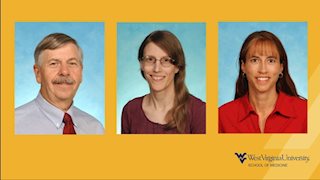 Meet the Experts, Tuesday, Oct. 4, 6:30 p.m., WVU Health Sciences Fukushima Auditorium
Almost all people living with arthritis find that it affects their lives in some way. It can affect everyday activities, jobs, financial resources, or relationships with family and friends.


WVU arthritis experts Drs. John Barnett, Lisa Robinson and Colleen Watkins invite the public to join them for a discussion on the most recent research and treatment options for Rheumatoid Arthritis, from the bench to the bedside.


Participants will learn what is happening in clinics here on the WVU Medicine campus as well as what is next on the horizon for treatment and research.
Tuesday, Oct. 4 at 6:30 p.m.
Event is free and open to the public; parking is also free and available
Light refreshments will be provided
Contact Joanna DiStefano at joanna.distefano@hsc.wvu.edu or 293-5755 to reserve a seat or learn more. Space is limited at events.

 Directions from I-79:
Take exit #155 (WV-7, West Virginia University).
Take a left at the bottom of the exit (towards WVU). Pass the Sheetz at the bottom of the hill and continue over the Star City Bridge. Proceed up hill and the Coliseum will come up on your right.
At the light by the Coliseum, take a left onto Patteson Drive.
Proceed through 2 lights, and at the third light take a right on to Elmer Prince Drive. This is the entrance to WVU Hospital and the Health Sciences Center.
At the traffic circle, take the second right to bear up the hill towards the Health Sciences Center and proceed past the security booth.
Parking is available in the lot to the left, and the entrance to Fukushima Auditorium is just past the entrance to the Mary Babb Randolph Breast Care Center on the other side of the covered walkway.
Photo caption (left to right): John Barnett, Ph.D., professor and chair of the Department of Microbiology, Immunology & Cell Biology; Lisa Robinson, Ph.D., associate professor in the Departments of Pathology and Microbiology, Immunology & Cell Biology; Colleen Watkins, M.D., assistant professor in the Department of Orthopaedics.