Back to

News
Athletic Training Division in the Department of Human Performance names Nguyen incoming chair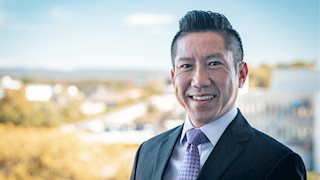 As a result of changes from the national accrediting organization, athletic training education at West Virginia University will transition to the School of Medicine. Anh-Dung "Yum" Nguyen, Ph.D., has been named the incoming chair for the Division of Athletic Training in the Department of Human Performance.
Nguyen was most recently a faculty member in the Congdon School of Health Sciences at High Point University. He earned his bachelor's in Physical Education and Sport with an Athletic Training emphasis from Indiana University of Pennsylvania.
He then went on to complete a master's in Athletic Training from Old Dominion University and a Ph.D. in Sports Medicine from the University of North Carolina at Greensboro. He also completed a post-doctoral fellowship in Applied Neuromechanics at the University of North Carolina at Greensboro.

Nguyen is an active researcher whose primary research interests focus on identifying anatomical and biomechanical risk factors associated with lower extremity injury, particularly anterior
cruciate ligament (ACL) injury.
His current research includes understanding the biomechanical factors that increase the risk of sport-related injuries throughout maturation in youth athletes. Nguyen has been co-investigator on National Institutes of Health and industry-funded grants, and has been awarded several grants to develop and foster student research.
He is heavily involved in mentoring student researchers and has established a strong record of students presenting their research work at national and international symposiums and publishing in respected sports medicine journals.
"We are thrilled to have a chairperson with the outstanding research and education credentials of Dr. Nguyen," said, Mary Beth Mandich, Ph.D., vice dean of Professional and Undergraduate Programs. "I am sure he will continue to build on the outstanding reputation of WVU athletic training education."
Nguyen has been a Board-Certified Athletic Trainer for over 20 years and is a member of the National Athletic Trainers' Association and the American College of Sports Medicine.