Barrackville Middle School athletes make donation to breast cancer research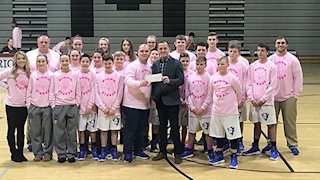 The boy's and girl's basketball teams at Barrackville Middle School are raising breast cancer awareness and supporting the WVU Cancer Institute in the fight against the disease. The players recently hosted their second annual pink out game against St. Francis at North Marion High School where they presented a check for $850 to the WVU Cancer Institute for breast cancer research. They, along with the St. Francis players, raised the money by selling pink t-shirts to their friends, families and others in their community. "Our athletes and coaches feel strongly about supporting this cause and want to help find a cure for breast cancer," Russell Hixenbaugh, teacher and girl's basketball coach at Barrackville Middle, said.
Picture caption: The boy's and girl's basketball teams and their coaches at Barrackville Middle School present $850 donation for breast cancer research to Daniel Hare, market engagement director for WVU Cancer Institute Office of Philanthropy.