BCT employees support WVU Medicine cancer comfort fund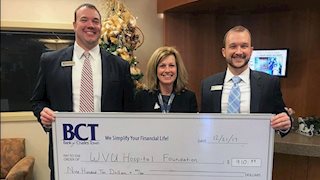 MARTINSBURG, W.Va. – A group of Bank of Charles Town (BCT) employees recently held a "no shave November" fundraiser in support of the WVU Medicine University Healthcare Regional Cancer Center, a part of the WVU Cancer Institute.
The employees raised more than $900 for the patient cancer comfort fund in memory of Bob Baronner, former BCT president/CEO and University Healthcare board director, who succumbed to cancer in early 2017.
The cancer comfort fund helps provide emergency assistance to cancer patients locally who do not qualify for other area programs. Some of the immediate needs covered by the fund include food supplements, medication, and gas cards for transportation to and from medical appointments.
For more information on ways to support the cancer comfort fund, call the University Healthcare Foundation office at 304-264-1223.
For more information: Teresa McCabe, Vice President Marketing and Development, 304-264-1223