Be an active all-star at the WVU Medicine Children's Kids Fair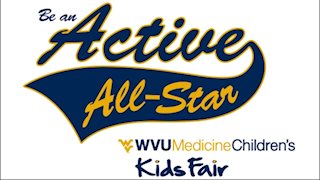 Games, prizes, and screenings 10 a.m. to 3 p.m. on April 9
MORGANTOWN, W.Va. – Kids of all ages are invited to "Be an Active All-Star" at the annual WVU Medicine Children's Kids Fair, which will be held from 10 a.m. to 3 p.m. on Saturday, April 9 at the Morgantown Mall.
The Kids Fair, which was voted the area's "Friendliest Family Event" in a contest sponsored by the Greater Morgantown Convention and Visitors Bureau, will feature 58 exhibitors promoting health, wellness, safety, and caring for the environment.
Visitors to the Kids Fair can tip off at the Welcome Booth (located near Garfield's), where they will receive a drawstring backpack and can participate in a prize raffle.
The WVU Medicine Children's Wellness Clinic booth will feature glucose testing, hand-washing education, and information on child abuse prevention, the Child Life Program, and Kohl's Healthy Babies Program. Other free health assessments include: blood pressure; developmental (for kids from birth to age 3); flexibility and strength; height, weight, and body mass index; lung function; and vision (for kids age 3 to 5).
Several special guests will make appearances at the Kids Fair. They include Cooper, the Black Bears Mascot; Monti the Mountaineer Bear; the WVU Mountaineer Mascot; Ronald McDonald; Smokey the Bear; Woodsy the Owl; Sparky the Fire Dog, with his friends Patches and Pumper; and WVU athletes.
Kids are encouraged to attend the fair dressed up as an athlete, wearing their own sports gear or a favorite athlete's jersey. Dancers, runners, martial arts enthusiasts, and all other activities are welcome too!
Entertainment from local kids groups will take place in the food court area during the fair. Tangled Tree Yoga will lead a demonstration at 10:30 a.m. followed by Lil Jammaz Hip Hop Company at 11 a.m. The WVU College of Physical Activity and Sport Sciences Martial Arts will present a Tae Kwon Do demonstration at noon, and the PopShop band "Before I Sleep" will perform at 12:30 p.m. and 2 p.m.
Other not-to-be-missed features of the Kids Fair include: health-themed puppet shows; child safety seat inspections by the Monongalia County Sheriff's Department; bike and skate helmet distribution and fittings; kiddie carnival, including games, prizes, and face painting; and live birds of prey. WVU Medicine Human Resources staff will be on hand to discuss career opportunities for the grown-ups.
A special Kids Fair insert will be included in The Dominion Post on Thursday, April 7.
For more information on WVU Medicine Children's, visit www.wvukids.com.
For more information: Amy Johns, Director of Public Affairs, 304-293-7087