Bennett to retire after 42 years; leader says she'll miss her 'second family'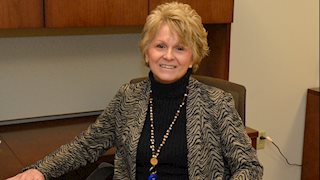 In her 42 years with WVU Medicine-Ruby Memorial Hospital, Charlotte Bennett has not only witnessed the evolution of an institution, but she has helped to lead it into the top healthcare destination for the region.
From a topographical perspective, the WVU Medicine campus transformed from a golf course and pastoral setting to a busy, thriving healthcare complex that changes lives daily.
From an economic perspective, WVU Medicine has turned into an engine of growth and stimulus for Morgantown and West Virginia, as it is the state's second-largest employer.
But Bennett, who will retire in June, was here during much simpler times. She attended the WVU School of Nursing and transitioned to the then academic medical center as a nurse in 1974. At the time, she said, the medical center would pay off her student loans if she agreed to work there for at least five years.
"I thought, 'I can work anywhere for five years and then I'll go follow my dream,'" she said. "I didn't know then that I'd already found my dream – it was here."
The growth spurt began in the 1980s as Mountaineer Field opened and Ruby Memorial Hospital began construction in 1985.
"At that time, census was much lower, and we had a lot fewer employees. I could walk through the hallways back then and know pretty much everyone who was here and speak with them," Bennett said. "We have almost 7,000 employees now. You can still walk through the halls and speak with everyone but you probably won't know everyone."
Bennett currently serves as the vice president of human resources but has filled several key roles with WVU Medicine-Ruby Memorial Hospital, including a recent stint as interim CEO during the transition between Bruce McClymonds' retirement and the arrival of Albert L. Wright, Jr.
Throughout all the growth and changes, she says she will miss her "second family" the most.
"I always tell my family that I have a second family at work that means a whole lot to me," Bennett said. "You can't work somewhere for 42 years and not develop strong relationships and have great friendships. I'll miss the people."
The trade-off, she says, will be rejoining her "first family" on a full-time basis. A native of Masontown in Preston County, Bennett said most of her extended family lives in the area. She's especially looking forward to relaxing with her husband, stepson and two grown daughters, taking trips with her sisters and spoiling her 7-year-old grandson.
"I won't miss telling my family, 'no I can't do that,' because of work," she said. "I'll have the freedom to do some of the things you put off when you have to work."
Bennett says she will also miss being part of another recent growth spurt that has seen the expansion of facilities with a goal of providing care for more citizens from the region.
"The growth and expansion we've had over the last two years, I find that tremendously exciting," she said. "I'll miss being a part of what we are becoming and what we are going to be able to offer to the people of West Virginia.
"I look forward to the day when almost no West Virginian will have to leave the state to get care because they can get it right here."
Wright said Bennett's departure will leave an institutional void that will not be easy to fill.
"I regret catching Charlotte at the end of her career and not being able to spend more time around her," Wright said. "She will be greatly missed by so many people. She is a tremendous leader and person, and has touched the lives of many patients and employees.
"When you examine the scope of her career, it's the kind of career anyone would want to aspire to and want to emulate."