Berkeley County schools awarded 2015 physical activity mini-grants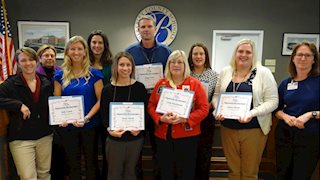 MARTINSBURG, W.Va. – Healthy Berkeley, through a grant from Try This West Virginia, recently awarded eight mini-grants to six Berkeley County schools that will have an impact on more than 1,500 students. The grants will be used to plan new or existing physical activity programs in pre-K through fifth grades.
More than 30 percent of West Virginia children are overweight or obese. Major factors in preventing and treating weight issues are concentrated exercise and daily movement. Research has also shown that students function and learn better when they are permitted to move. Physical activity not only improves students' health but their ability to learn movement has been linked to boosting brain function and improving mood and mental focus.
This mini-grant funding is to be used for equipment needs to encourage physical activity for students before school, after school, at recess, or a classroom activity.
"It's challenging for teachers to keep children interested and focused throughout the school day," Dana DeJarnett, health promotion specialist at The Wellness Center at WVU Medicine Berkeley Medical Center, said. "These mini-grants are being awarded to teachers who want to reverse the obesity trend, improve the learning environment, and establish programs geared to getting kids active at a time they would otherwise be sedentary."
The six Berkeley County schools receiving mini-grants for the 2015-2016 school year include Berkeley Heights Elementary, Bunker Hill Elementary, Rosemont Elementary, Orchard View Intermediate, Tomahawk Intermediate, and Mill Creek Intermediate. All grant recipients will report on the expenditure of grant funds and results of the supported project by the end of the school year in June 2016.
According to DeJarnett, Healthy Berkeley would like to make this mini-grant program an annual opportunity. Individuals and businesses interested in contributing to the program should contact Tracy Heck, director of the Office of Child Nutrition and Wellness for Berkeley County Schools, or DeJarnett at 304-264-1287 ext. 31814 or ddejarnett@wvuhealthcare.com.
Healthy Berkeley is a community collaborative with the goal to improve the health and quality of life of the community. Organizations that are part of Healthy Berkeley include WVU Medicine University Healthcare, The Wellness Center at Berkeley Medical Center, Main Street Martinsburg, Catholic Charities Promise House Family Resource Center, Berkeley County Health Department, WVU Extension, Martinsburg-Berkeley County Public Library, Native Design, Be Well Counseling Services, Berkeley County Schools, Shenandoah Community Health, RESA VIII, and community volunteers.
Pictured (left to right): Emily Gilmore, Healthy Berkeley VISTA; Robin Truax, Healthy Berkeley; Kelly Comer, Tomahawk Intermediate; April Bageant, Bunker Hill Elementary; Nicole Tetrick, Orchard View Intermediate; Craig Dixon, Bunker Hill Elementary; Linda Abrahamian, Bunker Hill Elementary; Carla Calhoun, Berkeley Heights Elementary; Jessica Warner, Mill Creek Intermediate; and Dana DeJarnett, The Wellness Center at Berkeley Medical Center and Healthy Berkeley. Not pictured: Lynda Blackburn, Rosemont Elementary.
--WVU MEDICINE--
For more information: Teresa E. McCabe, University Healthcare Vice President Marketing and Development, 304-264-1223